'Joe Made a Mistake': Democrats Assail Manchin for Refusing to Back Spending Bill
Senator Joe Manchin (D-W.Va.) continued to frustrate Democrats Monday over his unwillingness to vote 'yes' on President Joe Biden's reconciliation bill, this time taking aim at the bill's $1.75 trillion social spending and climate initiatives.
While Democrats had hoped to have a vote in the House in the coming weeks, Manchin's likeliness to not support the bill means they may not have enough votes to get the measure passed in the Senate.
Manchin stated that Democrats were using "shell games and budget gimmicks" to hide the real cost of the program, and added that the real cost of the bill could end up being "twice as high" as claimed.
Adding that he wouldn't vote on any measure without "thoroughly understanding the impact it will have on our national debt," Manchin stated that the price tag could end up "hurting American families suffering from historic inflation."
Manchin has particularly lobbied criticism towards the clean energy measures in the reconciliation bill, stating that he believes the U.S. is moving away from fossil fuels too quickly.
West Virginia is among the largest producers of coal in the nation - second only to Wyoming - and Manchin's opponents have pointed out that the senator has reportedly made millions from his self-founded coal company.
Salon.com reported that Manchin also gets "significant donations" from the fossil fuel industry.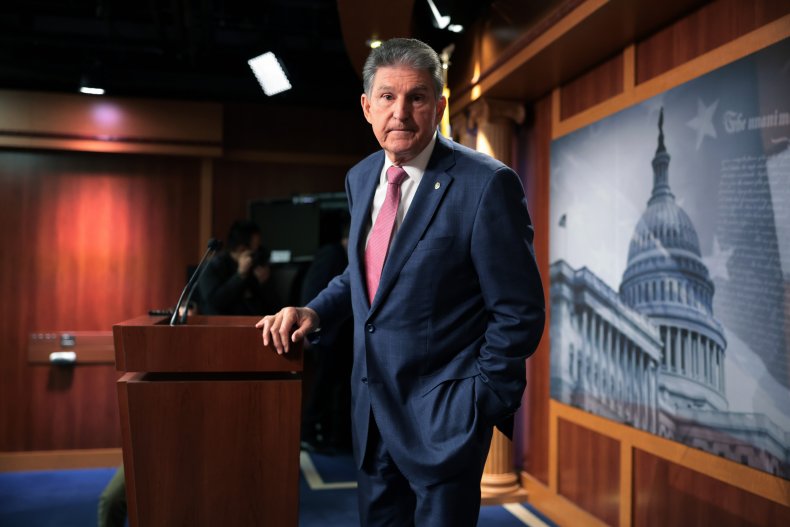 Meanwhile, many high-profile progressives assailed Manchin for his reported unwillingness to negotiate on certain aspects of the bill, even as Manchin himself blamed Democrats in the House for the holdup.
Senator Jon Tester (D-Mont.) told the media that Manchin was making a mistake by not working with his Democratic colleagues.
"I think Joe made a mistake today by going out and making this news conference," he said.
Additional criticism came from Senator Mazie Hirono (D-Hawaii), who pushed back on Manchin's claims that the bill was being funneled through Congress too quickly.
"I would like to ask Joe Manchin, 'You know what Joe, we really need to be moving.' ... I don't think we're moving too fast," she said.
One of Manchin's most ardent critics, Senator Bernie Sanders (I-Vt.), also rebuffed the idea that the reconciliation bill wouldn't be able to be properly funded. Additionally, while he didn't mention him by name, Sanders stated that the current Manchin-backed infrastructure initiative would add to the deficit, not shrink it.
"The legislation that I wanna see passed ... is paid for in its entirety. It will not have an impact on inflation," Sanders said. "So if we're talking about fiscal responsibility, I think what we're trying to do with the reconciliation bill is the right thing."
"If there's anybody in the Democratic caucus or elsewhere that's worried about fiscal responsibility and the deficit, the fact is ... that according to the CBO, the infrastructure bill runs up to a $250 billion deficit. It's not paid for," Sanders added.
Manchin and Senator Kyrsten Sinema (D-Ariz.) represent two key votes in the Senate if President Biden hopes to get his reconciliation bill passed. Sinema, like Manchin, has also reportedly refused to work with Democrats on coming to an agreement, believing that the proposal is too expensive.
Newsweek reported in October that Sinema's approval rating fell below 50 percent through the first three quarters of 2021.
Newsweek has reached out to Senator Manchin's office for comment.