Donald Trump Uses 9/11 'Address' to Attack 'Fool' Joe Biden Over Afghanistan Withdrawal
Ex-President Donald Trump praised 9/11 first responders on the 20th anniversary of the terror attacks in a video released Saturday, before quickly taking aim at his successor's handling of the exit from the war in Afghanistan that the hijackings precipitated.
In the video sent by Trump's Save America PAC, the former president started by saying that Saturday was a "very sad" day and that September 11 "represents great sorrow for our country."
He praised the "bravery of our police, fire and first responders of every kind. The job they did was truly unbelievable. We love them and we thank them," he said in the clip titled "address on the 20th Anniversary of September 11th."
But his somber reflections of the day itself ended only 22 seconds into the one-minute 44-second video, as Trump then swiftly turned to the manner of the U.S. exit from Afghanistan which "did such harm to our country," and referred to the deaths of American service members killed in the attack on the airport in Kabul.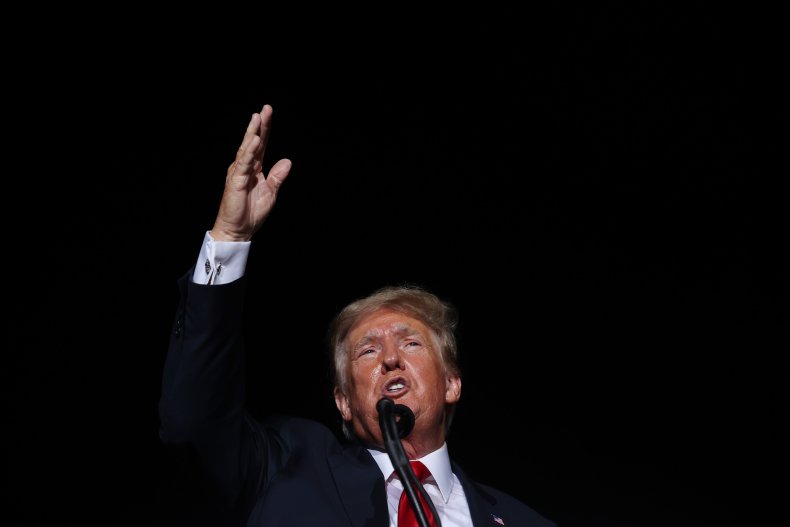 "The loss of 13 great warriors and the many more who were wounded should never have happened," Trump said, adding that "$85 billion dollars of the finest and most sophisticated military equipment" was taken "without even a shot being fired."
"The leader of our country was made to look like a fool, and that can never be allowed to happen," Trump said of the withdrawal he helped to negotiate.
Trump blamed "bad planning, incredible weakness, and leaders who truly didn't understand what was happening."
Trump has put all the blame on Biden for the disastrous exit but it was the previous GOP administration that negotiated a withdrawal agreement with the Taliban in February 2020, which excluded the Afghan government and set a May 1 deadline for the final exit. Biden in turn has blamed Trump for cutting a deal that empowered the Taliban.
But Trump said in his address: "This is the 20th year of this war and should have been a year of victory and honor and strength.
"Instead, Joe Biden and his inept administration surrendered in defeat," Trump said, adding that the U.S. "will struggle to recover from the embarrassment this incompetence has caused."
Trump who will mark the anniversary by visiting Ground Zero finished the video saying, "Do not fear, however, America will be made great again." Newsweek has contacted the White House for comment.
In their public comments on Saturday, other presidents praised the first responders.
Barack Obama paid tribute to the "extraordinary" bravery of Americans, while former President Bill Clinton tweeted: "America will never forget those who lost their lives, those who risked or gave their own lives to save others."