Joe Biden's Oil Dispute—What We Do Know, What We Don't Know
A rift is growing between President Joe Biden and the oil industry leaders that the president has blamed for soaring gas prices.
Biden called Chevron chief executive Michael Wirth a "little sensitive" this week when asked about a letter Wirth wrote which accused the president of seeking to "vilify" oil and gas producers.
The president has made Vladimir Putin a scapegoat for high gas prices, which hit a national average of $4.94 per gallon on Thursday.
But Biden also accused oil and gas companies of profiting off Putin's invasion of Ukraine and not doing enough to lower fuel costs.
The oil industry has hit back, saying it is the Biden administration's fault that prices are so high because of what they perceive as limits on domestic oil and gas production.
An energy expert told Newsweek that the dispute was due to mixed messaging about fossil fuel production coming from the White House.
What We Do Know, What We Don't Know
Strong words have been exchanged between the oil industry and Biden, whose administration is trying to curb the prices Americans are paying at the pump.
Biden has called on the CEOs of Marathon Petroleum Corp, Valero Energy Corp, ExxonMobil, Phillips 66, Chevron, BP and Shell to increase production.
Biden wrote in a letter on June 14 that there was an "unprecedented disconnect between the price of oil and the price of gas" and pointed out that the last time the price of crude oil was about $120 per barrel back in March, a gallon of gas cost $4.25.
"Today, gas prices are 75 cents higher, and diesel prices are 90 cents higher," Biden wrote, putting the difference down to "historically high-profit margins for refining oil into gasoline, diesel and other refined products."
"Since the beginning of the year, refiners' margins for refining gasoline and diesel have tripled, and are currently at their highest levels ever recorded," Biden said.
He added that he was prepared to take "immediate actions to increase the supply of gasoline, diesel, and other refined product."
But Chevron CEO Michael Wirth fired back, accusing the Biden administration of seeking to "criticize, and at times vilify, our industry."
In a letter on Wednesday, Wirth said instead of criticism, there needed to be "clarity and consistency" from the Biden administration on policy matters "ranging from leases and permits on federal lands, to the ability to permit and build critical infrastructure."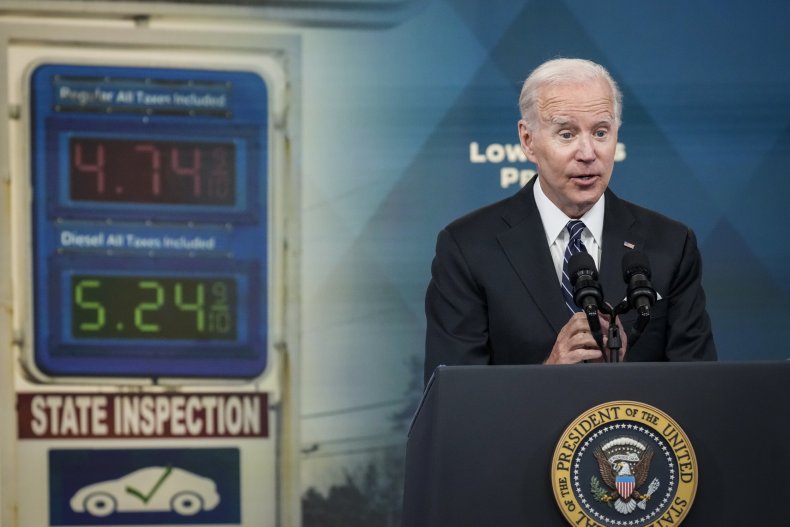 Referring to what was laid out in the oil industry's 10-point plan released this month, Wirth also said there needed to understanding of "the proper role of regulation that considers both costs and benefits."
He also called for "honest dialogue on how to best balance energy, economic, and environmental objectives."
When asked about the letter, Biden responded, "I didn't know they'd get their feelings hurt that easily."
The president told reporters, "we need more refining capacity" and took issue with the "Republicans talking about 'Biden shut down fields'. Wrong, there are 9,000 of them."
The American Petroleum Institute (API) also sent a letter to Biden, saying that U.S. refineries were operating close to maximum utilization and that the prices of refined products were determined on global markets
At 11.188 million barrels a day, domestic oil production under Biden in 2021 was higher than the average daily amount produced under Trump from 2016 to 2018, according to data from the U.S. Energy Information Administration.
The amount of oil produced in Biden's first year exceeds the average daily amount produced under Trump from 2016 to 2018, according to data from the U.S. Energy Information Administration.
Mixed messaging
The oil industry has accused Biden of mixed messaging. Biden campaigned on a promise to reduce dependence on fossil fuels and as soon as he took office, he canceled the Keystone pipeline.
Biden also issued an executive order that paused new oil and gas lease sales on government land pending a review, but that order was struck down by a federal judge.
The Wall Street Journal reported last month that Biden has canceled oil and gas drilling leases in Alaska and the Gulf of Mexico, which is at odds with the push for more production now.
"They didn't start out having a mixed message, they were very clear what their message was—no more drilling," said Frank Maisano from Bracewell PRG, a firm that represents the fossil fuel and renewable energy industries.
"But the energy reality hit us this summer," he told Newsweek, "their first response was, 'let's produce more. Let's get more from OPEC, which of course, was completely the opposite message that they were driving a year earlier."
"So the administration has been all over the map and that's partly because they don't have a lot of real energy experts. They have climate experts, and their climate experts don't know energy markets," Maisano said, "and that's a problem when energy markets are roiling the economy."
Maisano said that oil production has gone up but not enough to keep up with the demand that spiked after the end of COVID lockdowns.
Supply chain issues and finding enough workers, as well as the Ukraine war, were also having an impact.
As Biden seeks to ease pain at the pump, the energy and transportation industries have joined some Democrats in criticizing the president's proposal to cut the 18.4 cent federal gas tax for three months to ease pain at the pump.
API Senior Vice President for Policy, Economics and Regulatory Affairs Frank Macchiarola said that this plan showed how the White House was focusing on "short-term fixes in lieu of long-term solutions."
"If Washington is serious about delivering relief to consumers, then they should be focused on policies that encourage increased U.S. production and address the global mismatch between energy demand and available supply," he told Newsweek in a statement.
Macchiarola said the API's 10-point policy plan released earlier this month showed that "there are steps the administration and Congress can take right now to unleash energy investment and strengthen American energy leadership."
Oil executives will meet Energy Secretary Jennifer Granholm at the White House this week, although Biden has said he will not attend. Granholm told CNN the group will discuss refining capacity.
"There's lots of hope for discussion but there's low expectations for results," Maisano said.
Newsweek has reached out to the White House for comment.