Biden Praises McConnell's 'Helpful Insights' on Myanmar Coup as U.S. Freezes $1 Billion in Assets
President Joe Biden announced new sanctions on Wednesday against Myanmar's military leaders, following their coup against the Southeast Asian nation's democratically elected government.
In brief remarks from the White House, Biden stressed that this was an issue of "bipartisan concern" and thanked Senate Minority Leader Mitch McConnell by name for helping the administration respond to the military coup. Biden also announced that the government was working to freeze some $1 billion in assets within the U.S. that Myanmar's military leaders have access to.
"We've consulted at length, for example, with Senator McConnell, who's had a very keen interest in this, and his team. We welcome their helpful insights," Biden told reporters. The president noted that American leaders have been working with allies and partners around the world to address the issue.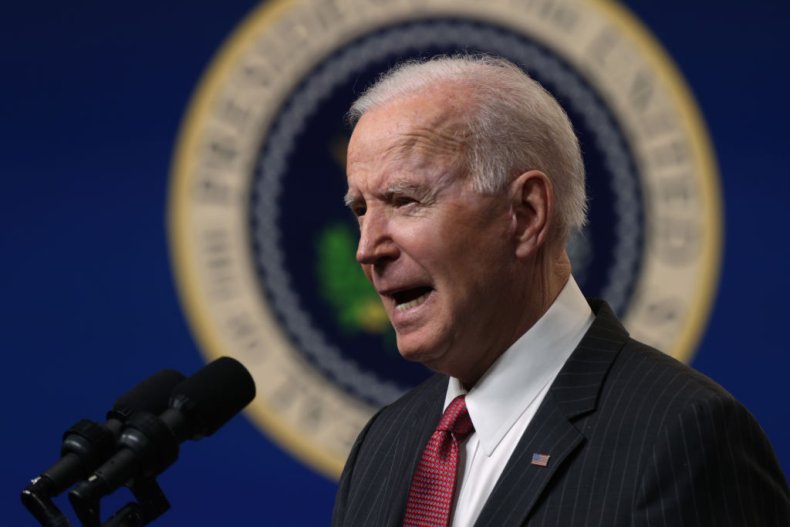 "The strong and unified message emerging from the United States has been essential, in our view, to encourage other countries to join us in pressing for immediate return to democracy," Biden said. The president called on Myanmar's military to "immediately release" the country's democratically elected leaders and other activists. "The military must relinquish power," he said.
The president outlined several actions that his administration will take to hold the military leaders accountable. He said that the U.S. government would prevent the military leaders from accessing about $1 billion in Myanmar's government funds currently held in the U.S. Biden also signed an executive order Wednesday allowing the government to sanction the military leaders, their business interests and close family members.
"We will identify a first round of targets this week and we're also going to impose strong export controls," he said.
Myanmar's military launched the coup on February, detaining the nation's civilian leaders including State Counsellor Aung San Suu Kyi and President Win Myint. The military previously governed Myanmar for more than two decades until 2011, when a tentative democratic transition began in the country. However, following the results of a November election, the military grew increasingly frustrated by democratic governance.
In the wake of the coup, tens of thousands of demonstrators have entered the streets to protest the military's actions. Authorities have cracked down violently, but thus far the protests have continued undeterred. Demonstrators are demanding a reinstatement of the civilian government.
"As part of Generation Z, we are first-time voters. This is our first time to protest as well," a student protester who declined to give their name told the Associated Press on Wednesday. "They negated our votes and this is totally unfair. We do not want that. We hope they release our leaders and implement a real democracy."
This article was initially published as a breaking news story and has since been updated with additional background information.