Myanmar Denies U.S. Contact With Deposed Leader Aung San Suu Kyi as Protests Continue
Attempts by the U.S. Department of State to contact detained Myanmar's deposed leader Aung San Suu Kyi have been rejected while protests over the country's February military coup continued.
Suu Kyi and Myanmar President Win Myint were expected to create a new government after their political party, the National League for Democracy (NLD), won reelection in November 2020. Leaders of the Tatmadaw, Myanmar's military, alleged election fraud. In February the Tatmadaw detained some members of the NLD, including Suu Kyi, and declared Commander in Chief Senior General Min Aung Hlaing the country's new leader. Protests have erupted over the military's takeover of the government.
The U.S. has threatened sanctions against Myanmar in response to the coup. On Monday, the State Department said it had not been able to make contact with Suu Kyi.
"Shortly after the events of February 1, we made an effort to reach out to Aung San Suu Kyi," State Department spokesman Ned Price said in a Monday press briefing. "We did that both formally and we did that informally as well. Those requests of course were denied."
Protests in Yangon and Mandalay, Myanmar's two largest cities, began on Saturday. Demonstrators also occurred in smaller regions of the country. On Monday, local police used water cannons to disperse a large protest in Myanmar's capital city, Naypyitaw.
Leaders imposed 8:00 p.m. 4:00 a.m. to curfews in some areas and enacted bans on gatherings of more than 5 people. In a Monday statement, Myanmar's Ministry of Information called for an end to the demonstrations.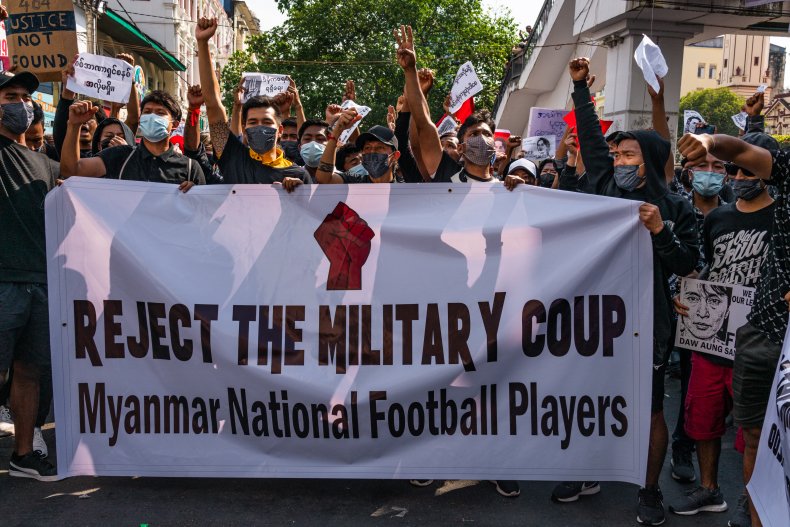 "Democracy can be destroyed if there is no discipline," the statement from the Ministry said. "We will have to take legal actions to prevent acts that are violating state stability, public safety and the rule of law."
In a televised speech, Hlaing said there would be new elections held at the completion of the current year-long state of emergency in Myanmar.
Suu Kyi, who was awarded the Nobel Peace Prize in 1991, was detained after soldiers allegedly found 10 illegally imported walkie-talkies in her home. Myint was detained for allegedly violating COVID-19 safety protocols during an NLD rally in November 2020. Both individuals are expected to remain in custody until February 15.
On Thursday, President Joe Biden called on Myanmar's military leaders to "relinquish power they have seized and release the advocates and activists and officials they have detained."
White House Press Secretary Jen Psaki called levying sanctions against Myanmar a "priority" during a Wednesday press conference. Psaki told reporters the White House was "certainly reviewing our sanctions authorities and seeing where there's action to take there is something the team is focused on."
Newsweek reached out to the U.S. State Department for comment.