While Democratic President Joe Biden struggles to evacuate U.S. troops, citizens and Afghan allies out of Afghanistan, a member of his own party may soon set him up for another struggle at home.
Democratic Arizona Senator Kyrsten Sinema has said she will not vote in support of Democrats' $3.5 trillion infrastructure plan. The plan is considered an important part of Biden's and congressional Democrats' agenda leading into the 2022 midterm elections.
"While I support beginning this process, I do not support a bill that costs $3.5 trillion," Sinema said. Her statement could indicate her flexibility over its final proposals or spending limits. She has not yet indicated which she might be willing to support though. Newsweek contacted Sinema's office for comment.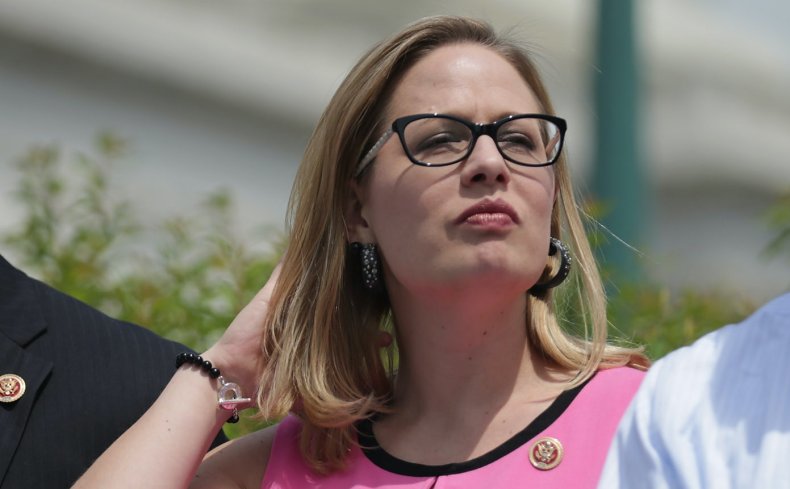 Right now, the U.S. House is considering a vote on a $1.2 trillion bipartisan infrastructure bill. The Senate passed the bill on August 10. Sinema has indicated that her opposition to the $3.5 trillion proposal will endure no matter what happens during the House's consideration of the $1.2 trillion bill.
"Proceedings in the U.S. House will have no impact on Kyrsten's views about what is best for our country," Sinema's spokesperson John LaBombard told Politico.
Biden's proposed $3.5 trillion "human infrastructure" legislation would provide funding for key Democratic priorities. These priorities include free community college, childcare credits, Medicare expansion, green cards for some undocumented immigrants, a child tax credit, tax increase on large corporations and wealthy Americans and other proposals.
Democrats want to pass the $3.5 trillion spending package using the budget reconciliation process. The process requires only a simple majority vote in the Senate for approval. However, the Senate is currently evenly divided between 50 members in the Republican Caucus and 50 members in the Democratic Caucus.
As such, the Democrats would need all 50 caucus members to vote in support of it so that Vice President Kamala Harris could cast a tie-breaking vote as Senate president.
Sinema is considered a moderate whose vote is never guaranteed. In this way, she is similar to Democratic West Virginia Senator Joe Manchin.
Manchin has said he would vote in support of beginning the $3.5 trillion infrastructure budget reconciliation process "out of respect for my colleagues." However, he added that he wasn't "making any promises" about the proposal's ongoing negotiations, the Associated Press reported.
The $3.5 trillion proposal would need to pass the Senate before lawmakers start drafting specific tax and spending goals for the final package.
An early August poll shows a slight majority of Republican voters support the $3.5 trillion spending plan.
Meanwhile in Afghanistan, the U.S. military has boosted its evacuation numbers amid the threat of the operation to extract people via Kabul's airport being shut down by the Taliban. About 21,600 people were flown out of Afghanistan in the 24-hour period of Tuesday, the White House said. Since August 14, the U.S. has evacuated and facilitated the evacuation of more than 58,000 people.
After a week of troubled evacuations, the number of people flown out met and exceeded U.S. projections for the first time. Amid the tense operation to get people out of the country, CIA Director William Burns secretly swooped into Kabul on Monday to meet with the Taliban's top political leader, a U.S. official told The Associated Press.
Burns and Abdul Ghani Baradar, the Taliban's top political leader, secretly met in Kabul on Monday as the evacuations continued. The Washington Post first reported Burns' meeting on Tuesday. The U.S. official later confirmed the meeting for the AP.
Jake Sullivan, Biden's national security adviser, said that talks with the Taliban are continuing as the administration looks for additional ways to safely move more Americans and others into the Kabul airport by an end-of-August deadline.
"We are in talks with the Taliban on a daily basis through both political and security channels," he said, adding that ultimately it will be Biden's decision alone whether to continue military-led evacuation operations beyond August 31. That's the date Biden has set for completing the withdrawal of troops.
Lawmakers, veterans organizations and refugee advocates in the U.S. also are urging Biden to keep up the U.S. military's evacuation out of the Kabul airport as long as it takes to airlift not just Americans, but Afghan allies and other Afghans most at risk from the Taliban.
But Taliban spokesman Suhail Shaheen, in an interview with Sky News, said that Aug. 31 is a "red line" the U.S. must not cross and that extending the American presence would "provoke a reaction."
Update 8/24/21, 9 a.m. ET: This article was updated with additional reporting from Associated Press.