Biden Says If Bolton's Book Is True, Trump's Actions 'Morally Repugnant'
In a tweet published Tuesday, evening Democratic Presidential nominee Joe Biden wrote about the claims made in former National Security Advisor John Bolton's book, The Room Where It Happened, including Bolton's accusations that Trump pleaded with China to help him win the 2020 election and praised Chinese President Xi Jinping for China's internment camps.
"If John Bolton's accounts are true," Biden wrote in his tweet, "it's not only morally repugnant, it's a violation of Donald Trump's sacred duty to the American people to protect America's interests and defend our values."
In a longer statement obtained by Newsweek, Biden wrote that Trump "sold out the American people to protect his political future."
"Trump was willing to trade away our most cherished democratic values for the empty promise of a flimsy trade deal that bailed him out of his disastrous tariff war that did so much damage to our farmers, manufacturers, and consumers," he continued.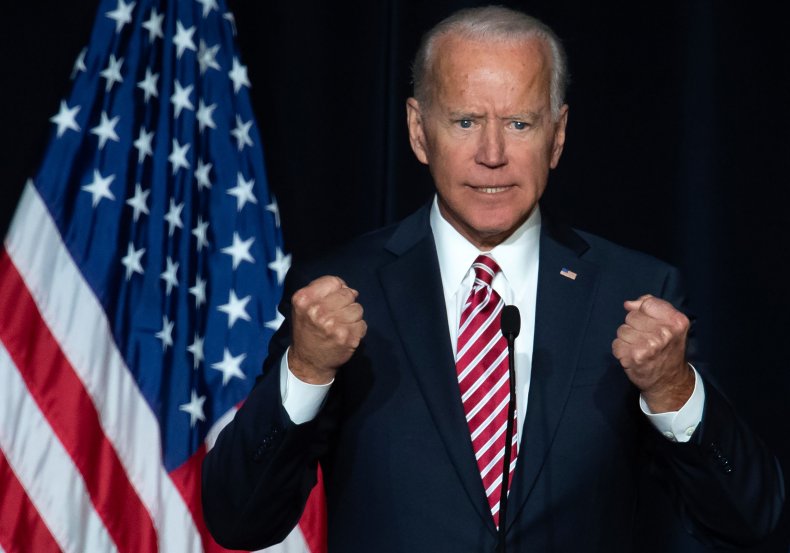 Biden also slammed Trump for his "inability to lead and failure to meet the crisis" during the coronavirus epidemic which has left millions unemployed and more than 117,000 Americans dead.
"[Trump] wanted to have a trade deal with China as a talking point for his re-election campaign.... In exchange, he condoned interning more than one million Uighurs in concentration camps," Biden wrote.
The Uighurs are a mostly Muslim ethnic minority group that has long endured oppression and abuse by Chinese officials who see them as a foreign and religious threat to the Chinese Communist Party.
Since 2016, Chinese officials have monitored and controlled Uighurs, corralling more than one million into "concentration camps" where, the U.S. State Department says, there have been reports of torture and "instances of sexual abuse and death."
"Joe Biden was a TOTAL FAILURE in Government," Trump wrote on Twitter Tuesday evening after Biden published his tweet and statement about Bolton's book. "[Biden] 'bungled' everything that he touched!" Trump continued.
In a Monday roundtable discussion, Trump said he found Bolton's book "highly inappropriate" and threatened legal action against Bolton while implying that he might lie about private conversations with the president which Trump considered "highly classified."
On Tuesday, the Trump administration sued Bolton to prevent the book's June 23 release by its publisher Simon & Schuster.
In his book, Bolton wrote that the Democrat-led House "committed impeachment malpractice" by centering its case too "narrowly on Ukraine when Trump's Ukraine-like transgressions existed across the full range of his foreign policy."
"I am hard-pressed to identify any significant Trump decision during my tenure that wasn't driven by reelection calculations," Bolton wrote in his book.