For the second time this week, Speaker of the House Nancy Pelosi has called attention to China's repression of Uighurs, including the detention of more than 1 million people, deeming the situation a "challenge to the conscience of the entire world."
Uighurs, a mostly Muslim ethnic minority group that have long been oppressed in China, have suffered increasing human rights abuses in recent years. Since 2016, officials have turned the northwest region of Xinjiang into an effective police state, monitoring and controlling Uighurs and other ethnic minorities in what is widely seen as an attempt to stamp out religious and foreign influences officials believe could undermine the Chinese Communist Party.
This includes more than 1 million people being sent to "concentration camps" where, the U.S. State Department says, there have been reports of torture and "instances of sexual abuse and death." Those outside the camps can disappear into the camp system for transgressions as vague as having a beard, buying a SIM card or speaking to family overseas.
"Our hearts and minds are with the Uyghur communities, who face religious persecution, including harsh restrictions on observing Ramadan, which just ended this week," Pelosi said, using an alternate spelling for the ethnic community, in a statement released Thursday at a conference organized by activist groups.
"Today, and on all days, we reaffirm our commitment to sharing the stories and sharing the outrage of the millions of Uyghurs who are being watched, followed, disappeared in internment camps and made to suffer 're-education' efforts," she said.
Facial recognition technology is omnipresent in Xinjiang and restricts movement beyond and within the province. Miniature police stations have been placed every few hundred yards and Uighurs have been banned from entering many public spaces and shops. There have been reports of forcible DNA and iris scan collections. Earlier this month, Human Rights Watch released a report about a mass surveillance app that aggregates everything from blood type to electricity usage and package deliveries, alerting authorities to suspicious behavior.
Earlier this week, in commemoration of the 30th anniversary of the Tiananmen Square massacre, the House Speaker also testified in front of a joint committee about China's continued human rights abuses, including the Uighur crisis, and recalled some of her earliest support of Chinese dissidents.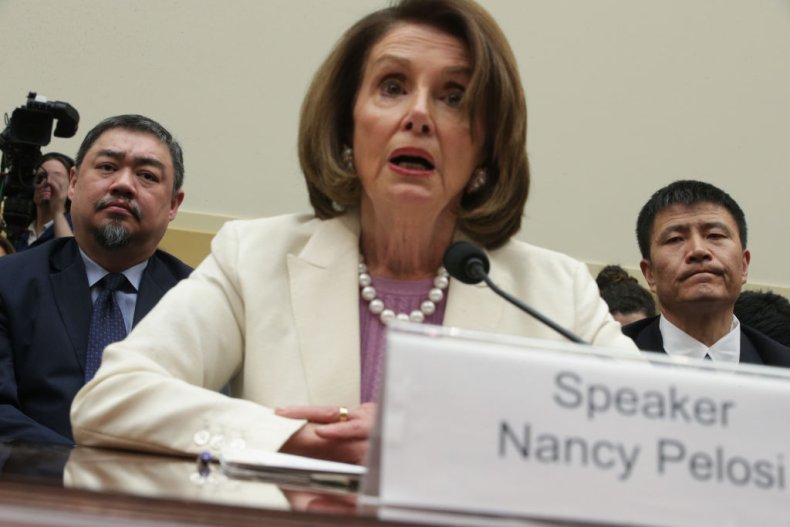 Two years after the 1989 pro-democracy protests, and as part of a delegation to Beijing requesting amnesty for jailed dissidents, Pelosi ducked away from her hosts and with two colleagues unfurled a banner reading 'To those who died for democracy in China' in Tiananmen Square. "Then we got chased by the People's Liberation Army," she recalled on Tuesday.
Pelosi also appeared to take aim at America's trade priorities with China, a concern shared by human rights activists who believe the Trump administration is focused more on the trade war and economic sanctions than Magnitsky human rights abuses sanctions, which dozens of bipartisan lawmakers have urged the Treasury Department to levy against Xinjiang officials.
"If we do not speak out for human rights in China because of economic concerns, we lose all moral authority to talk about human rights in any other place in the world," Pelosi testified.
At the hearing, Uighur activist and Tiananmen Square student leader Wu'er Kaixi, who Pelosi met in Washington D.C. three decades ago, also testified that the U.S. betrayed China's pro-democracy protesters in 1989. Wu'er — whose name Uighur parents are reportedly banned from giving to newborns—also urged the U.S. to take action against the ongoing Uighur crisis.
His urgings echoed a repeated theme on Capitol Hill this week: Don't let history repeat itself.
"This week, as we mark 30 years since the atrocity of the Tiananmen Massacre, the global community must stand with all who strive to achieve the Tiananmen Generation's dream of freedom," Pelosi's Thursday statement read. "The greatest tribute that we can make to the fallen freedom fighters of Tiananmen is to work relentlessly to advance their democratic aspirations: for the Uyghur people, the Tibetan people, the people of Hong Kong and all who have been oppressed and repressed by the Chinese regime."