President Joe Biden said that schools must remain open amid the nation's Omicron-fueled surge of COVID-19 on Tuesday, although local school boards are making decisions without any clear federal guidance.
Many K-through-12 schools across the country are currently on winter break, although some started breaks early or returned to remote learning only amid news of Omicron's spread. The Centers for Disease Control and Prevention (CDC) said that the highly contagious variant had quickly become the most dominant U.S. strain on Monday, while the first related death was reported in an unvaccinated Texas man on the same day.
Biden defended his COVID-19 vaccine mandates as a plan "not to control your life, but to save your life and the lives of others" during a speech from the White House on Tuesday before he addressed the issue of schools. The president said that the country "must also keep our K-through-12 schools open," stressing that "the science" was "clear and overwhelming" in favor of schools remaining open regardless of the surge.
"We know how to keep our kids safe from COVID-19 in school," Biden said. "K-through-12 schools should be open. And that safety is increased if schools require all adults who work in the schools to get vaccinated and take the safety measures that CDC has recommended, including masking."
"I got Congress to pass billions of dollars in school improvements, ventilation, and social distancing," he added. "Schools should be safer than ever from COVID-19. And just Friday, the CDC issued test-to-stay guidelines, so schools can stay open and kids can stay in class even if a classmate tests positive."
Despite Biden's remarks, there is no clear guidance on whether classrooms should remain open as cases increase, with the decision left to local school boards instead. Virtual learning that was widely used during the early months of the pandemic, when less was known about the virus and vaccines were unavailable. Most schools have opted to continue offering brick-and-mortar classrooms more recently.
Education Secretary Miguel Cardona echoed the stance of the president during an MSNBC interview on Tuesday. Cardona cited a March CDC study that found "virtual instruction might present more risks than" in-person classrooms, including "increased risk for negative mental, emotional, or physical health outcomes."
"Our kids need to be in school," Cardona said. "That's not only where they get their academic learning, and we can talk a lot about missed instruction, but for many students that's where they get warm meals, that's where they get adult interaction or access to mental health support."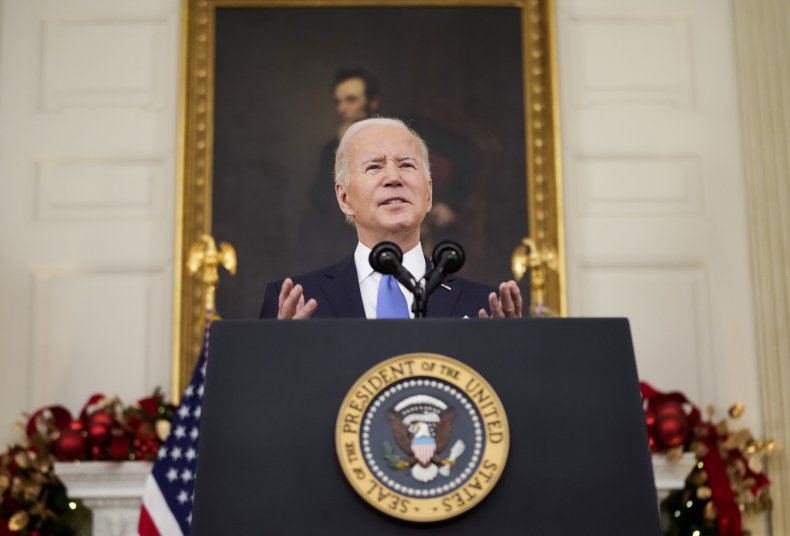 Some schools are preparing for possible forced closures if outbreaks continue to get worse. In Maryland, where Omicron has hit particularly hard, Baltimore County Public Schools Superintendent Darryl Williams asked students and school staff to prepare for a potential transition to virtual learning after the winter break by bringing home devices and charges.
Meanwhile, a number of public health experts are warning against going back to remote learning, insisting that traditional classrooms can operate safely regardless of a virus surge.
"Hearing few school districts contemplating going virtual in January," Dr. Ashish Jha, dean of Brown University School of Public Health, tweeted on Saturday. "Please don't. We can keep kids & teachers safe in schools. And if leaders close schools but leave bars open? Means they care neither about kids nor COVID. Schools should be the last to close, first to open."
Explosive debates about vaccine mandates and other COVID-19 restrictions that have been implemented while schools remain open have featured at many heated local school board meetings during the pandemic. Some schools have been forced to enact limited closures or reduce hours due to staff shortages caused by pandemic burnout.
"Teachers jobs have been harder in the last 2 years than they ever were," Reddit user langis_u, a self-identified middle school teacher, wrote in a Reddit thread on possible Baltimore school closures. "That's why turnover rate for teachers is insane. We're picking up the pieces that have slipped through the cracks in the American social safety net."
Although federal guidance on when schools should stay open amid a virus surge is lacking, guidelines on how they should operate while they are open continue to be updated. As Biden mentioned, the CDC last week endorsed a "test-and-stay" protocol for schools dealing with students that may have been exposed to the virus, allowing unvaccinated students to remain in classrooms if they test negative twice during the week after being exposed.