Biden Scores Rare Republican Win With Ukrainian Refugee Policy
President Joe Biden has scored a rare win among Republican voters with "Uniting for Ukraine," his new refugee policy.
A Gallup poll released Tuesday found wide support on both sides of the aisle for "allowing up to 100,000" Ukrainian refugees into the U.S.—the highest level of American support for admitting refugees that pollsters have recorded.
More than sixty percent of Republicans said they would support the policy—the highest acceptance rate from Republicans since the Kosovo war in 1999, when 65 percent supported admitting several hundred ethnic Albanian refugees from Kosovo.
On Monday, the Biden administration launched its plan to accept as many as 100,000 Ukrainian refugees fleeing violence from Russian attacks. The program, which will streamline the immigration process, was announced last week and is part of the White House's broader assistance package that contains both military and economic aid and is the second such package for Ukraine.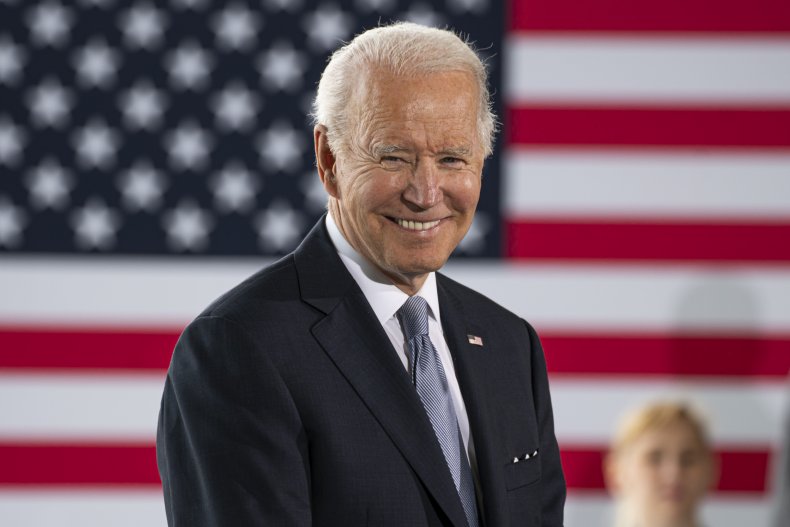 All U.S. citizens will be able to sponsor Ukrainian refugees, who cannot directly apply themselves, through the Department of Homeland Security (DHS).
"We are proud to deliver on President Biden's commitment to welcome 100,000 Ukrainians and others fleeing Russian aggression to the United States," Homeland Security Secretary Alejandro Mayorkas said last Thursday. "The Ukrainian people continue to suffer immense tragedy and loss as a result of Putin's unprovoked and unjustified attack on their country."
He continued, "DHS will continue to provide relief to the Ukrainian people while supporting our European allies who have shouldered so much as the result of Russia's brutal invasion of Ukraine."
More than 11 million people in Ukraine have fled their homes since Russia invaded the country on February 24, according to the U.N.
The new survey found that 78 percent of Americans approve of Biden's latest policy on Ukrainian refugees. Previously, the highest level of support tracked by Gallup was 66 percent for Albanian refugees from Kosovo, followed by 51 percent for those fleeing from Honduras and Central America in 2018.
Among Democrats, support for Ukrainian refugees was 92 percent, while 79 percent of independents said the same.
The widespread support for Biden's policy is a break from the disparity in support that has long been documented between Republicans and Democrats, who have often disagreed on the admission of refugees into the U.S.
For example, in 2018 only 14 percent of Republicans supported accepting "thousands" of refugees from Central America, compared with 82 percent of Democrats. Also, Democrats were more supportive of admitting Syrian refugees in 2015, with 57 percent backing their immigration, compared with 15 percent of Republicans who said the same.
The Gallup poll, conducted between April 1 and 19, surveyed a random selection of 1,018 U.S. adults. The margin of error is plus or minus 4 percentage points.
Newsweek reached out to the White House for comment.