U.S. Citizens Can Now Sign up Online to Help Ukrainian Refugees
American citizens can now apply to sponsor displaced Ukrainians seeking refuge from the ongoing Russia-Ukraine crisis in a new program set forth by the Biden administration.
President Joe Biden announced the "Uniting for Ukraine" program that will allow up to 100,000 refugees expediated means to reach the U.S. The streamlined process began Monday, opening up applications for Ukrainians looking to resettle and Americans wanting to sponsor the migrants.
"This new humanitarian parole program will complement the existing legal pathways available to Ukrainians, including immigrant visas and refugee processing," Biden said Thursday while delivering an update on Ukraine and Russia. "It will provide an expedient channel for secure, legal migration from Europe to the United States for Ukrainians who have a U.S. sponsor, such as a family or an NGO [non-governmental organization]."
Any U.S. citizen, including representatives of NGOs, can sponsor Ukrainian applicants. The sponsor must pass security background checks and prove they have sufficient financial resources to "receive, maintain, and support" the Ukrainians they commit to support, according to the Department of Homeland Security (DHS). Those looking to sign up can find more information on the DHS website.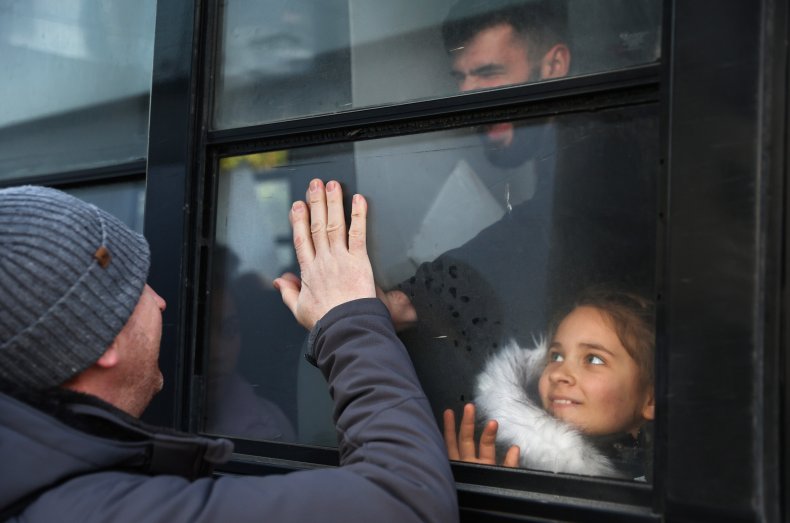 To be eligible for the program, applicants must have been a resident in Ukraine as of February 11, 2022, and have a financial supporter in the U.S. They must also complete vaccination requirements, pass biometric and biographic screenings and pass security checks.
After approval, applicants will be permitted to travel to the U.S. and be authorized for parole, on a case-by-case basis, for a period of up to two years. After parole, the Ukrainian citizen will be eligible to apply for U.S. employment authorization.
Ukrainian citizens will be responsible for arranging and funding their travel to the U.S. once they are approved for the program. Upon approval, they will have the authorization to travel to the U.S. for a period of 90 days.
Refugees applying for the program must have a valid passport. If the applicant is a child without their own passport, they must be included in a parent's passport.
Children without parents or legal guardians will not be admitted into the program at this time to protect against potential exploitation and abuse, according to DHS. Any child under 18 traveling without a guardian will be turned over to the Department of Health and Human Services. The department is currently working to establish better travel safeguards for children and caregivers.
"We are proud to deliver on President Biden's commitment to welcome 100,000 Ukrainians and others fleeing Russian aggression to the United States. The Ukrainian people continue to suffer immense tragedy and loss as a result of Putin's unprovoked and unjustified attack on their country," said DHS Secretary Alejandro Mayorkas. "DHS will continue to provide relief to the Ukrainian people, while supporting our European allies who have shouldered so much as the result of Russia's brutal invasion of Ukraine."
Newsweek reached out to DHS for comment.