Biden and Trump Neck and Neck in Georgia, Where a Democrat Hasn't Won the Presidency Since 1992
President Donald Trump and Democratic presidential nominee Joe Biden are tied among likely voters in Georgia as the current election cycle's final week begins, according to recent polling data.
Results of a CBS News survey, conducted between October 20 and 23, showed candidates neck and neck in the typically red Southern state. It tracked Trump and Biden's progress among battleground state voters across the U.S. In addition to collecting responses from Georgia residents, CBS News tracked each presidential nominee's support in Florida and North Carolina, which are considered two of the most critical swing states to secure this year.
Although Georgia has not voted to elect a Democratic president since 1992, statewide polls conducted throughout Trump and Biden's current campaigns point to a close race this year.
Former President Bill Clinton's election to office for an initial term, in November 1992, marked the last time a Democratic presidential candidate won Georgia. Clinton won the state's popular vote against George H.W. Bush, the Republican incumbent candidate, by less than 1 percent. Prior to Clinton's election, the state voted to elect former Democratic President Jimmy Carter in 1976 and 1980. Carter, who is from Georgia, served as the state's governor and a member of the state senate before his presidency.
CBS News' latest survey showed each nominee earned 49 percent of likely voters' support in Georgia late last week. The poll's margin of error is plus or minus 3.4 percentage points, according to CBS News. Its results suggest Biden is narrowing the previous gap in voter support among Georgia residents, whose participation in earlier polls generally offered Trump an advantage over his competitor.
That said, FiveThirtyEight's polling averages—which the site has updated consistently throughout the election season—periodically placed Biden ahead of Trump after the former vice president maintained a narrow lead in Georgia for about one month, between June and July. In general, neither candidate has achieved a significant lead over the other in Georgia's election polls after Trump's three-point advantage in early spring.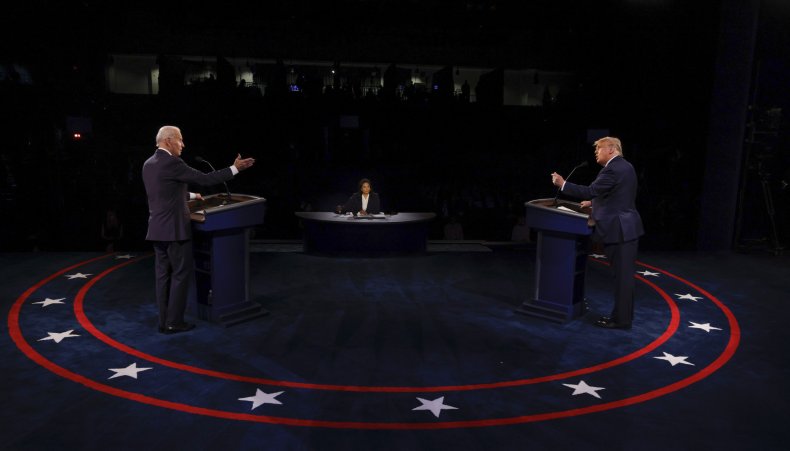 As access to mail-in ballots increased, and many state leaders encouraged residents to vote by mail during the new coronavirus outbreak, the U.S. has seen a record number of votes cast ahead of Election Day this year. Voters have cast ballots by mail, as well as in-person during states' designated early voting periods.
CBS News' survey showed 54 percent of Georgia voters who already cast their ballots when it was conducted had voted to elect Biden, while 55 percent of those who had not yet voted planned to cast their votes for Trump. Georgia saw record participation after its early voting period commenced on October 12.
Another recent survey, conducted by The New York Times and Sienna College, indicated that more than three-fourths of the state's likely voters intended to cast their ballots in-person, with 45 percent of respondents who had not voted saying they planned to do so before October 30, and another 32 percent saying they would vote on Election Day.
Newsweek reached out to Trump and Biden's campaigns for comment, but did not receive replies in time for publication.