A $735 million arms sale to Israel approved last month by President Joe Biden would include the same kind of precision-guided weapons that the Israel Defense Forces use to target hundreds of sites across the Gaza Strip, including a tower housing international media outlets.
Congressional committee chairs were notified on May 5 of the weapons sale, first reported Monday by The Washington Post and confirmed to Newsweek by two congressional staffers. The notice came just days before the rising tensions between Israelis and Palestinians erupted into a deadly campaign involving rocket fire by Palestinian groups led by Hamas on one side and IDF airstrikes and artillery fire on the other.
The proposed U.S. package includes Joint Direct Attack Munitions (JDAMs) that convert missiles into so-called "smart bombs" with lethal accuracy and destructive effect. The sale is subject to a 15-day review that is set to end on Thursday, amid a sharp spike in the decades-long Israeli-Palestinian conflict.
The deepening violence on both sides of what has already become the worst conflict between Israel and Palestinian factions in years has garnered international concern. It was one reportedly bloodless attack that has particularly captured global attention.
On Saturday, the IDF bombed Gaza's Al-Jalaa Tower, which housed the offices of top media outlets including The Associated Press and Al Jazeera, whose employees rushed out of the building after being given a warning of the impending attack by Israeli authorities shortly before the strike.
The dramatic destruction of the site, which the IDF argued was a legitimate target because it "contained military assets belonging to Hamas military intelligence," was captured in photo and film. The footage of the attack also reveals the munitions used, one that comes from the very same family of JDAMs included in Biden's proposed weapons sale to Israel.
Asked by reporters Monday about the planned arms sale, White House Press Secretary Jen Psaki deferred to the State Department, which she said did not believe had announced "any future sales or weapons sales." She did, however, note the robust continued ties maintained between the two allies.
"We do have an ongoing and abiding strategic security relationship and partnership with Israel," Psaki said.
A State Department spokesperson told Newsweek that U.S. officials "are restricted under Federal law and regulation from publicly commenting on or confirming details of licensing activity related to direct commercial sales of export-controlled defense articles or services."
But given the ongoing violence in the region, the spokesperson added a call for de-escalation as the Biden administration works with regional countries in an effort to resolve the crisis.
"We remain deeply concerned about the current violence and are working towards achieving a sustainable calm," the spokesperson said.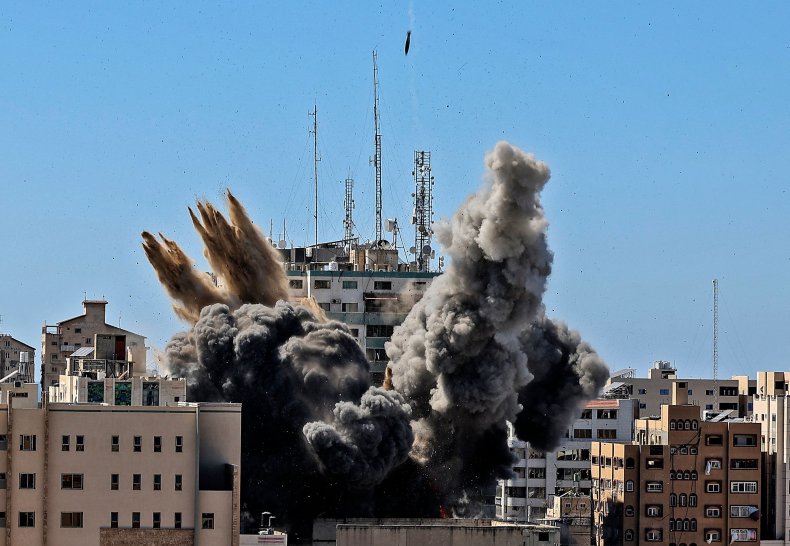 The targeting and destruction of Al-Jalaa Tower have been condemned by a number of local and foreign media groups, including two of its occupants, The Associated Press and Al Jazeera, which launched its own investigation identifying the weapon that wrecked its offices as a GBU-31, one of several JDAM variants known to have been exported by the U.S. to Israel in past years.
As Israel faced pressing questions regarding the decision to take out the building, IDF spokesperson Lieutenant Colonel Jonathan Conricus offered a three-part rationale for the strike. He said the structure was "not a media tower, and it's not a media center," but rather a militant headquarters used by Hamas for three main purposes.
The first entailed "officers of the military intelligence, basically collection and analysis of military intelligence, obviously used for military purposes, against us."
The second was "research and development, where the best subject matter experts were operating from inside that building, using the hardware, computers and other facilities inside the building to develop weapons, military weapons against us as well."
And the third involved "highly advanced technological tools that are in or on the building."
Conricus declined to go into specifics, citing security concerns, on the final point, but said such tools were used by Hamas "in fighting against us in order to hamper or limit the activity of the IDF inside Israel and on civilian activity along with the Gaza envelope." He reiterated the extent to which the IDF has identified how groups like Hamas and Palestinian Islamic Jihad embedded their military infrastructure "within civilian facilities."
He also emphasized the degree to which the IDF went out of its way to ensure non-combatants had left the building beforehand, even if this the forewarning "was also used by Hamas and Islamic Jihad, to salvage a lot of very important equipment. That, he said, "is a military loss that we are willing to 'suffer' in order to minimize and to make sure that there are no civilian casualties in the strike on the building."
Later that same day, President Joe Biden phoned Israeli Prime Minister Benjamin Netanyahu. The U.S. leader expressed his support for Israel's right to defend itself, condemned Hamas' rocket launches and mourned the loss of life both sides. He also "raised concerns about the safety and security of journalists and reinforced the need to ensure their protection."
Netanyahu defended the operation in an interview aired Sunday by CBS News, in which he described Al-Jalaa as "an intelligence office for the Palestinian terrorist organization housed in that building that plots and organizes the terror attacks against Israeli civilians," making it "a perfectly legitimate target." He said it was thanks to the IDF that the building's inhabitants escaped in time.
"You weren't lucky to get out. It wasn't luck," Netanyahu said. "It's because we took special pains to call people in those buildings to make sure that the premises were vacated, and that's why we brought down that building."
The Israeli leader also suggested that he had shared with the U.S. evidence backing up the Israeli claims of Hamas' involvement at Al-Jalaa Tower, saying "we share with our American friends all that intelligence." Specifically, he said such matters are communicated "through the intelligence services."
Secretary of State Antony Blinken, for his part, told reporters Monday that he had "not seen any information provided" regarding the airstrike, "to the extent that it is based on intelligence, that would have been shared with other colleagues and I'll leave that to them to assess."
Following Blinken's consultations with regional officials, including Israelis, Palestinians, Egyptians, Jordanians and Qataris, Biden held Friday his third call with Netanyahu since the latest conflict began and for the first time "expressed his support for a ceasefire."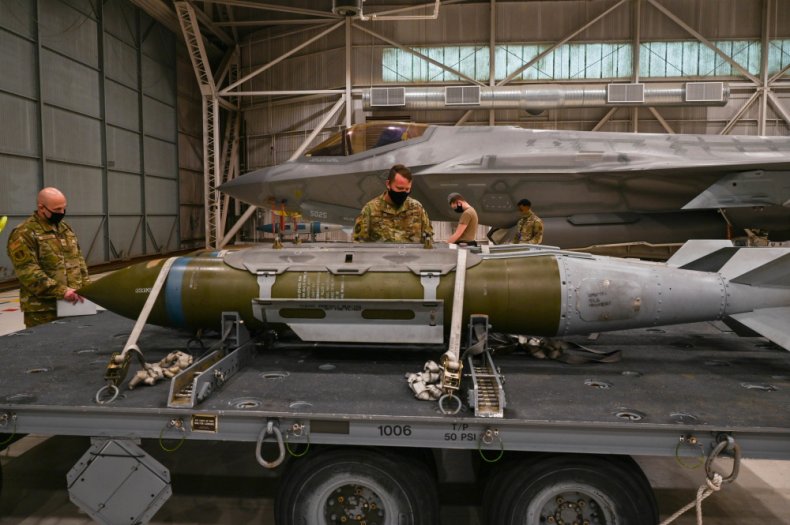 Hamas has denied that it had a presence in the building, one of a growing number of Gaza high-rises reduced to rubble over the past week.
"The targeting of Al-Jalaa Tower is part of a series of war crimes and crimes against humanity that are being committed against civilians," Hamas spokesperson Fawzi Barhoum said Monday in a statement obtained by Newsweek, "in addition to the targeting of homes, residential neighborhoods and civilian institutions."
Abu Obeida, spokesperson for Hamas' Al-Qassam Brigades, threatened on Monday to unleash a new round of rockets against Tel Aviv if the IDF did not cease bombing what he called "civilian homes and apartments." The IDF on Monday stepped up its bombing of what it said were "houses served as a part of Hamas' terror infrastructure."
Hamas and affiliated organizations such as Palestinian Islamic Jihad have fired what the IDF estimates to be 3,350 rockets toward Israel over the past week, hundreds of which were said to have fallen short of Israeli territory and hundreds more of which were intercepted by the advanced Iron Dome defense system. Israeli operations from land, air and sea, meanwhile, have targeted hundreds, if not thousands of sites across the densely-populated Palestinian enclave.
The conflict's death toll is estimated have reached well over 200, with the Gaza-based Ministry of Health placing the Palestinian toll at 212, most from Israeli bombings but also including nearly two dozen killed by Israeli police in the West Bank, and the IDF counting 10 Israelis dead due to rocket fire.