Biden's Alleged McConnell Deal on Anti-Abortion Judge Foiled by Rand Paul
Senator Rand Paul has thwarted an alleged backroom deal that involved President Joe Biden naming an anti-abortion lawyer to the federal judiciary to soften Republican opposition to the president's agenda.
The New York Times confirmed Friday that Paul, a conservative Kentucky Republican, had used a longstanding Senate practice to sink the nomination. The unexpected end to the saga came after Biden faced backlash and bewilderment from his base for agreeing to the appointment of the conservative jurist following the demise of national abortion rights.
Senate Minority Leader Mitch McConnell told the Times that Biden intended to nominate attorney Chad Meredith for a vacant district court position in Kentucky. McConnell, also a Kentucky Republican, told the paper there was no deal and described the nomination as a friendly gesture that reflected a more collegial, bygone era of the Senate.
An unlikely judicial selection for a Democratic president, Meredith previously defended Kentucky's anti-abortion law as a state lawyer and is a member of the conservative Federalist Society.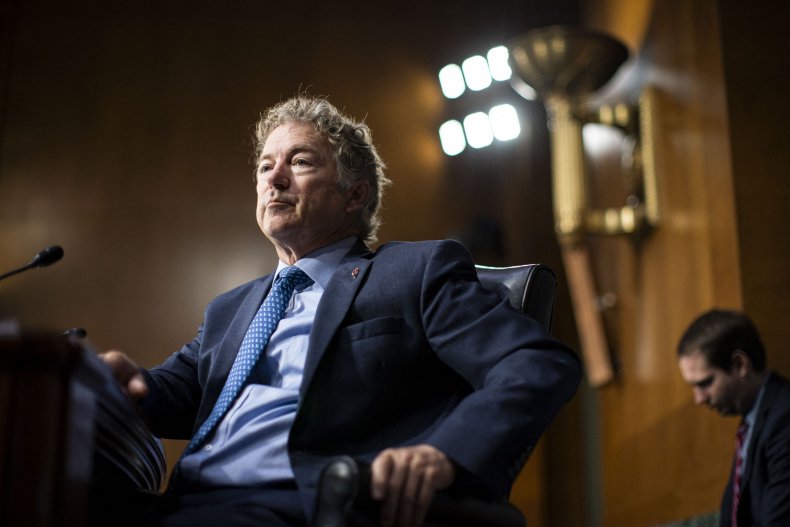 But McConnell said he was frustrated when the nomination ran into problems after Paul signaled he wouldn't return a "blue slip" indicating his support for Meredith, who is currently in private practice.
Under the longstanding Senate practice, senators return blue slips giving consent to the nomination of judges in their home states, effectively allowing them to block any potential pick for a lifetime judicial appointment.
"In considering potential district court nominees, the White House learned that Senator Rand Paul will not return a blue slip on Chad Meredith," Andrew Bates, a White House spokesman, told the Times in a statement Friday. "Therefore, the White House will not nominate Mr. Meredith."
The alleged deal between McConnell and Biden, first reported by The Louisville Courier-Journal in June, rankled Democrats who have pressed Biden to act more aggressively to shore up abortion rights after the Supreme Court struck down the landmark Roe v. Wade.
Representative John Yarmuth, Kentucky's sole congressional Democrat, told the paper that the unexpected nomination was apparently part of a deal to allow Biden to shepherd other federal nominees more easily through the evenly divided Senate.
The Biden administration initially downplayed that it intended to pick Meredith, but faced mounting pressure after the Courier-Journal obtained an email confirming plans for the nomination.
NARAL Pro-Choice America President Mini Timmaraju released a statement Friday welcoming news that Meredith wouldn't be nominated.
"We're pleased that the Biden administration made this decision—it's the right call," Timmaraju said in a statement. "With abortion rights and access on the line in Kentucky and across the country, it is absolutely essential that all judges defend and uphold our fundamental rights and freedoms, including reproductive freedom."
Newsweek has reached out to Paul for comment.