Bidens Decorate White House Lawn With Heart-Shaped Signs for Valentine's Day
President Joe Biden and first lady Jill Biden are spreading the love in a socially distanced way. On Friday morning before Valentine's Day, they showed off the giant heart-shaped lawn decorations outside the White House. Major and Champ, their German shepherds, joined for the walk around 1600 Pennsylvania Avenue.
President Biden wore a leather jacket and jeans, and Jill Biden donned a long magenta coat. Both carried cups of coffee, and the president mentioned that Valentine's Day is "Jill's favorite day. For real." He also joked that he will not reveal what he got his wife for Valentine's Day ahead of the holiday.
The hearts had messages like "healing," "compassion," gratitude" and "unity" on them.
When asked about what inspired Jill Biden to set up these decorations, she said, "I just wanted some joy. With the pandemic, just everybody's feeling a little down. So, it's just a little joy. A little hope. That's all."
She signed the hearts "love, Jill," with a heart as the dot over the letter i.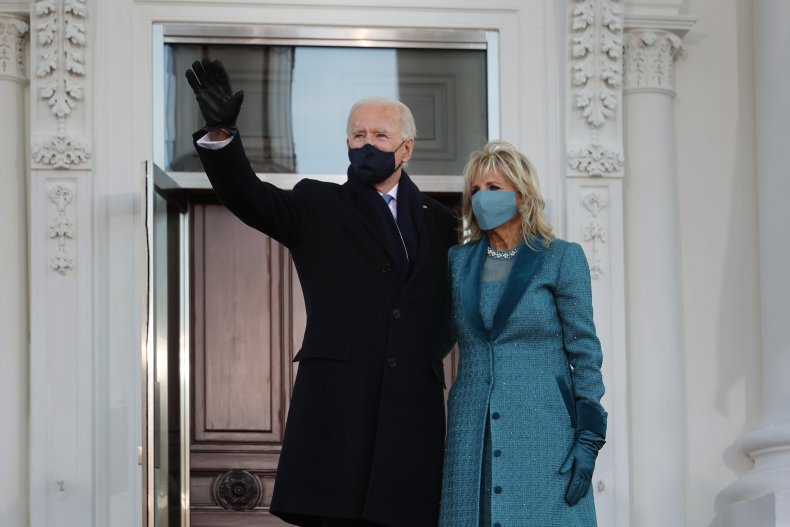 President Biden also recalled decorations that hung in the White House window when he was vice president for Barack Obama. He said that there were hearts painting onto the window that read "Joe loves Jill."
When he was asked "How do you extend that love story to the American people that are feeling so down right now?" Biden responded: "Tell them that there's hope."
He continued: "[You] just have to stay strong. A lot of people have got through terrible suffering and lost their families, lost their children. Lost their husbands, wives, moms, dads, and it's almost unbearable. The only thing I can say to them is that they're still in your heart."
The Bidens moved into the White House on January 20 following the inauguration ceremony; their dogs arrived the following Sunday, letting the president and first lady settle in before making themselves at home. "Champ is enjoying his new dog bed by the fireplace, and Major loved running around on the South Lawn," Jill Biden's press secretary Michael LaRosa said in a statement via CNN at the time.
Ahead of Champ's arrival, the Delaware Humane Association held an "indoguration" to celebrate the first rescue dog living in the White House, and as a fundraiser for the DHA. The dog-centric Zoom celebration ultimately raised $200,000. The Bidens adopted Champ in November 2018 after fostering him for several months. Major joined the Biden family in 2008.