How First Dogs Major and Champ Biden Are Settling In at the White House
The dog days in the White House are here again.
Joining President Joe Biden and first lady Jill Biden in the White House are Major and Champ, their German shepherds. Champ was adopted in 2008 after Biden became Barack Obama's vice president–elect. Major joined the family in 2018 after they fostered him for a few months from the Delaware Humane Association. Major is the first rescue dog to be part of the White House, and even received a special indoguration fundraiser celebration, and ultimately raised over $200K to the DHA.
The dogs moved into the White House Sunday, CNN reported, a welcome change, since former President Trump did not have any pets during his time at the White House. Jill Biden's press secretary Michael LaRosa noted that the president and the first lady wanted to get settled into 1600 Pennsylvania Avenue before bringing their four-legged friends from Delaware.
However, the dogs are making themselves right at home. "Champ is enjoying his new dog bed by the fireplace, and Major loved running around on the South Lawn," LaRosa said in a statement via CNN. Sounds pretty ideal.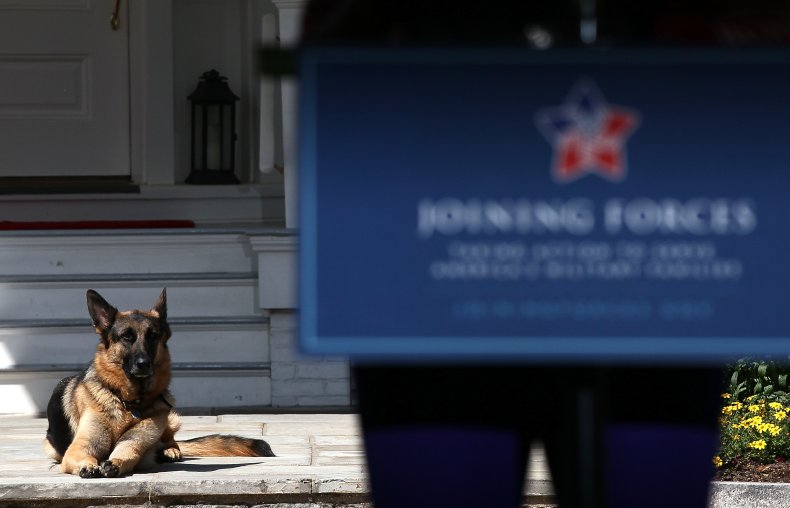 So, what's it like to be top dog at the White House?
As far as a routine goes, from what we know from one of Obama's dogs, Bo, is that their lives at 1600 Pennsylvania Avenue was "just about perfect," according to the Washingtonian. "He spent his first term playing with visitors and staff, meeting foreign dignitaries, and looking adorable for White House photographer Pete Souza." Former first lady Michelle Obama said that she "considers Bo like a son," and that he would keep her company when her husband was traveling.
As far as grooming went, Bo was escorted by the White House groundskeeper to the "exclusive" pet salon at Alexandria's Olde Towne School for Dogs. If he goes to Petsmart or Petco, he traveled in style via a motorcade. Naturally, Bo flew on Marine One and Air Force One. He accompanied the first family on vacations to Chicago, Hawaii, Camp David, and Martha's Vineyard.
Despite the president's busy schedule, Obama made sure he took Bo on late night walks around the White House grounds, and took care of cleaning up after Bo.
That being said, Major and Champ will need to adjust to their new home. Kristina Carmody of Indigo Dog Training in Washington, D.C., told The Wall Street Journal that it will be a bit of a transition for the German shepherds. They "will have their challenges, because you're going to have a lot of people coming and going and they tend to be more of a protective breed at times," she said.
Carmody also suggested keeping the dogs limited to a few rooms at first, instead of letting them roam the 132-room White House right away, and bringing their toys from Delaware to establish familiarity. Additionally, if the president is comfortable with it, "having a dog bed or two in the Oval Office" isn't a bad idea.
Mark Tobin of Delaware's K-9 Camp Dog Obedience School, who trained Champ and Major, thinks Major, the younger of the two, will have more challenges with the transition. "Champ is used to the big show," Tobin told the Journal. "I think Major is going to be like 'wow.'" Overall, Major and Champ's next four years won't be too rough (pun intended).
Newsweek reached out to the Presidential Pet Museum and the White House for comment regarding Champ and Major's routine but did not hear back in time for publication.