House Minority Leader Kevin McCarthy slammed President Joe Biden's new Disinformation Governance Board as "un-American abuse of power" while he threw his support behind a Republican bill that would terminate the new bureau, which conservatives have dubbed the "Ministry of Truth" in comparison to George Orwell's novel 1984.
"It's a scheme conjured up by Washington Democrats to grant themselves the authority to control free speech," McCarthy said at a Wednesday press briefing.
"They fear Americans having unfettered access to information because it will challenge the power that they want to have over people's lives," the GOP leader said.
Last month, the Department of Homeland Security announced the creation of the board to help combat the spread of disinformation online.
While the DHS has said the "working group" will target disinformation that threatens national security, critics of the bureau warn that it is an attempt from the federal government to police free speech on the internet.
"It's un-American, it's wrong, and we will do everything in our power to stop it," McCarthy said of the Disinformation Governance Board.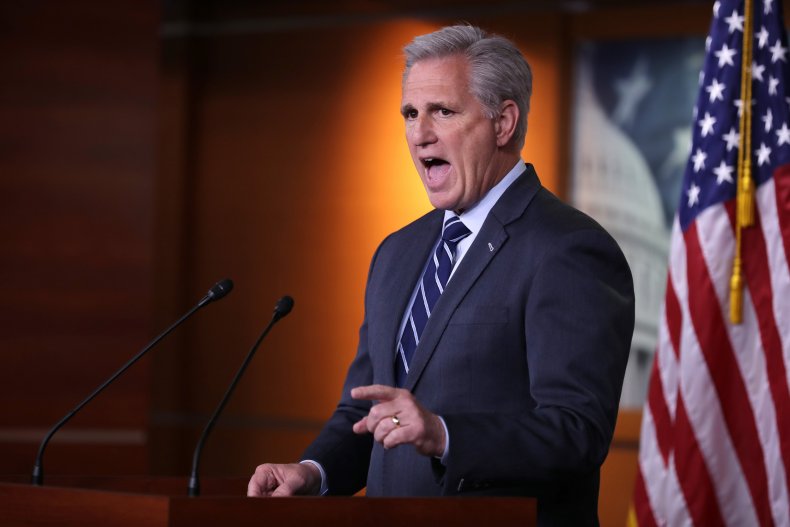 On Wednesday, House Republicans used billionaire Elon Musk's latest comments on reinstating former President Donald Trump's Twitter account to suggest that the Biden administration was ramping up their efforts to target disinformation as a guise to silence conservative voices.
"The Biden regime is afraid of Elon Musk and free speech. They want to use American tax dollars to fund this new board to continue to silence conservatives," Representative Lauren Boebert said.
"I certainly don't trust [the Biden administration] to be the arbiters of truth," she added. "Do you know who I do trust? I trust the American people. They are more capable of looking at claims, researching facts, making informed decisions. Americans don't need big tech fact-checkers, or this partisan board silencing free speech."
Boebert introduced her new bill, "The Protecting Free Speech Act" on Wednesday with the support of McCarthy and Minority Whip Steve Scalise.
Also on Wednesday, the House minority leader took shots at Nina Jankowicz, the global fellow from the nonpartisan Wilson Center who Biden picked to serve as executive director on the board.
"If there is any doubt [that] this Biden administration intends to exploit this office and manipulate information, you look no further to the person he selected," McCarthy said.
"Nina Jankowicz — she championed government lockdowns, going as far as saying 'force away and lock us down.' And she actively worked in spreading misinformation that now has been proven false and they want to put her in charge," he said. "This person has no business serving in government, much less given a role to monitor information."