Biden's 'Neanderthal Thinking' Remark Prompts Furor in Mississippi, Texas
President Joe Biden's recent remarks are sparking anger among some in Mississippi and Texas after he slammed the states for lifting mask mandates amid the ongoing coronavirus pandemic.
Biden told reporters it "a big mistake" that some governors are loosening COVID-19 restrictions on Wednesday, adding, "The last thing we need is Neanderthal thinking."
His comments come after Texas Governor Greg Abbott said he would terminate all of the state's coronavirus measures starting next week, and Mississippi Governor Tate Reeves announced that the state would rescind its mask requirements effective immediately.
Some politicians are taking Biden's words as a personal attack, criticizing the president for insulting those who have decided it's safe to no longer wear masks as a safety precaution for spreading the virus.
"President Biden said allowing Mississippians to decide how to protect themselves is 'neanderthal thinking,'" Reeves tweeted on Wednesday. "Mississippians don't need handlers. As numbers drop, they can assess their choices and listen to experts. I guess I just think we should trust Americans, not insult them."
Reeves later appeared on Fox News that evening, adding, "When President Biden said that we were all Neanderthals, it struck me as someone who needs to get outside of Washington, D.C., and actually travel to Middle America."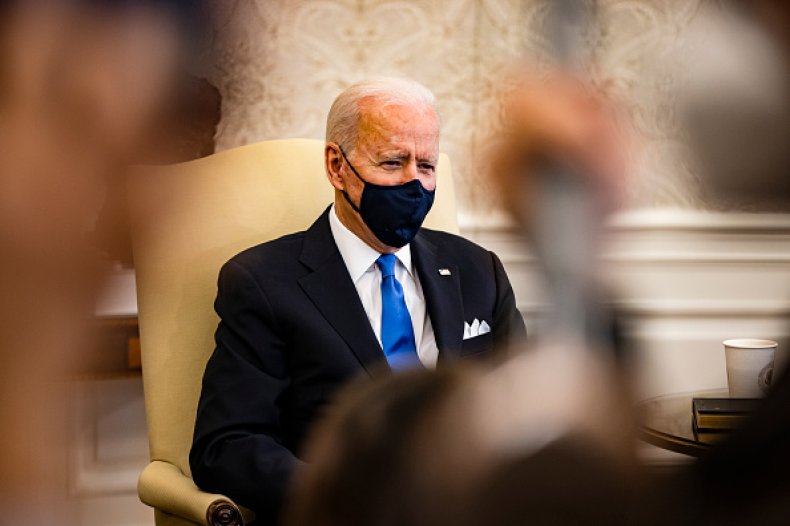 Representative Dan Crenshaw of Texas' 2nd congressional district also fired back at Biden's remarks, suggesting the president cares more about the livelihoods of illegal immigrants than that of American citizens.
"Freedom of choice for Americans: 'Neanderthal thinking' Opening borders to illegal immigrants with COVID: 'compassion,'" Crenshaw wrote on twitter.
Missouri Senator Josh Hawley argued that the president's words show he is not following his own message of unity.
"What a uniter Joe Biden is. You know this is Mr. Unity. And yet if you disagree with him, you're a Neanderthal," the senator told Fox News on Thursday.
The Biden administration and experts from federal health agencies have continued encouraging Americans to wear masks despite a plateau in the nation's COVID-19 metrics and an expansion in vaccine rollouts.
"It's just inexplicable why you would want to pull back now," Dr. Anthony Fauci, Biden's top health adviser and the director of the National Institute of Allergy and Infectious Diseases, told CNN on Wednesday. "I understand the need to want to get back to normality, but you're only going to set yourself back if you just completely push aside the public health guidelines."
On Wednesday, Biden told reporters, "I hope everybody realizes by now, these masks make a difference. We're on the cusp of being able to fundamentally change the nature of this disease because of the way in which we're able to get vaccines in people's arms."
Biden is not the only one displeased with the recent announcements. Local officials in Texas and Mississippi have expressed concern that relaxing measures now will endanger the health of residents. Shortly after Abbott lifted Texas' mask mandate, "I hate it here" began trending on Twitter as Texans reacted to the news.
Masks will still be required in some Mississippi and Texas stores, as well as on all federal property and on planes, trains, intercity buses and public transportation under Biden's federal mask mandate.
Newsweek reached out to the White House for further comment but did not hear back before publication.