Republican Louisiana Senator John Kennedy has called Democratic President Joe Biden's $1.9 trillion COVID-19 stimulus bill "left of Lenin" and "full of spending porn."
Kennedy made his comments Wednesday on the Fox News program America's Newsroom. The show's co-host Dana Perino asked his criticisms of the bill, noting that Kennedy always has "a way with words."
"This is not a coronavirus bill," Kennedy began. "This is a left of Lenin, neo-socialist wish list. I mean it's just ... it is chock full of spending porn."
Vladimir Lenin was a Soviet Union premier who supported Marxism and communism. Marxism and communism advocate for a society in which all property is publicly-owned, distributed by the government and each person works and receives pay according to their abilities and needs.
"The profligacy is mind-numbing," Kennedy continued. "The motto of the Biden Administration seems to be 'We can't spend too much.'" He later called the bill's approach the economy "infantile" and added, "The people advising President Biden have an opium habit."
Newsweek has contacted Kennedy for comment.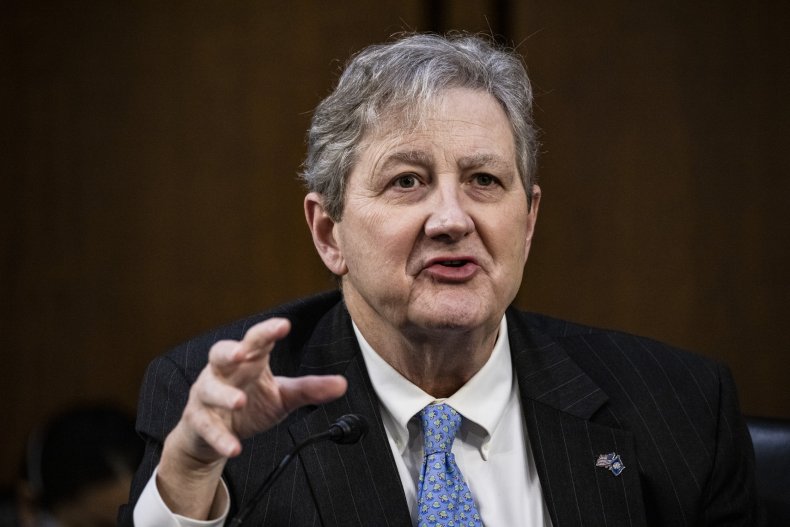 Specifically, Kennedy criticized the bill's funds for transit projects, bridges and the preservation of Native American languages in COVID-19 response resources. He also criticized that the bill because its proposed $1,400 stimulus checks and unemployment healthcare benefits may help undocumented immigrants.
Kennedy noted that the bill provides $130 billion for reopening schools without requiring schools to reinstate in-person learning. He alleged that schools had only spent $4 billion of the $110 billion in funds provided in the 2020 stimulus package signed by former President Donald Trump.
Kennedy's comments echo a few of the criticisms listed in a three-page memo released by Congressional Republicans against Biden's bill on Monday.
Democrats have touted Biden's $1.9 trillion package as necessary to revive the national economy hurt by the ongoing COVID-19 pandemic. Republicans, however, have generally opposed the package as too costly.
Republicans have also criticized congressional Democrats as "partisan" for preparing to pass the bill without any Republican support through the budget reconciliation process.
Biden has challenged conservative critics of the bill to specify what they'd like removed from his proposal.
"Critics say my plan is too big. That it costs $1.9 trillion. They say that's too much," Biden said last Friday during his visit to a Pfizer vaccine manufacturing plant in Kalamazoo, Michigan. "Let me ask them: what would they have me cut? What would they have me leave out?"
On February 1, Republicans offered their own $618 billion economic stimulus bill. It differed from Biden's proposal by removing its $15 minimum wage hike as well as lowering benefits for unemployment insurance, food assistance programs, small business loans and reopening schools.
In response, Biden said he would "not settle" on his pandemic relief bill.