Biden's Student Loan Pause Could Put Democrats in Prime Midterm Position
The Biden administration is expected to extend the federal pause on student loan payments for an additional four months.
President Joe Biden could make the announcement as soon as Wednesday, according to reports. The current payment pause is set to expire on May 1 but is likely to be pushed back until August 31. The extension would affect more than 43 million Americans who have incurred student loan debt.
The extension may provide Democrats with a major opportunity to delay the restart of payments yet again in September, just before the 2022 midterm elections. The party is vying to keep its majority control of Congress in this year's contests.
Polls find the student loan pause has support from most Americans. A Morning Consult survey last month found 50 percent of U.S. adults supported the date for payments resuming being pushed back, and was broadly popular with younger voters—a critical voting bloc for the Democratic Party.
"Why didn't they just extend it through the end of the year now? Well, then you don't get any political boost heading into the midterms for taking additional action," Travis Hornsby, the founder of Student Loan Planner, told Newsweek.
Joe St. George, the national politics editor and correspondent for E.W. Scripps, tweeted that "in a midterm election year [it's] hard to see President Biden suddenly starting student loan payments up again in September with his base needing to be energized."
Democrats on Capitol Hill have urged party leaders to extend the pause through at least the end of 2022. Nearly 100 lawmakers also recently called for "meaningful debt cancellation" for borrowers.
"Restarting repayment will financially destabilize many borrowers and their families, and will cause hardship for many who could not afford repayment. Most borrowers are not financially prepared to shoulder another bill as they face skyrocketing costs for necessities like food and gas," the lawmakers wrote in a letter to Biden last week.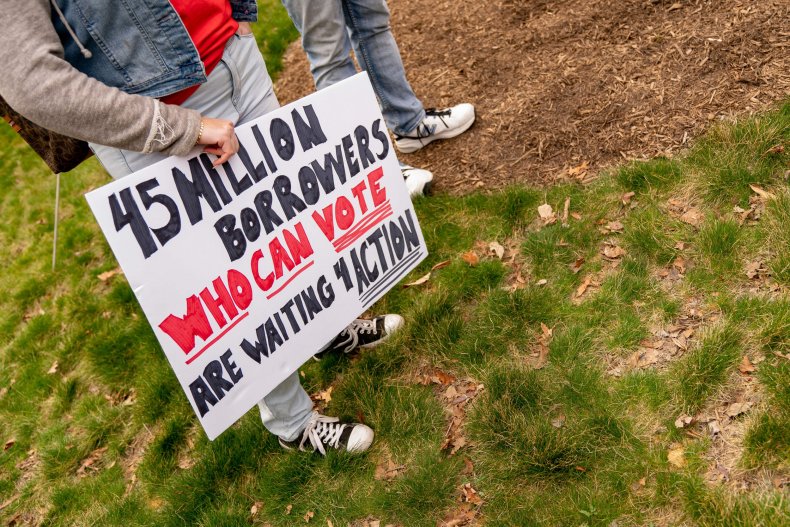 Some progressives have warned that Democrats could lose their races this fall if student loan payments aren't forgiven or payments aren't pushed.
"I can't underscore how much the hesitancy of the Biden administration to pursue student-loan cancellation has demoralized a very critical voting block that the president, the House, and the Senate need in order to have any chance at preserving any of our majority," Representative Alexandria Ocasio-Cortez told The New Yorker earlier this year.
Biden has canceled approximately $16 billion in federal student loan debt during his time in office so far. Some Democrats have pushed him to forgive up to $50,000 per borrower, though he has said he lacks the authority to do so.
Newsweek reached out to the White House for comment but didn't receive a response before publication.