'Big Brother' Season 23 Cast: Meet All the 2021 Houseguests
Big Brother Season 23 kicks off tonight (Wednesday, July 7) at 8 p.m. ET with a special 90-minute live event that will see the Big Brother contestants move into the BB Beach Club.
This season's cast includes a Flight Attendant, Attorney, Forensic Scientist, and a Make-Up Artist, and already one contestant—Christie Valdiserri—has had to drop out of the series after testing positive for coronavirus.
Meet the 2021 'Big Brother' Houseguests
Alyssa Lopez
Swimwear Designer Alyssa Lopez will be taking part in Big Brother Season 23. The Sarasota native will be celebrating her 25th birthday whilst in the Big Brother house, so hopefully there will a Big Brother celebration to be had.
Lopez was once featured on a Hooters Billboard and has a Bachelor's degree in Broadcast Production.
Describing herself in three words, Lopez opted for: "Witty, Sarcastic and Outgoing."
Azah Awasum
Azah Awasum from Baltimore is one of the 16 Big Brother contestants. Outside of The Big Brother house, Awasum, 30, is a Director of Sales Operations.
In her official Big Brother bio, Awasum shared some fun facts about himself. She has 300 cousins.
According to her official Big Brother bio, Awasum's grandfather was a polygamist with six wives and 47 children.
Brent Champagne
Brent Champagne, 28 is a Flight Attendant from Cranston, Rhode Island.
Champagne was a former Live Lottery Television Host for Rhode Island Lottery and a former D1AA Collegiate Athlete.
Britini D'Angelo
Britini D'Angelo, 24, is a kindergarten teacher on the outside world, from Niagara Falls, N.Y.
She is also a professional dancer, and performing to crowds as large as 20,000 at different sporting events.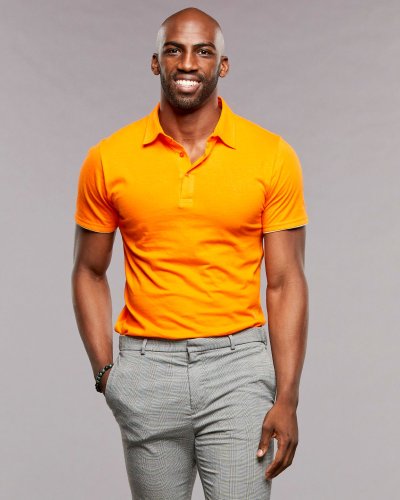 Christian Birkenberger
Christian Birkenberger is one of the youngest Big Brother contestants this year at just 23 years old. He is a General Contractor Assistant from Harwinton, Connecticut.
Birkenberger said his strategy for winning this year's Big Brother is to be himself.
He said: "Ultimately, be myself because I am a joy!! But I would like to appear fun and clueless as to not raise any flags, align myself with more people and slip up as a physical threat when I need to schmooze the house."
Claire Rehfuss
Claire Rehfuss is an A.I. Engineer from Chagrin Falls, Ohio.
She was called in last minute to replace Christie Valdiserri, who had to drop out of the competition after she tested positive for Covid-19.
Rehfuss teased she will use her " intelligence, drive, and adaptability" to take home the Big Brother crown.
Derek Frazier
Derek Frazier is a 29-year-old safety officer from Philadelphia.
His father was "Smokin Joe" Frazier, the American professional boxer who was the first person to beat Muhammad Ali.
Derek Xiao
Derek Xiao, 24, is a start-up founder from Baltimore currently living in New York City.
Describing himself as "funny, logical and thoughtful", Xiao said he plans to turn "friendships into alliances" to win the competition.
Brandon "Frenchie" French
Brandon "Frenchie" French is one of the older contestants taking part in Big Brother this year. The 34-year-old is a farmer from Camden, Tennessee.
Frenchie's life motto to get him through the competition is: "You will always go through rocky times, but together we can crush those rocks into fine sand and create our own paradise!"
Hannah Chaddha
Hannah Chaddha is the youngest contestant taking part in Big Brother Season 23. Chadda, 21, graduated from university at 19-years-old and is a competitive hip-hop dancer.
Speaking ahead of entering the Big Brother House, Chadda shared she "can't WAIT to play the game and eat, sleep, breathe Big Brother for the summer. I'm excited for the whole Big Brother experience, even being on Slop, taking cold showers, and sleeping in the Have-Not room. It's been my dream to backstab and blindside the other Houseguests all the way to the end."
Kyland Young
Kyland Young, 29, will celebrate his 30th birthday in the Big Brother House on July 13.
The Account Executive from San Bernardino County, California describes himself as "Optimistic, Dynamic, and Engaging."
Sarah Steagall
Sarah Steagall, 27, is a forensic scientist from Boiling Springs, South Carolina. Outside of work, Steagall is a huge Cosplay fan and often styles wigs, jewellery, and Cosplay prop armour and weapons.
Tiffany Mitchell
Tiffany Mitchell is the oldest contestant taking part in Big Brother Season 23.
Mitchell, who is turning 41 in August, is a Phlebotomist on the outside world.
Sharing her thoughts on what she will find the most difficult part of the Big Brother House, Mitchell said: "I think the most difficult part about living in the house will be being away from my son. We've never been apart for more than a week."
Travis Long
Travis Long is a Tech Sales Consultant and Author from Austin, Texas.
His life motto is "So many brilliant things lay on the other side of discomfort" and the 22 year old plans to form close relationships with people behind the scenes to win the $500,000 cash prize.
Whitney Williams
Whitney Williams, 30, is a make-up artist from Portland, Oregon. Outside of the Big Brother House, Williams enjoys travels with her sons and spending time with friends.
Williams is determined to win the series, stating: "I do know that I'm going to go into the house as a strong competitor, while hopefully not making too many ripples.
I also want to uphold my values and create genuine friendships, but winning this game for myself and for my children is my top priority."
Xavier Prather
Xavier Prather is a 27-year-old attorney from Kalamazoo, Michigan. Prather is most looking forward to playing the game and meeting new people, according to his official Big Brother bio.
He said: "First and foremost, just getting an opportunity to participate in a game and live in a house that very few people can say they've experienced is pretty incredible. I want to see the design of the house up close and see what random guests (especially Zingbot) will show up throughout my time in the house."
Big Brother Season 23 starts tonight at 8 p.m. ET on CBS and Paramount +.
Episodes will then air every Sunday, Wednesday and Thursday at 8pm E.T. on CBS and Paramount+