Big Tech's Extremism Fight Could Kick Hornet's Nest of the Populist Right
Anti-extremism activists, organizations, and politicians are meeting in Norway to urge unified and comprehensive action against online extremist content, particularly PDFs and other text-based documents that have traditionally slipped through the image- and video-focused safety nets of the major social media platforms.
Big tech, civil society, and mainstream politicians may be largely united on the need to purge social media of the worst extremist material. But the transnational push risks kicking a hornet's nest of populist figures and groups that rely on social media.
The "22 July 2011 at Ten: Commemoration and Commitment" event seeks to "embrace and extend" the "Christchurch Call"—a shared commitment by governments and tech companies to stop terrorist and violent extremist content appearing online.
That call was made in the aftermath of the Christchurch mosque shootings in 2019, the mass murder committed by an Australian in New Zealand. He was inspired by previous terrorist shooters from around the world and radicalized by international racist conspiracy theories and a sprawling network of online extremist communities.
Organizers told Newsweek they hoped to secure fresh commitments from tech giants and government representatives to push back against radical far-right material.
But those involved said they are clear-eyed about resistance from the right of the political spectrum, where fringe figures and groups mix with extremists in a murky milieu of conspiracy theories and radicalization.
Recent years have seen a reckoning for social media giants, forced into censoring extremist content amid fears of incitement to violence and erosion of democratic principles.
Tighter content restrictions by social media companies are, however, controversial. In the U.S. and further afield the debate has pitted Silicon Valley against powerful right-wing politicians, including former President Donald Trump.
Social media censorship has quickly become a culture war issue, complicating discussions about the role of tech giants in shaping the modern zeitgeist.
Any governmental buy-in to new restrictions online will have to overcome the politicization of online free speech, an issue that populist leaders in the U.S. and Europe have identified as red meat for their voter base.
Matthew Feldman, the director of the Centre for Analysis of the Radical Right and a professorial fellow at the University of York in the U.K., is one of the organizers of the event in Bergen, Norway.
He told Newsweek that the event and the Christchurch Call are milestones on a much longer and more complicated journey: "This isn't going to be something where you snap your fingers and the problems are solved. These problems are tough, and they are complex."
The best way to avoid the political mudslinging, Feldman said, is to go after the "low hanging fruit" that all sides can agree is dangerous, i.e. engagement in racial dehumanisation or incitement to violence: "I think if everybody starts brandishing swords and rattling them, that's not going to help anybody."
Feldman and the other organizers believe few will defend such content on principle: "I haven't seen that argument, because I don't think anybody's stupid enough to make it."
Western governments have broadly failed to treat far-right extremism with the severity it deserves. Intelligence agencies and judicial systems spent decades focused on Islamic extremism while the far-right metastasized in the background.
Far-right terrorists have often been dismissed as "lone wolves," or mentally unstable individuals, their ideological motivation considered secondary elements to their crimes.
But these attackers come from somewhere. Each terrorist is a product of their environment, but also of transnational trends and ideologies, ideas and movements given fresh impetus by the internet—especially social media platforms—and social tensions that transcend nation states.
John Woodcock, Baron Walney, is a British politician serving as the U.K. government's independent adviser on political violence and disruption. Woodcock is currently preparing a landmark report on the issue, which will consider political violence from across the political spectrum.
Woodcock told Newsweek that Western governments have been too slow to face the problem of far-right extremism. Many wanted to see far-right attacks as aberrations or anomalies, he said.
With far-right currents emerging across the globe, Woodcock said 2021 is an "important moment to to take stock of that and to reflect on direction and the scale and the nature of cross borders cooperation."
The rise of QAnon and the supercharging of the anti-vaccination movement amid the COVID-19 pandemic are both worrying signs, Woodcock said: "The relative speed with which a set of ideas and an ideological position is morphed into a semi-organized violent action is really striking."
This "post-organizational far-right," as Woodcock described it, "shows the power of information channels, and their ability to quite quickly solidify an alternative reality to a significantly large population."
That there are similar movements in North America and Europe also showed "a transatlantic transnational currency for some of this stuff on the far right," Woodcock said.
Adalbert Jahnz, the European Commission spokesperson for home affairs, told Newsweek that governments "of course have a particular responsibility in addressing radicalization and extremism."
"There is not a 'single path' to radicalization," Jahnz added. "Radicalization processes are different. Violent right-wing narratives are exploited and social media enables groups and individuals to reach sympathetic audiences."
Attackers in Christchurch, El Paso, Halle and Hanau all "clearly inspired one another," Jahnz said, and were part of similar online communities.
"There is a need for a better understanding of the user's online journey towards radicalization and we are working on this together with companies and governments in the context of the Christchurch Call for Action."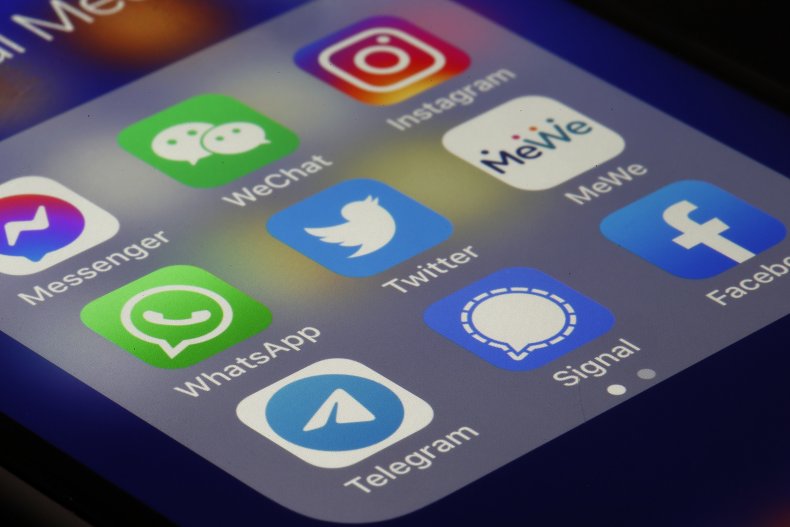 Extremist online communities are increasingly in the crosshairs of social media companies. A group of tech giants including Facebook and Microsoft has already agreed to create a new database to crack down on terrorist manifestos and other content that had previously escaped their extremism filters.
The project is being run through the Global Internet Forum to Counter Terrorism, launched in 2017 by Facebook, Microsoft, Twitter, and YouTube.
GIFCT's new extremist database will use "hash sharing," by which companies can identify extremist text and links. At the moment, filters focus on pictures and videos. The current state of affairs means extremist manifestos and guides can slip through the net.
The COVID-19 pandemic has imbued online extremism with a new potency. "With increased time spent online during the COVID-19 pandemic, young people were increasingly exposed to right-wing extremist ideology," Jahnz said.
"Despite efforts to detect and delete violent extremist and terrorist content online, major social media platforms remain important vectors for the spread of right-wing extremism.
"In addition, fringe platforms, which are either dedicated right-wing extremist sites or have been colonized by extremist propaganda, constitute online safe havens for right-wing extremist movements.
"Algorithms which promote new content for users have resulted in unintended recommendations of content containing extreme ideological rhetoric and/or conspiracy theories.
"Tech companies have stepped up their content moderation efforts and campaigns for positive and counter-narratives to reduce the risk of radicalization on their platforms but much more remains to be done."
The push back against the far-right in Western democracies also faces a problem that the fight against Islamic extremism, for example, does not.
"What we would call domestic terrorism or radical extremism abuts the mainstream," Feldman said. "Where does Marjorie Taylor Greene or Paul Gosar stop, and the Proud Boys and the Three Percenters stop? There is literally a cigarette paper between some of these groups...I think that that is a serious difficulty."
A radicalization of mainstream views—for example anti-immigration sentiment—"creates this elephant in the room," Feldman said: "I would like to restore some of the political boundaries between what we understand is extreme."
The U.S. and its European allies have spent two decades launching military interventions across Africa and the Middle East, deciding what counts as dangerous extremism. These nations are now having to grapple with their own internal fractures.
"If we can't be introspective about some of these problems about where extremism in our own societies comes from, I really don't know how we can be considered trusted partners to do it around the world," Feldman added.
But the thin line between fringe and extremist means heavy-handed measures risk scooping up people already disaffected with the status quo. Republicans in the U.S. consider their crusade against social media censorship a vote winner and telling Americans they sound like extremists is unlikely to be met with rational introspection.
"We need to think about taking care not to cast the definition of extreme content so widely that it effectively treats things like concern over immigration, per se, as extreme," Woodcock said.
"Unwittingly it could make very significant swathes of the population of any Western democracy more susceptible to messages from actual far right actors."
Forcing people off platforms like Twitter may also send users to more toxic, less regulated platforms like Parler, Gab, 4chan, and 8chan, which can act as incubators for extremist ideology and incitement to real-world violence.
Feldman and the other "22 July 2011 at Ten: Commemoration and Commitment" organizers are aware of concerns about "mission creep," he explained, plus the fear that online regulation by U.S. companies could impose American political discourse about global issues onto international platforms.
"What is extreme is debatable across different cultures, it changes over time," Feldman said. "It seems to be equally important that we're alive to the evolution over time in place of certain characterizations that we might consider extreme.
"What we're doing is trying to respect human rights, yet at the same time, avoid the dehumanization and violent extremism that we are concerned is still too prevalent on digital platforms."