Bill Barr Says Trump 'Obviously' Unable to Unite Republicans: 'He Failed'
Donald Trump continues to face renewed criticism and backlash from prominent Republicans, including individuals who served in his administration—with former Attorney General William Barr saying that the former president is "obviously" unable to unite the GOP.
Trump has faced growing backlash from top Republicans and conservative media in the wake of the 2022 midterms, which saw many of the most prominent and crucial GOP candidates he endorsed lose to their Democratic opponents. An analysis by The New York Times showed that Trump's endorsement, on average, amounted to a 5-point penalty in House races.
Barr, in an interview broadcast Friday by PBS News, assessed that Trump has "failed," and should "stand aside" for other GOP politicians to lead the party forward.
"He failed. He didn't do what the whole country hoped—that he would rise to the occasion and rise to the office, and he didn't do that," Trump's former attorney general said.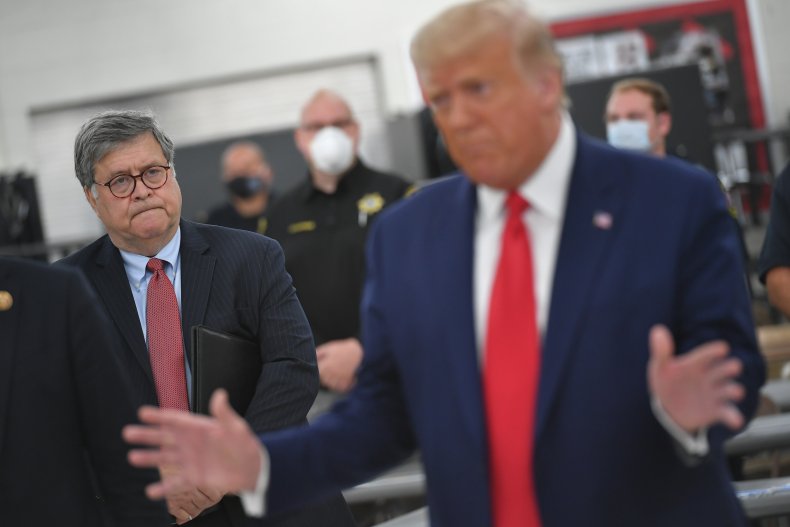 "So he's had his chance," Barr, who led Trump's Justice Department from February 2019 through December 2020, continued. "He obviously does not have the qualities necessary to unite the party, which is the first step on the road back, and he should stand aside."
Although Barr was widely viewed as one of Trump's most loyal and effective Cabinet members, he has readily debunked the former president's lies about the 2020 election. The former attorney general has shown a willingness to criticize Trump since he left office, but also speaks favorably of the former president's policies.
While Trump and many of his allies continue to baselessly claim that President Joe Biden's 2020 election win was fraudulent, Barr has repeatedly described such allegations as "bull****." He has said in interviews and under oath that he communicated this information to Trump directly before resigning in December 2020.
Barr also commented in his Friday interview on the ongoing investigations into Trump's alleged mishandling of classified documents, as well as his connections to the violent attack targeting the U.S. Capitol on January 6, 2021.
"Given what's gone on, I think they probably have the evidence that would check the box," he said. "They have the case." The former Trump administration official added that it is "increasingly more likely" that his former boss will face an indictment.
Previously, Barr told CBS News in August that the evidence against Trump was "building." He has also defended a controversial FBI raid on the former president's Mar-a-Lago resort home, as many conservatives have slammed the federal law enforcement action.
Trump has publicly attacked Barr on multiple occasions. In September, he described his former attorney general as a "weak and pathetic RINO," an acronym meaning "Republican in name only." Newsweek reached out to Trump's press representatives for comment on Barr's new PBS interview.
Other former Trump administration officials on Friday took apparent swipes at Trump during the Republican Jewish Coalition (RJC) event in Las Vegas. Former Secretary of State Mike Pompeo said that Republicans didn't need a "celebrity."
"The American people did not want to look backward, they wanted to look forward. They care about what happens tomorrow, not what happened yesterday," Pompeo said.
Trump's former Vice President Mike Pence also spoke at the event, reiterating the importance of upholding one's oath to the Constitution. Ahead of the January 6 riot, Trump and his allies urged Pence to unconstitutionally reject the election results from several key swing states during a joint-session of Congress. Pence refused, drawing death threats from Trump's supporters and harsh backlash from his boss.
"Our party may be the last line of defense for the Constitution of the United States," Pence said in Las Vegas. "The American people must know that our party keeps our oath to the Constitution even when political expediency may suggest that we do otherwise."
Several polls conducted among GOP voters after this year's midterms suggest that Trump's support may be waning. While some still show Trump leading the pack of potential 2024 Republican presidential contenders, multiple surveys now show Florida Governor Ron DeSantis as the frontrunner.
Trump officially announced his plan to seek the presidency again in 2024 on Tuesday. No other GOP contenders have made such an announcement, but DeSantis, Pompeo, Pence and a number of other prominent Republicans are widely expected to be weighing the possibility of launching campaigns.