Bill Cassidy, Who Voted to Convict Trump, Says 'If We Idolize One Person,' GOP 'Will Lose'
Hours before the former president is due to speak at this year's Conservative Political Action Conference (CPAC), Republican Senator Bill Cassidy warned against revering a single leader and linked the disproportionate focus on Donald Trump during his office term to the GOP's subsequent loss of previous congressional majorities and the White House last November.
"Over the last four years, we lost the House of Representatives, the Senate and the presidency," Cassidy told CNN's Dana Bash during an appearance on the network's State of the Union program Sunday morning. "That has not happened in a single four years under a president since Herbert Hoover. Now, if we plan to win in 2022 and 2024, we have to listen to the voters."
The Louisiana senator acknowledged that the attention paid to Trump often eclipsed policy work, particularly toward the end of his presidency. Given that Democrats gained control of both congressional chambers and the executive branch after Trump's term, Cassidy reasoned that a different approach is necessary if the GOP should regain House and Senate seats during midterm elections, and potentially see a Republican as President Joe Biden's successor.
"If you're going to win in 2022 and 2024, you've got to speak to voters who didn't vote for us last time," Cassidy said. "Before the COVID crisis hit, we had record employment for every group...we had economic policies that were working. So, if that's the case and we can speak to those policies, to those families, then we'll win. But if we idolize one person, we will lose. And that's kind of clear from the last election."
Cassidy, who first assumed his Senate seat in 2015, was one of just seven Republicans who voted to convict Trump during the impeachment trial that took place earlier in February. Because a conviction would have required a vote of two-thirds of the Senate, including 17 Republican members, the former president was ultimately acquitted.
Trump was impeached, for a second time, by the U.S. House of Representatives one month prior. Lawmakers charged him with "incitement of insurrection" for his role in the January 6 Capitol riot, which saw a mob of the former president's supporters storm the federal complex during a violent uprising that resulted in five deaths and numerous injuries.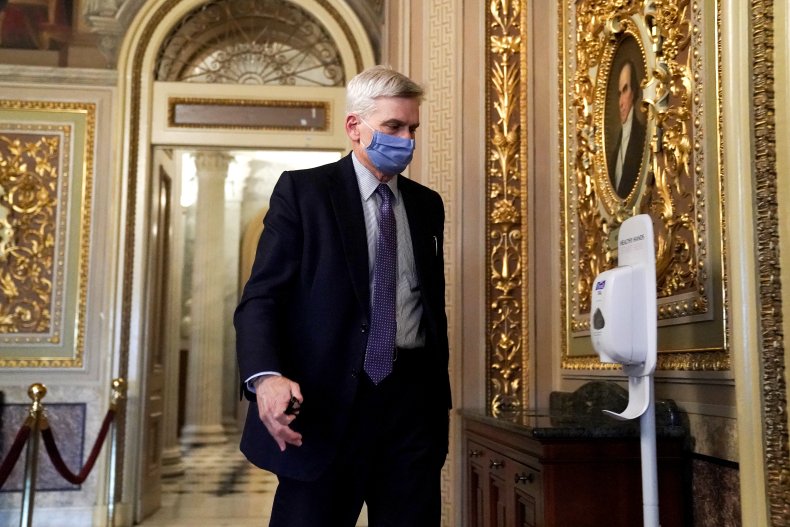 The rioters sought to overturn Biden's election win as Congress held joint sessions to certify his Electoral College victory. Trump and his followers attempted to do the same after the polls closed in November, publicizing false allegations of "rigged" election proceedings and fraud in an unsuccessful endeavor to characterize results as illegitimate.
Despite the controversies that pervaded his presidency, Trump has expressed intent to run for office again during the 2024 election season. He is expected to discuss future political plans at CPAC on Sunday afternoon in Orlando, Florida, where a 6-foot-tall golden sculpture of his likeness was among the decor.
Although a number of Republicans continue to support Trump in the aftermath of his White House term, Cassidy told Bash that he does not believe the former president will earn the party's nomination if another campaign is launched.
"I don't think he'll be our nominee for the reasons I've said...political campaigns are about winning. Our agenda does not move forward unless we win," the senator explained. "We need a candidate who can not only win himself or herself, but we also have to have someone who lifts all boats. And that's clearly not happened over the last four years."
Newsweek reached out to Cassidy's office for further comment, but did not receive a reply in time for publication.