After two days of laying out their case that former President Donald Trump incited the attack at the U.S. Capitol on January 6, House impeachment managers made their final appeal to lawmakers on Thursday afternoon.
"Senators, I've talked a lot about common sense in this trial because I think, I believe that's all you need to arrive at the right answer," lead impeachment manager Jamie Raskin (D-Md.) said in his closing argument.
He added, "Senators, America—we need to exercise our common sense about what happened. Let's not get caught up in a lot of outlandish lawyers' theories here. Exercise your common sense about what just took place in our country."
Shortly before his final remarks, Raskin warned the 100-member body to ask themselves what qualifies as impeachable conduct if not for Trump's actions.
"If you don't find this a high crime and misdemeanor today, you have set a new terrible standard for presidential misconduct in the United States of America," Raskin said.
The 10 Democratic prosecutors highlighted Trump's activity on Twitter, as well as remarks he made during his campaign rallies, to argue that he "primed" his supporters to take action by spreading baseless allegations of widespread election fraud. They also laid out evidence to show Trump displayed no remorse for the role he played or for people who were endangered by his falsehoods.
On Wednesday, the House prosecutors aired never-before-seen video footage and audio communications from the attack. Capitol police officers could be heard calling for backup and stating there were multiple injuries as people threw metal poles and breached barricades.
Security footage from inside the Capitol tracked the close calls of Vice President Mike Pence, then-Minority Leader Chuck Schumer (D-N.Y.), Senator Mitt Romney (R-Utah) and staffers of House Speaker Nancy Pelosi (D-Calif.) as rioters swarmed the building.
Several Republicans remarked that the videos were horrific and praised the presentation by the managers, but said that it wasn't going to change their vote on whether or not to convict Trump.
By Thursday, several conservative members of the upper chamber expressed exhaustion with the proceeding. CNN reported that at one point 15 Republicans were not present in the chamber as impeachment managers made their case. Senator Jim Inhofe (R-Okla.) told reporters Thursday that "to me, they're losing credibility, the longer they talk."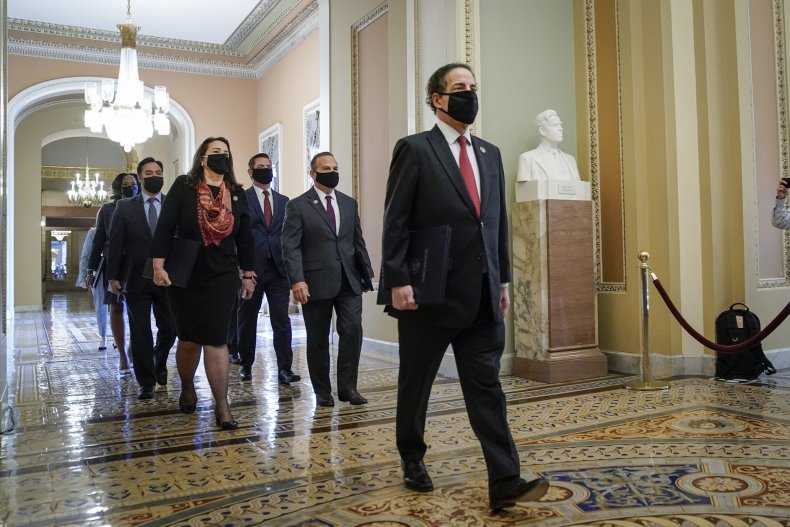 "Today was not connecting the dots for me," Senator James Lankford (R- Okla.) said Thursday during a break in the presentation, according to NBC News. Senator Roger Marshall (R-Kan.) said it was "a lot of political theater."
Senator Josh Hawley (R-Mo.), one of the biggest peddlers of Trump's baseless claims that the election was marred by fraud, told reporters after the impeachment managers wrapped that he "thought today was very repetitive, actually. I mean not much new. I was really disappointed that they didn't engage much with the legal standards...this is a legal process after all."
Trump's acquittal was widely considered a foregone conclusion before the impeachment trial even began. Democrats need 17 Republicans to join their side in order for Trump to be convicted, a scenario experts told Newsweek were slim to none.
Trump's defense team will take the podium on Friday to present their arguments. Like House impeachment managers, Trump's team will have up to 16 hours to make their case but attorney David Schoen told Fox News on Thursday that "there's no reason for us to be out there a long time."