Bill Clinton Arrives Home in New York to Continue Recovery from Infection
Former President Bill Clinton arrived home in Chappaqua, New York, Sunday evening to continue recovery from an infection after he was discharged from a hospital in California following six days of treatment.
Clinton, 75, was admitted to the intensive care unit at the University of California Irvine Medical Center in Orange, California, Tuesday with a non-COVID-related urinary tract infection that had spread to his bloodstream. At the time, Clinton felt fatigued and was hospitalized after testing.
"President Clinton was discharged from UC Irvine Medical Center today. His fever and white blood cell count are normalized and he will return home to New York to finish his course of antibiotics," Dr. Alpesh N Amin said in a statement shared on Twitter by Clinton spokesperson Angel Ureña.
"On behalf of everyone at UC Irvine Medical Center, we were honored to have treated him and will continue to monitor his progress."
As he walked out of hospital alongside his wife, former U.S. senator and 2016 Democratic presidential nominee Hillary Clinton, Clinton gave a thumbs up to reporters as he greeted medical staffers.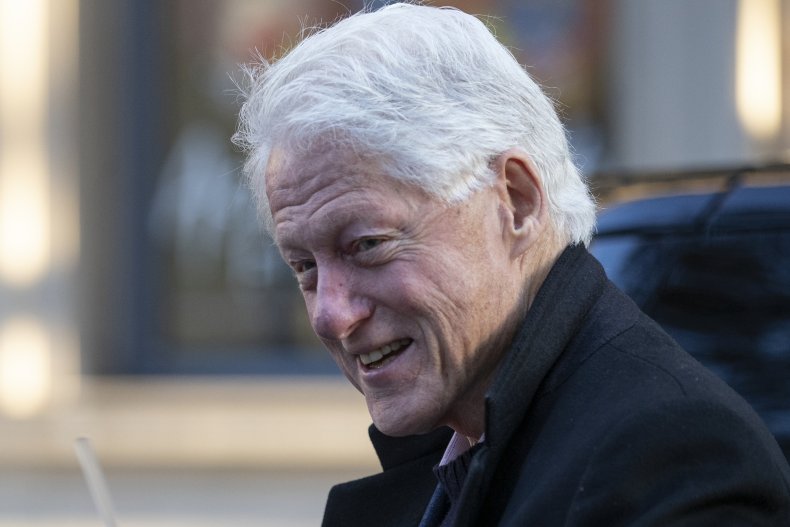 The 42nd president and his wife were reportedly in California for a private event related to the family's nonprofit, The Clinton Foundation.
Clinton's physicians, Amin and Dr. Lisa Bardack, said Thursday that he was "admitted to the hospital for close monitoring and administering IV antibiotic fluids." After two days of treatment, Clinton's "white blood cell count is trending down and he is responding to antibiotics well," they added.
On Saturday, Ureña said Clinton "continued to make excellent progress over the last 24 hours" and will "remain overnight at UC Irvine Medical Center to continue to receive IV antibiotics before an expected discharge tomorrow."
The spokesperson added that Clinton was in "great spirits and has been spending time with family, catching up with friends, and watching college football."
Officials said Clinton's infection developed into sepsis, a potentially life-threatening condition that occurs when the body produces an immune response to an infection that damages its own tissues, causing organs to function abnormally.
Clinton, one of five living former U.S. presidents, has faced several health issues in the past. He underwent quadruple bypass surgery in 2004 when he was 58 years old. Before the surgery, he had experienced chest pains and shortness of breath for several months.
Clinton was hospitalized in 2010 for a routine stent surgery—a procedure where doctors implant two small metal mesh stents in a coronary artery to aid blood flow.
Newsweek reached out to Clinton's representatives for further information.