Bill Cosby Will 'Vigorously Fight' Allegations He Sexually Assaulted Co-Star
Bill Cosby's spokesperson has vowed that the actor will "vigorously fight" sexual assault allegations against him after being hit with a new civil lawsuit.
According to court documents filed on Thursday, Lili Bernard has accused the comedian of sexual abuse, assault and battery after they met on the set of his classic sitcom The Cosby Show in 1990 when she had a guest-starring role.
Bernard has claimed that Cosby offered to mentor her, with a view to advancing her career, leading to their alleged meeting at the Trump Taj Mahal in Atlantic City, New Jersey, where she said she expected to be introduced to a producer.
Instead, Bernard claims she was drugged and raped by the screen star. She went on to claim that he "assaulted, battered and drugged" her multiple times.
She also alleged that he threatened to sue her for defamation and file a police report for false accusation if she informed law enforcement.
Bernard, who is seeking "no less than" $25 million on four main accusations and an additional $125 million in punitive damages, also issued a statement on Thursday.
"I have waited a long time to be able to pursue my case in court and I look forward to being heard and to hold Cosby accountable for what he did to me," she said. "Although it occurred long ago, I still live with the fear, pain and shame every day of my life."
Cosby's representative, Andrew Wyatt, took to the beleaguered star's Twitter and Instagram accounts to vehemently deny the allegations.
"These look back provisions are unconstitutional," he wrote alongside a photo of himself with the actor. "They are a sheer violation of an individual's Constitutional Rights and deny that individual of their Due Process rights."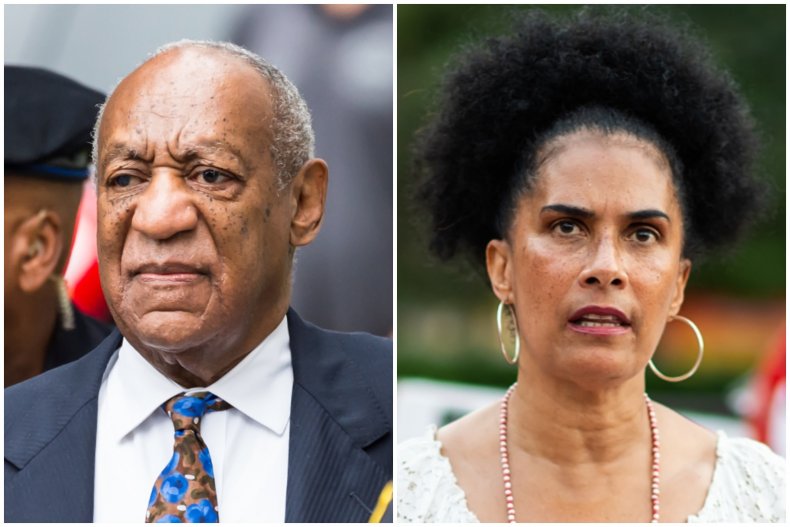 He went on: "This is just another attempt to abuse the legal process by opening up the flood gates for people, who never presented an ounce of evidence, proof, truth and/or facts, in order to substantiate their alleged allegations.
"Mr. Cosby continues to maintain steadfast in his innocence and will vigorously fight ANY alleged allegations waged against him and is willing and able to take this fight to the highest court in these United States of America.
"Also, back on July 1, 2015, the New Jersey Prosecutor terminated the investigation against Mr. Cosby and decided not to move forward with Lili Bernard's claims. She was represented by Gloria Allred at the time.
"Whatever Ms. Bernard and Ms. Allred were claiming was far beyond the statute of limitations and they made a failed attempt to gain ANY resolve from the Atlantic City Police Department and the New Jersey District Attorney's office."
In 2018, Cosby was convicted of three felony counts of aggravated indecent assault. However, the Pennsylvania Supreme Court vacated his conviction and he was released from prison in June of this year.
The Pennsylvania court vacated his conviction in part because it contravened a previous agreement with a prosecutor that he would not face criminal charges.
Back in 2005, then Montgomery County District Attorney Bruce Castor said he had found "insufficient credible and admissible evidence" on the allegations the star faced, and agreed with Cosby's lawyers not to file criminal charges.
Bernard is one of more than 50 women to have accused the once-beloved comedian of drugging and raping them. He has denied the allegations.