Bill Gates' Ex-Wife Melinda Says His Relationship With Jeffrey Epstein Hurt Marriage
Bill Gates' ex-wife, Melinda French Gates, has said the business and technology magnate's relationship with convicted pedophile Jeffrey Epstein played a role in their divorce.
The Gates' announced in May 2021 that they were divorcing after 27 years of marriage, as they revealed plans to continue working together through their eponymous philanthropic foundation.
Almost one year later, French Gates has said in an interview with Gayle King on CBS Mornings that Microsoft co-founder Gates' frequent meetings with disgraced financier Epstein negatively impacted their marriage.
She said: "I did not like that he had meetings with Jeffrey Epstein... I made that clear to him."
French Gates added that she met with Epstein once, because "I wanted to see who this man was, and I regretted it from the second I stepped in the door."
"He was abhorrent, evil personified. I had nightmares about it afterwards," she said of Epstein, who passed away in August 2019.
When pressed about Gates' continued meetings with Epstein despite his wife's approval, French Gates responded: "Any of the questions remaining about Bill's relationship... those are for Bill to answer."
French Gates, who said that she and Gates are "friendly" though not exactly "friends" at this point, went on to reveal that a number of factors contributed to the end of her marriage.
"It wasn't one moment or one specific thing that happened," she told King. "There just came a point in time where there was enough there that I realized it just wasn't healthy. I couldn't trust what we had."
Last year, Gates acknowledged that he had an affair with an employee at Microsoft. The company asked its board to investigate the relationship shortly before Gates' 2020 resignation from the board.
He has denied that his resignation was linked to the affair.
In a statement to Newsweek, Gates said that he "deeply regretted meeting with Epstein, as he also issued an apology to French Gates for the pain he caused her.
"Meeting with Epstein was a mistake that I regret deeply," he told Newsweek. "It was a substantial error in judgment. I remain dedicated to my work at the Gates Foundation in partnership with Melinda, where our focus is to help reduce global inequities, giving every person the chance to live a healthy and productive life.
"I will always be sorry for the pain that I caused Melinda and our family. I admire Melinda and everything she does to improve the lives of women and girls around the world, and I'm grateful for the work we continue to do together at our foundation."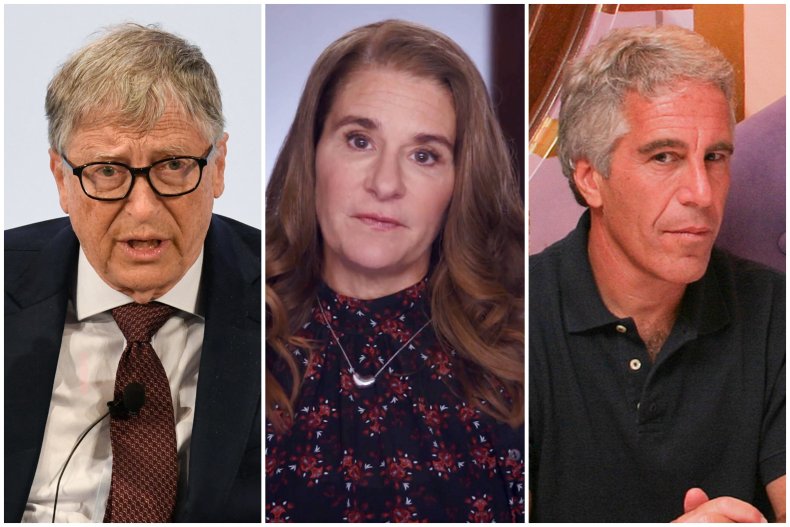 Gates said in an August 2021 interview with CNN's Anderson Cooper that it was a "huge mistake" to have had several meetings with Epstein.
The billionaire said that his relationship with Epstein came to an end in 2011—three years after Epstein's conviction for procuring a child for prostitution.
Gates said of Epstein: "I had several dinners with him, hoping what he said about getting billions [of dollars] for global health through contacts that he had might emerge.
"You know, when it looked like it wasn't a real thing, the relationship ended. But it was a huge mistake to spend time with him to give him the credibility of being there. There were lots of others in that same situation, but I made a mistake."
Gates' meetings with Epstein were detailed in an October 2019 New York Times article. According to the article, Gates' meetings with Epstein included an overnight stay at Epstein's mansion in the Upper East Side of Manhattan.
Bridgitt Arnold, a spokesperson for Gates, told Insider in 2019: "Epstein misrepresented the nature of his meetings with Gates while also working to insert himself behind-the-scenes without Gates's knowledge," adding that the men never socialized together.
"Bill Gates regrets ever meeting with Epstein and recognizes it was an error in judgment to do so," Arnold went on. "Gates recognizes that entertaining Epstein's ideas related to philanthropy gave Epstein an undeserved platform that was at odds with Gates' personal values and the values of his foundation."
Epstein, who had been photographed with a number of public figures over the years, was found dead in his jail cell in August 2019. He had been arrested on federal charges over the sex trafficking of minors.
The New York City medical examiner ruled that the cause of Epstein's death at the Metropolitan Correctional Center was suicide. In November of that year, then Attorney General William Barr said that Epstein's death was a "perfect storm of screw-ups."
Update 03/04/22, 10:05 a.m. ET: This article was updated to include a statement from Gates.