Television host Bill Maher poked fun at embattled New York Governor Andrew Cuomo Friday and said Democrats are "dropping him like he's made of gluten," following the New York attorney general's report concerning sexual harassment allegations against the governor.
"He has no friends," Maher said of Cuomo during the monologue of his HBO show Real Time With Bill Maher. "Biden called on him to resign. Nancy Pelosi called on him to resign. Chuck Schumer, yes, called on him to resign."
"Everyone is piling on," he said, joking that former New York Congressman Anthony Weiner "called for a double date."
Maher said that he feels bad for CNN host Chris Cuomo, the governor's brother.
"He's on CNN. He's got to report the news. I mean it's tough," said Maher.
"They say it's grim at the governor's mansion there in New York. Cuomo is getting so desperate that he's alone in the mansion screaming all day long, 'I bet if I looked like Gavin Newsom they would have liked it,'" he said, referring to the California governor.
Newsweek reached out to Cuomo's office for comment, but had not heard back as of publication.
Cuomo, a Democrat, has come under fire after New York Attorney General Letitia James released a report Tuesday that concluded that the governor sexually harassed multiple women, breaking federal and state laws, following a months-long investigation. Cuomo authorized the investigation on February 28 after three women accused him of inappropriate behavior.
Lindsey Boylan, a former Cuomo aide, was the first to accuse him of sexual harassment last December in a series of tweets. Since then, at least eight other women have publicly alleged sexual harassment by the governor.
"Specifically, the investigation found that Governor Andrew Cuomo sexually harassed current and former New York State employees by engaging in unwelcome and non-consensual touching and making numerous offensive comments of a suggestive sexual nature, that created a hostile work environment for women," James said.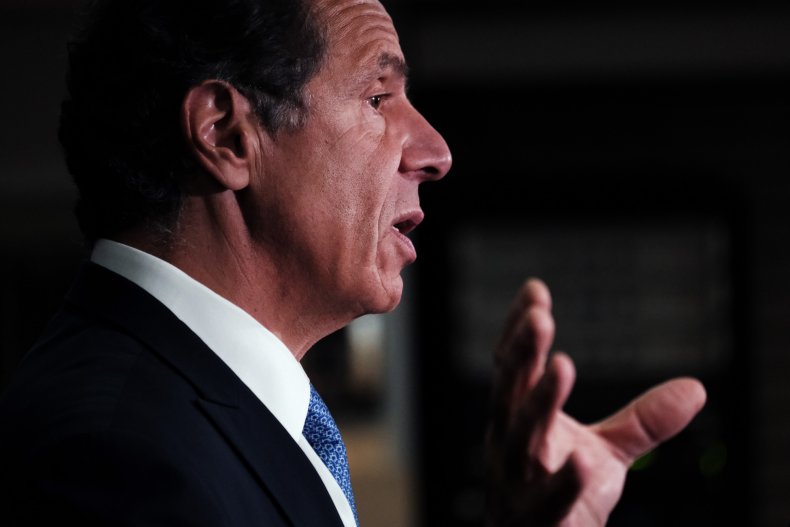 Following the release of the report, Cuomo responded to the allegations, saying that facts are being misrepresented.
"I know too well the manifestations of sexual assault trauma, and the damage that it can do in the aftermath," Cuomo said in a video statement, addressing accusations specifically made by Charlotte Bennett, another former aide. "I was trying to make sure she was working her way through it the best she could. I thought I had learned enough and had enough personal experience to help her, but I was wrong."
Cuomo said he is "truly and deeply sorry."
"I brought my personal experience into the workplace, and I shouldn't have done that," he said. "I was trying to help. Obviously, I didn't. I am even more sorry that I further complicated the situation. My goal was the exact opposite."
Many high-profile politicians of both parties have called for his resignation, including President Joe Biden. Cuomo has indicated he will not step down, but state Senator Mike Gianaris has said an impeachment trial for Cuomo could begin "in weeks."
A poll released Friday found that 70 percent of New Yorkers want him to resign, while 55 percent want him to be criminally charged. Only 25 percent of respondents said he should not resign.
Albany County Sheriff Craig Apple said Cuomo could be arrested if a crime could be determined, after a woman filed a criminal complaint against the governor and accused him of groping her breasts at his state residence.