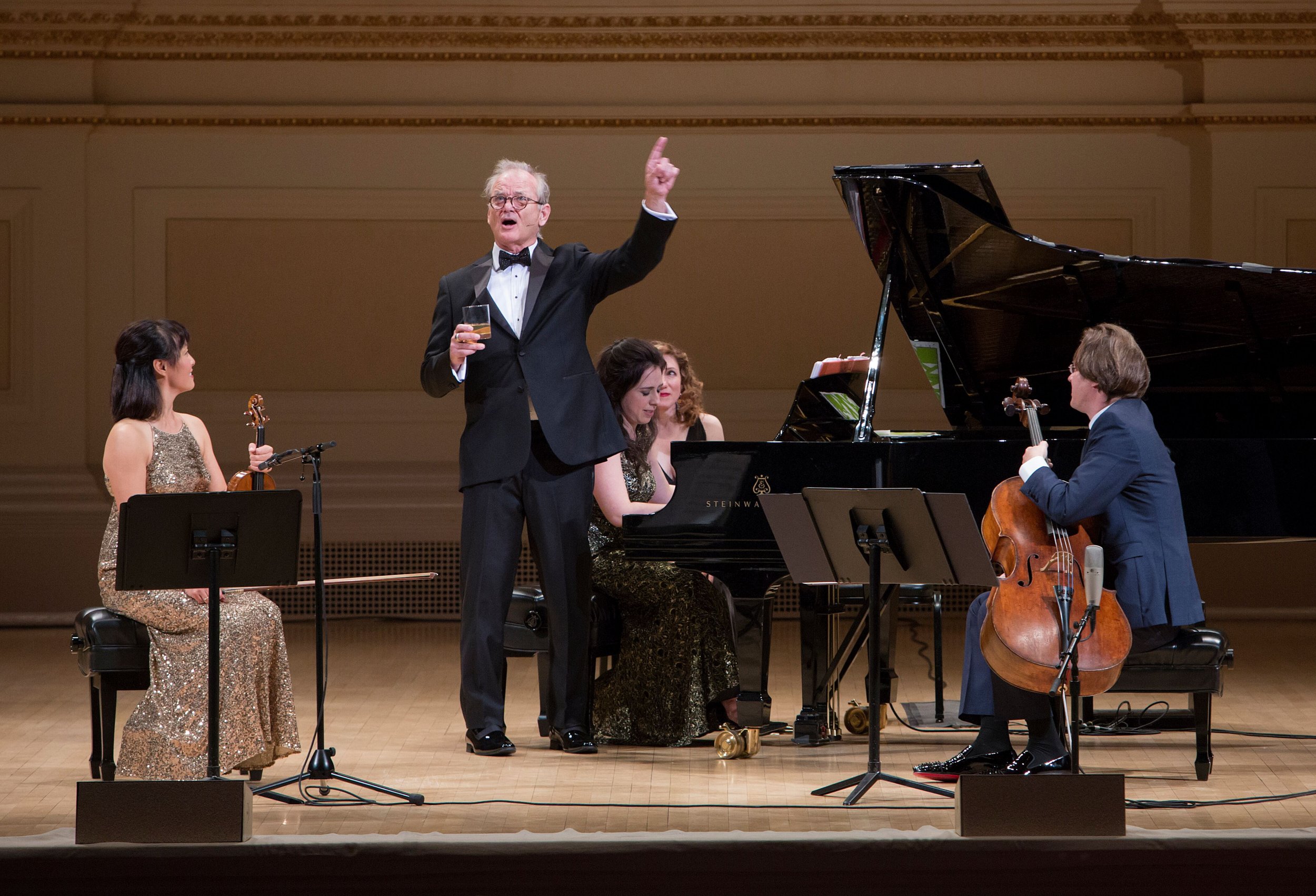 How do you get to Carnegie Hall?
The boring answer is "Practice, practice, practice." The better answer is "Be Bill Murray."
And if you already are Bill Murray (lucky you), the answer seems to be "randomly meet a famous cellist on an airplane and befriend him and eventually make an album together and then play at Carnegie Hall."
Related: How the media got fooled into thinking Bill Murray can steal the $2 million Wu-Tang album
This is all to say that the actor performed at Carnegie Hall on Monday evening with his friend and collaborator, the classical cellist Jan Vogler. That verb—"performed"—is ambiguous by design. Over the course of a two-hour evening, Murray sang, recited poetry, read from great American literature and regaled the sold-out crowd with updates on the Yankees game—all with musical backing from Vogler and his trio of musicians.
Murray and Vogler met by chance on a flight in 2013, when they were seated across from each other. They struck up a conversation, becoming friends in the subsequent years, and Murray shared with Vogler his love of poetry. This inspired a collaborative project, and in September, the pair released an album titled New Worlds. It pairs a selection of Vogler's chamber music with literary readings and vocals by Murray.
At Carnegie Hall, the selections hewed closely to the album's tracklist. Murray, clad in a tuxedo, began the evening with spoken-word recitations—Walt Whitman's "Song of Myself," Ernest Hemingway's "Group Feeling"—interspersed with chamber music. The collaboration was most effective when Murray recited literature; for instance, his reading from James Fenimore Cooper's The Deerslayer had an odd, mournful effect when paired with Franz Schubert's stirring Piano Trio in B-flat Major. Vogler, with Vanessa Perez on piano and Mira Wang on violin, provided faithful accompaniment.
The audience, well-dressed and middle-aged, seemed quite eager to follow Murray down any rabbit hole he chose. (Overheard: "Is this the Bruce Springsteen show? Ha ha ha!")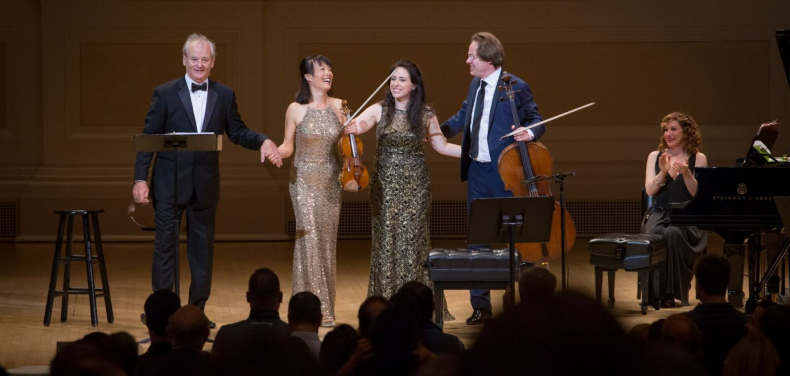 As the evening wore on, the Ghostbusters actor loosened up, and he did, indeed, sing. Did you know Murray could sing? He can! His voice has a ragged, untrained quality that contrasts nicely with the refinement of string arrangements. And, of course, he can slip into cartoonish deliveries or accents at will. He sang showtunes from West Side Story, leaping about the stage during "I Feel Pretty." He belted out Van Morrison's gospel-tinged "When Will I Ever Learn to Live in God," and did such a fine job I was left craving more pop and soul selections.
During a particularly surreal highlight, Murray barked the lyrics of Tom Waits's "The Piano Has Been Drinking (Not Me)," in character as a drunken buffoon. He slurred his words and slammed his head against the piano keys. (Speaking of drunkenness, a dramatic reading of James Thurber's story "If Grant Had Been Drinking at Appomattox"—a boozy reimagining of the Civil War surrender—drew lots of laughs.)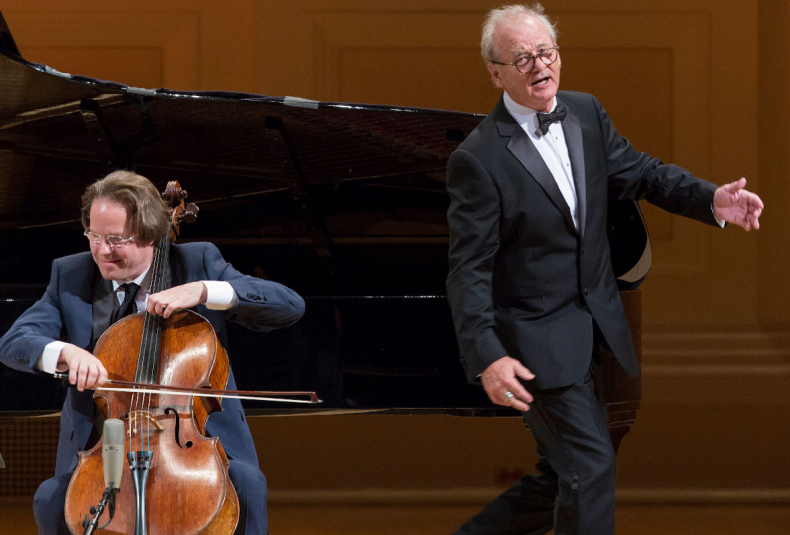 Here's what Murray did not do. He did not perform monologues from Groundhog Day or Lost in Translation. He did not bring out celebrity guests or deliver zingers about the week's news. He did not break character or address the audience directly until the encore, when he urged us to buy the album and joked: "I know a lot of you would like to leave. But the four of us have nowhere else to go!"
Then Murray came out for a second encore, and really wouldn't let us leave. (It was past 10 p.m., and many attendees probably had babysitters waiting at home.) He just kept singing—Jimmy Durante's "Did You Ever Have the Feeling," Mikis Theodorakis's "Women," and more.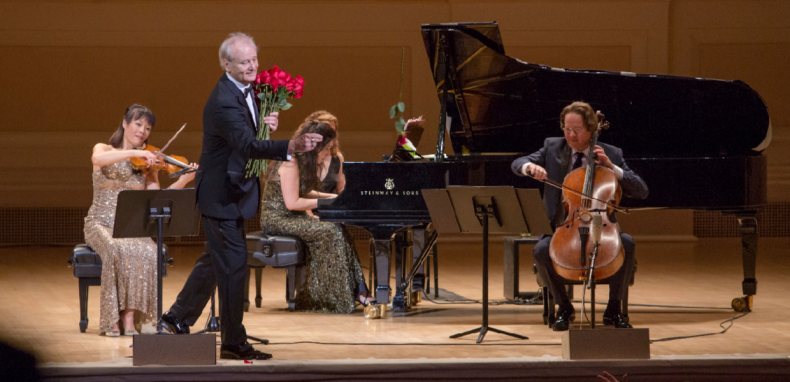 The actor even strode into the audience, tossing roses at audience members, until he eventually, reluctantly, left the stage for good, tossing off one final joke: "How do you get to Carnegie Hall? Uber!"