Billboards Warn California Residents Not to Move to Texas After Mass Exodus
Many Californians have been moving out of the state, but mysterious billboards popping up in Los Angeles and San Francisco are warning residents against moving to Texas.
Nearly 250,000 residents have left California between 2020 and 2021, mostly because of lack of affordability. Almost one-third of those are moving to Texas, according to U.S. Census data.
But the billboards caution residents against moving to Texas, including messages like "Don't move to Texas" and "The Texas miracle died in Uvalde," referring to the deadly school shooting at Robb Elementary School in May. NBC reported that the billboards are leased to advertisers by Foxpoint Media, which is based in Chicago.
San Jose State University public relations professor Matt Cabot told NBC that referencing Uvalde in the billboard was bad judgment.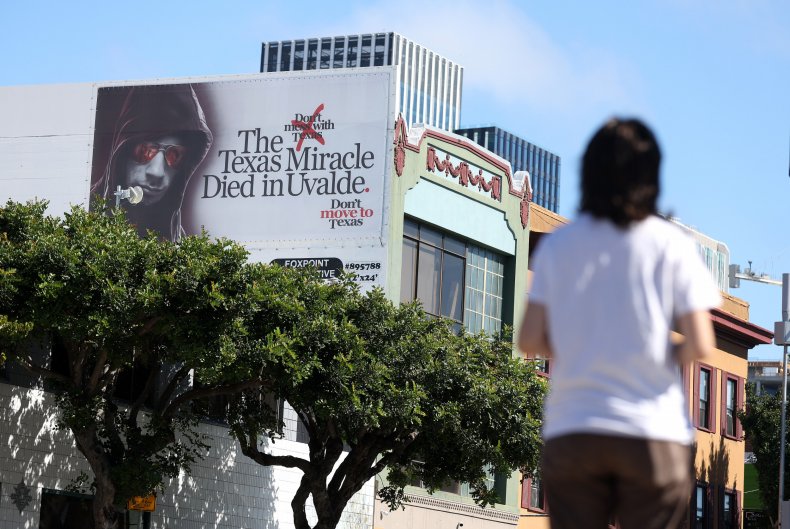 "This is the lowest of the low. It's bizarre. It's amateurish," he said.
Cabot added that typically a billboard should be understood by the reader in three seconds. He said the anti-Texas billboards are confusing and people can't understand them quickly.
"I'm not sure if it will even backfire because I'm not sure what it's designed to do," he told NBC.
The "Texas miracle" was coined by former Texas Governor Rick Perry in 2011 during his presidential run to highlight years of commercial growth in the state.
At the top of the billboard above an image of a person wearing tinted glasses and a hooded sweatshirt is the "Don't mess with Texas" slogan crossed out with a red X. "Don't mess with Texas" was developed by the Texas Department of Sanitation as a statewide anti-littering campaign.
According to Texas Monthly, about 700,000 Californians have moved to Texas since 2010. Several reports show Texas is the state Californians are most likely to move to and often settle in cities like Dallas, Austin and Houston.
Lack of affordability is the biggest push behind Golden State residents' desire to move. Massachusetts Institute of Technology (MIT) found that the living wage for an adult with a child in California is nearly $84,000. In Texas, it's less than $60,000.
Housing was the largest influence in cost of living and, according to MIT's study, also where Texas had the biggest advantage. Housing costs in California are nearly 50 percent higher than those in the Lone Star State. Texas also had less expensive medical care than California.
Reports also show Californians choose to move to Texas because of lower population density.
Newsweek reached out to Foxpoint Media for comment.