Billionaires Have Gotten Almost $1 Trillion Richer During Pandemic as Americans Plead for Second Stimulus Check
A new report highlighting economic disparities and their impact on community health pointed out that billionaires collectively have become nearly $1 trillion richer during the novel coronavirus pandemic. Meanwhile, millions of Americans and economists are urging Congress to pass a second stimulus package that they hope would include another stimulus check, as well as additional unemployment payments.
The study—which was published Wednesday by the Institute for Policy Studies in conjunction with Bargaining for the Common Good and United for Respect—found that as of Tuesday, "the combined wealth of 647 U.S. billionaires increased by almost $960 billion since mid-March." Additionally, the country has minted 33 new billionaires since March.
"It might be possible to have an economy that actively lifts up lower income households and expands the middle class, while coexisting with a handful of billionaires," Chuck Collins, director of the Program on Inequality Institute for Policy Studies, told Newsweek in an email. "But the problem is that accelerating billionaire wealth—almost $1 trillion since the beginning of the pandemic—and almost a total of $4 trillion total—is a policy failure in our economy. It means too much of society's wealth is funneling into too few hands," Collins said.
The report pointed to 12 companies—dubbed the "Delinquent Dozen"—that it said have driven "exploding inequality" in American society. These companies were identified as Walmart, Amazon, Target, Dollar Tree, Dollar Store, Instacart, Tyson Foods, BlackRock, Leonard Green Partners, Blackstone, Kohlberg, Kravis Roberts & Co, Cerberus Capital, BC Partners and CVC Capital Partners.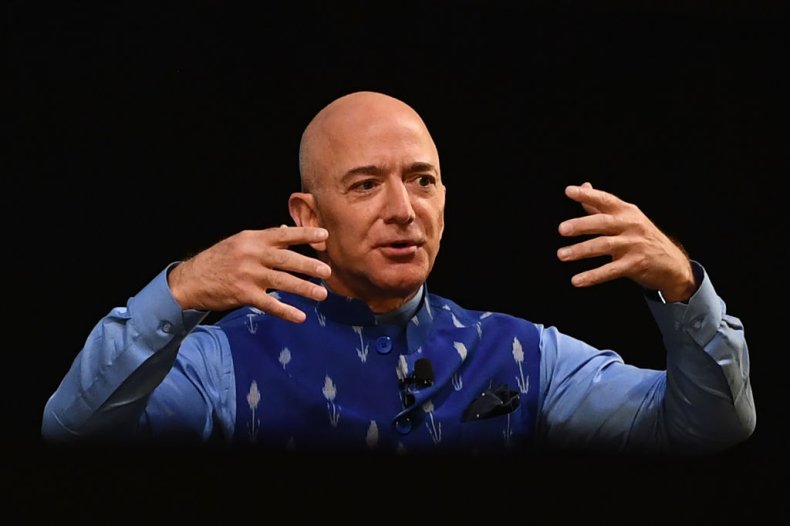 "The success of these businesses hasn't translated into better pay or safer working conditions for the employees showing up to work in a pandemic," the report explained.
"Hundreds of thousands of essential workers employed by these companies have remained vulnerable and exposed. These frontline workers risk their lives every day to do the work that increases already obscene corporate wealth," the researchers wrote.
Progressives in Congress have repeatedly raised concerns about growing inequality. Former Democratic presidential candidate Senator Bernie Sanders of Vermont has readily attacked billionaires and corporations.
"Taxpayers are subsidizing some of the wealthiest families and most profitable corporations in America. That is morally obscene and it's going to change. Workers need to earn a living wage," Sanders tweeted on Thursday.
While these companies and the billionaires behind many of them have grown richer, millions of Americans remain unemployed while millions more remain uninsured amid the COVID-19 pandemic. Although Congress acted in a bipartisan way in March to pass the $2.2 trillion CARES Act, additional efforts to pass another stimulus package remain stalled. Economists and Jerome Powell, the chair of the Federal Reserve, have urged lawmakers to pass further legislation, warning of long-term damage to the economy without an appropriate response.
Packages discussed by Democrats and Republicans have included a second stimulus check of $1,200 to most Americans, like the payments included in the CARES Act. Additional federal unemployment payments to jobless workers have been a point of tension, with Democrats wanting to renew the $600 weekly payments approved in the spring as Republicans have called for reducing—or even removing—extra payouts.
The pandemic continues to surge across the country, with an average of more than 150,000 new infections per day and deaths increasing, some states have reverted to partial lockdown measures. In another worrying sign, the latest weekly federal jobs report showed an increase in new jobless claims compared to the previous week—after several weeks of lowering claims.
"The headline here is concerning, with an increase of 31,000 to 742,000 in the number of new claims in the traditional programs administered by states," Mark Hamrick, senior economist at Bankrate, said in an email to Newsweek about the Labor Department report. "That combined with the increase in claims under the Pandemic Unemployment Assistance program puts us at more than a million new claims."
What steps the current government will take in the short-term remain to be seen. President-elect Joe Biden has voiced support for significant stimulus. And progressive Democrats have railed against growing inequality, calling for significantly increasing taxes on the wealthy.
"Raising the floor includes supporting a higher minimum wage, protections for essential workers, such as hazard pay and paid family medical leave, and other policies that foster a higher social safety net," Collins told Newsweek. "Reducing student debt and access to low-interest loans for first-time homebuyers would also help families get on the wealth-building train and reduce inequality."