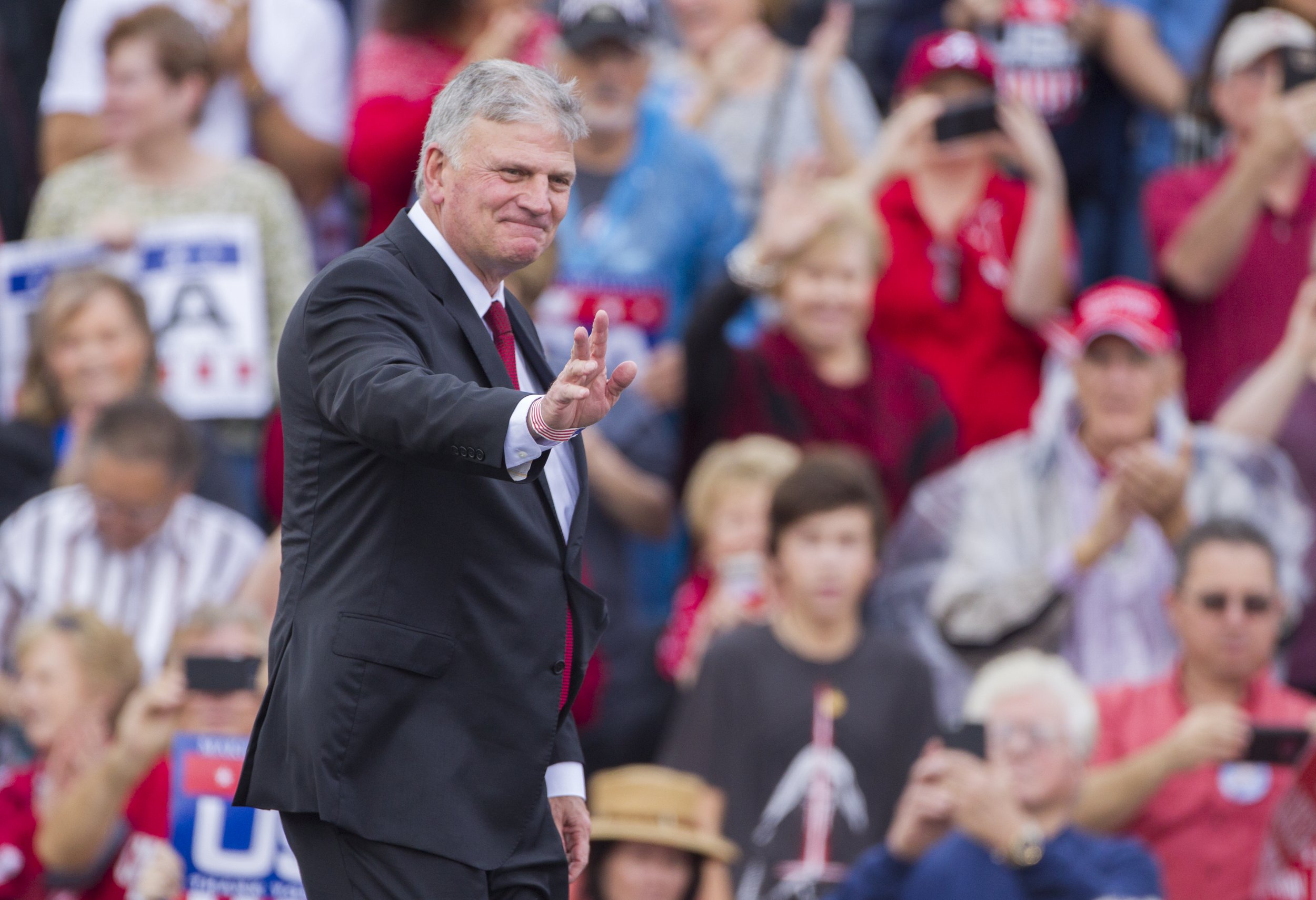 Facebook has apologized after banning evangelist Franklin Graham from posting to his account for 24 hours.
Graham, the son of well-known evangelist Billy Graham, posted about the issue on his account Friday, calling out the social network for "trying to define the truth."
The Charlotte Observer reports that a Facebook spokesperson said it was a mistake to ban Graham and delete the post from April 2016 that instituted it.
According to Graham, Facebook notified him that he had violated the website's "community standards on hate speech." In the post, Graham condemned singer/songwriter Bruce Springsteen for canceling a concert in North Carolina in response in the state passing House Bill 2, also known as the "bathroom law."
Graham copied his 2016 post with his explanation about being banned, asking followers what in the post could be considered "hate speech."
"Bruce Springsteen, a long-time gay rights activist, has cancelled his North Carolina concert. He says the NC law #HB2 to prevent men from being able to use women's restrooms and locker rooms is going "backwards instead of forwards." Well, to be honest, we need to go back! Back to God. Back to respecting and honoring His commands. Back to common sense. Mr. Springsteen, a nation embracing sin and bowing at the feet of godless secularism and political correctness is not progress. I'm thankful North Carolina has a governor, Pat McCrory, and a lieutenant governor, Dan Forest, and legislators who put the safety of our women and children first! HB2 protects the safety and privacy of women and children and preserves the human rights of millions of faith-based citizens of this state," Graham wrote in 2016.
HB2, also known as the Charlotte bathroom bill, was passed as a response to a city ordinance in Charlotte, North Carolina that protected certain rights of gay or transgender people. The city ordinance included allowing transgender people to use public restrooms according to the gender they identify with. However, the law also reversed other local laws and ordinances across North Carolina, impacting more than just public restrooms, the Observer reported at the time.
"There was a character in a movie a few years back who said, "The truth is what I say it is!" That's what Facebook is trying to do. They're making the rules and changing the rules. Truth is truth. God made the rules and His Word is truth. Actually, Facebook is censoring free speech. The free exchange of ideas is part of our country's DNA," Graham posted on Friday.
The Facebook content review team contains 15,000 members. According to the Observer, a member of the team "had mistakenly decided the post violated Facebook's policy that bans "dehumanizing language" and excluding people based on sexual orientation, race and other factors."
The company has also apologized to the administrator of Graham's Facebook page with a written note, the Facebook spokesman said.
Graham's post had over 9,000 comments and over 41,000 shares on Saturday night, with many commenting in support of the evangelist and echoing his outrage of being banned from the social network.
This isn't the first time someone in the public eye has been banned or blocked from posting to Facebook. Earlier in December, Yair Netanyahu, the son of Israel Prime Minister Benjamin Netanyahu, was banned for 24 hours over a post that Facebook deemed Anti-Muslim.
Conservative bloggers Lynette Hardaway and Rochelle Richardson, known as Diamond and Silk, were deemed "unsafe" by Facebook. The two women said that they believe their Pro-Trump beliefs led to the website choosing to censor their page. Facebook shut down the page in April, telling the bloggers, " The Policy team has came to the conclusion that your content and your brand has been determined unsafe to the community…. This decision is final and it is not appeal-able in any way."