Birx Says White House 'Censored' Her, 2020 Election Was Factor in Task Force's Reduced Role
Dr. Deborah Birx, the former coordinator of the Trump administration's coronavirus task force, said she was "censored" by the White House and blocked from making appearances on national media.
In an interview that will air on CBS' Face the Nation on Sunday, Birx told moderator Margaret Brennan that the Trump White House sought to limit coronavirus communications for political purposes ahead of the 2020 presidential election.
Birx said that there came a point right before the election where she "wasn't getting anywhere," with her work on COVID-19, but she insisted that she never intentionally withheld information from the public.
"When it became a point where I wasn't getting anywhere and that was like right before the election, I wrote a very detailed communication plan of what needed to happen the day after the election and how that needed to be executed," she said. "And there was a lot of promise that that would happen."
She added that her four decades of work in public service did not prepare her for the tumultuous experience of working within the Trump White House, and said she "always" thought about quitting.
Birx has worked in the federal government since 1980, and was appointed by former President Barack Obama as an administrator for AIDS relief before joining the Trump administration to help coordinate a COVID-19 response in March.
She said that working with Trump led many of her colleagues to question her political allegiances, amid a surge of criticism against the former president's virus response.
"Colleagues of mine that I had known for decades... decades in that one experience, because I was in the White House, decided that I had become this political person, even though they had known me forever. I had to ask myself every morning, is there something that I think I can do that would be helpful in responding to this pandemic and it's something I asked myself every night," she said.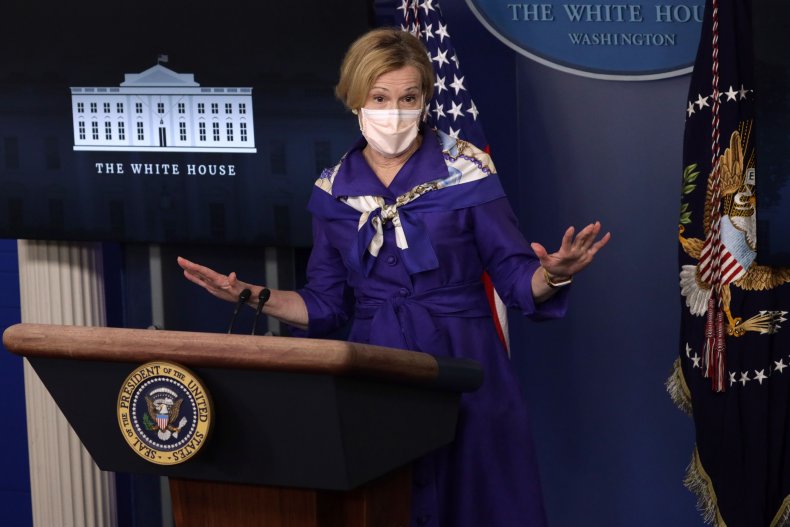 Birx is not the only senior scientist to say she was kept from speaking about the coronavirus pandemic on national media by the former administration.
Dr. Anthony Fauci, director of the National Institute of Allergy and Infectious Diseases, told MSNBC host Rachel Maddow Friday that he was "blocked" from going on her show.
"Let's call it what it is. It just got blocked because they didn't like the way you handle things and they didn't want me on," he said after explaining that he had tried to come on the show for months.
On Thursday, Fauci also told reporters that Trump often put him in an "uncomfortable" position, and that the new administration felt "liberating."
"You didn't feel like you could actually say something and there wouldn't be any repercussions for it," Fauci said. "The idea that you can get up here and talk about what you know, what the evidence, what the science is and know that's what it is and let the science speak it is somewhat liberating."
Birx announced last month that she would retire from her position after assisting the Biden administration's transition into the White House, and amid controversy surrounding her decision to travel for Thanksgiving.
During her interview with Brennan, Birx clarified her retirement would likely be within the next four to six weeks.
Questions surrounding Birx's current role in the Biden administration were raised during a press briefing on Friday. When asked if Birx was still on Biden's COVID-19 response team, White House Press Secretary Jen Psaki said she would have to "circle back on that one."
Newsweek reached out to the White House for additional comment, but did not hear back in time for publication.