Bitcoin More Likely to Reach $100k in 2021 Than Dip to $20k, Bloomberg Analyst Says
While Bitcoin has declined recently, Mike McGlone, a senior commodity strategist for Bloomberg Intelligence, projects that it's more likely Bitcoin will rise to a value of $100,000 than that it will dip to $20,000, according to a new report released this week.
Bitcoin has dropped in value, with a value of about $37,000 as of June 4. That's down from a peak of more than $63,000 earlier this year. But cryptocurrency investors and analysts believe the decentralized digital currency will rise further in value in the coming months and years.
"About $40,000 may be the Bitcoin cap a while within what we see as a resting crypto-asset bull market," McGlone said in the Bloomberg Crypto Outlook report.
"Bitcoin is more likely to resume appreciating toward $100,000 resistance rather than sustaining below $20,000," McGlone said.
McGlone wrote that "Bitcoin's 2021 foundation is firm." He added that "toward the end of 2020, Bitcoin's history suggested the crypto would move sharply higher in 2021, and we see improving supports for this."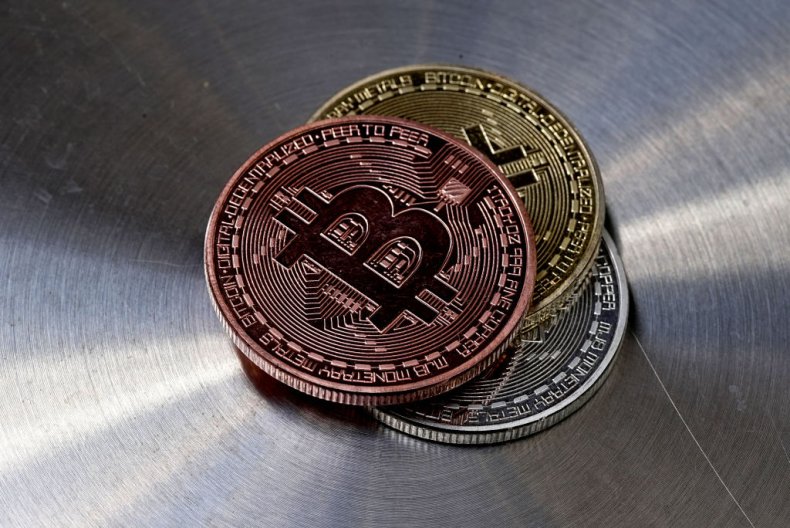 "In 2020, 260-day volatility dropped to its lowest ever vs. most major asset classes, notably the S&P 500. Add last year's supply cut, the migration to institutional portfolios, Ethereum futures and the launch of ETFs in Canada and Europe, and we see greater potential for Bitcoin to head toward $100,000 than sustain below $20,000," the report continued.
Bitcoin was first launched in 2009 and originally one of the cryptocurrency's coins was worth just a few cents. The price has soared since then, although it has remained volatile. Other prominent cryptocurrencies have emerged as well, with Ethereum and Dogecoin recently receiving significant attention and hype from entrepreneurs and investors.
As of June 4, one Ethereum coin is worth just north of $2,600, but that's down from a peak price of more than $4,300 earlier this year. Meanwhile, one Dogecoin is trading for about $0.37, down from more than $0.70 in early May. However, both currencies have overall seen a significant increase in 2021.
While many remain bullish on cryptocurrencies and some have made millions through their investments, others continue to dismiss the cryptocurrency market as pure speculation and gambling.
"The self-interested cadre of promoters shilling crypto are only doing so for one reason: to enrich themselves," John Reed Stark, a consultant who previously led the U.S. Security and Exchange Commission's Office of Internet Enforcement, told Newsweek.
"President Biden, should stop the hustle and sign an Executive Order that no federal entity will accept crypto as payment for goods or services or do business with any entity that transacts in crypto. The only ones hurt will be the shameless cadre of hucksters and gamblers who tout bitcoin only to enrich themselves," Stark said.