Blac Chyna's Mom Accused of Threatening Kardashians, Barred From Courtroom
The Kardashians' legal showdown with Blac Chyna has taken a dramatic turn early on in proceedings, as the family's lawyer requested that Chyna's mother not be allowed in the Los Angeles courtroom.
Chyna—real name Angela Renée White—is suing the famous family for $100 million amid allegations that they defamed her and interfered with her contracts, eventually leading to her reality TV show being canceled.
The family has denied all wrongdoing and has counterclaimed that Chyna was violent towards Rob Kardashian, with whom she shares five-year-old daughter, Dream.
And while Kim Kardashian, Kylie Jenner and Khloé Kardashian have been seen in the courtroom with their mother, Kris Jenner, their attorney expressed concerns about the presence of mother Tokyo Toni, real name Shalana Hunter.
According to People, their attorney, Michael Rhodes, said ahead of opening statements that Chyna's mother aimed "veiled physical threats" at them online, adding: "She can't be in the courtroom."
"Ms. Jenner was worried about her physical safety," Rhodes also told the judge, per Page Six.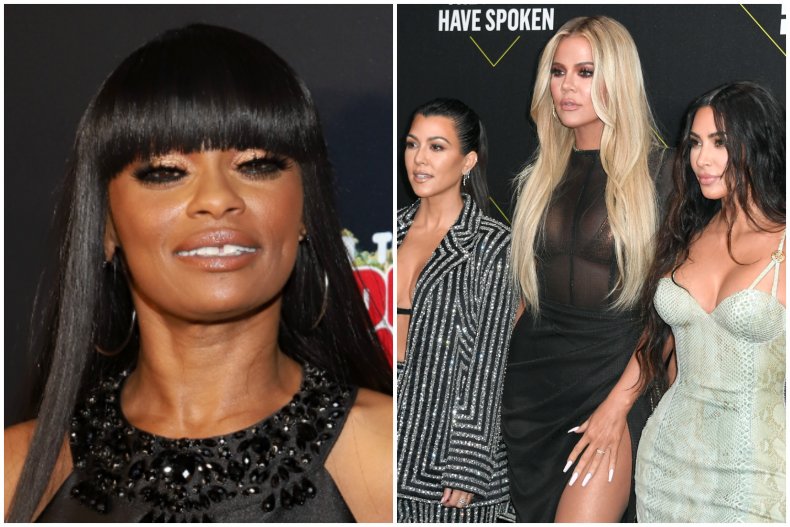 Responding to the allegations, Chyna's lawyer, Lynne Ciani, said, per People: "I can't control her mother. My client wants a fair trial. I already told her it was unacceptable and she can't be in the courtroom."
The online activity in question appears to be Toni's Instagram Live video, which was shared ahead of Monday's jury selection for the trial.
Per Page Six, Toni said on Instagram Live that Kris Jenner and her daughters "looked scary" in real life, accusing them of having "dips" in their faces.
"It's just so sad. Then Khloé was shaking her f***ing head off everything every juror said," Tokyo Toni reportedly said. "You all right, b****? Did you have some Xanax or something before you got there, b****?"
Further hurling personal insults at the family, Toni described Kris Jenner as "old and decrepit," while she reportedly said of the matriarch and her offspring: "They look like they dead."
According to Radar Online, Toni also said, while discussing the family, that she was going to "dog walk these b******."
"They got no fatty. They need a daddy. Those b****** ugly. I'm dog walking these f***ing hoes up on the stand, on they toes," she reportedly rapped.
After the decision was made for her to be removed from the courtroom, Toni shared another Instagram post in which she stated: "They put me out the quart [sic] room before I even went in."
Tagging siblings Kim Kardashian and Khloé Kardashian, she wrote: "Bad enough you can't read, let me put that out there. Let us see you read something. Can you read a book Kim? You're not a lawyer you didn't even go to college. You can't even put on a pair of clean panties."
On Tuesday night, Toni re-posted an Instagram post on her locked account which denied that she was ordered to be removed from the courtroom by the judge. The post also disputed the notion that Toni's discussion of the Kardashians was in any way threatening.
Toni had announced that she had been put "out the [court] room before I even went in" on the same Instagram account the night before.
Newsweek has contacted representatives of Chyna and the Kardashians for comment.
As well as having a daughter with Rob Kardashian, Chyna also shares a 9-year-old son, King Cairo, with her ex, rapper Tyga. The pair split in 2014.
Tyga would go on to date Rob Kardashian's younger half-sister, Kylie Jenner. They split in 2016 and Kylie Jenner now has two children with rapper Travis Scott.
In January 2016, Chyna and Rob Kardashian started dating and were engaged three months later. In November 2016, Chyna gave birth to their daughter.
They also had their own short-lived reality show on E! called Rob & Chyna, which ran for a seven-episode single season in 2016. While it was initially reviewed for a second season, the show was put on hold. The couple split in 2017.
Chyna obtained a temporary restraining order against Rob Kardashian in July 2017, after he posted nude photos of her on social media without her permission.