'Black Bird': Who is Gary Hall and Where is He Now?
Black Bird is Apple TV+'s newest true crime drama which has kept viewers on the edge of their seats with the story of convict James "Jimmy" Keene and suspected serial killer Larry DeWayne Hall.
The show explores the undercover operation by Keene (Taron Egerton) to try and get a confession from Hall (Paul Walter Hauser) about his alleged killings, namely the role police believed he played in Jessica Roach's death and the disappearance of Tricia Reitler in 1993.
During the investigation into Roach's death, Hall had confessed to killing both her, Reitler and other women but he later recanted his statement and claimed he was referring to dreams he had. Hall was convicted of kidnapping Roach in 1995 and sentenced to life in prison without parole.
Keene was sent by investigators to the Medical Center for Federal Prisoners in Springfield, Missouri for five months to try and get close to Hall and get a confession as well as information on where his alleged victims were buried.
As well as Keene's role in trying to get a confession from Hall, the show also explores the relationship he had with his twin brother, Gary (Jake McLaughlin).
'Black Bird': Who is Gary Hall and Where is He Now?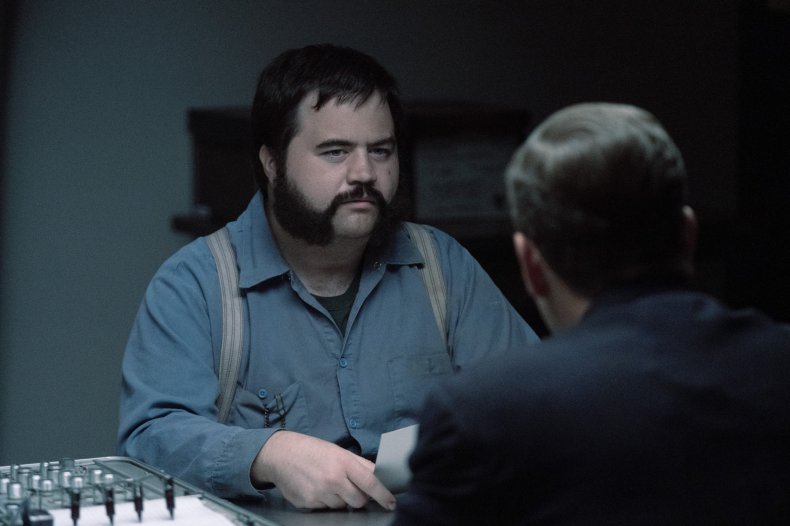 Hall and his brother Gary are identical twins, but despite their looks the pair weren't actually that similar to one another.
Born in December 1962, their birth had some complications leading to Larry being deprived of oxygen, author Christopher Hawley Martin explained in his book Urges: A Chronicle of Serial Killer Larry Hall.
The twins grew up in Wabash, Indiana, where in an interview with CNN in 2011, Gary explained that Larry showed early signs of destructive behavior.
Gary said that he was the "more dominant, outgoing twin" whereas his brother appeared to be more "backwards." He added that he believed his twin was "evil" because he had caught him allegedly trying to kill him on several occasions.
Gary explained: "I just woke up out of a sound sleep to see my brother standin' over me with this humongous long limb, getting ready to smash my skull."
The twins took an interest in Civil War reenactments and traveled to several states to pursue their hobby. It is believed that this is how Larry began targeting women.
Gary added that when his brother was convicted of kidnapping Roach and sentenced to life in prison he wasn't surprised, saying: "It just all fit together; it all made sense.
"There was all these questions growin' up with him and, you know, him bein' a young adult and everything, and him not havin' a girlfriend. There was all these unanswered questions that—that it all made sense."
In an interview with the Telegraph author Hillel Levin, who wrote In with the Devil: A Fallen Hero, a Serial Killer, and a Dangerous Bargain with Jimmy Keene, claimed that Larry and his brother had a "parasitic relationship," and that Gary "literally thrived at the expense of Larry."
Author Martin also spoke about the twins in an interview with Michelle McNamara for True Crime Diary in 2012, where he explained that Larry had claimed his brother was complicit in his crimes.
When asked if he believed Larry had help in his alleged killings, Martin said: "I think it is possible, even likely. In my telephone conversation with Larry on March 4, I asked Larry if he had heard from Gary. He said he had received a multiple-page hate letter from Gary.
"He said Gary had been talking to police and that Gary had told police that he (Gary) knows where several bodies are buried.
"I asked Larry if Gary does know where several bodies are buried. Larry said, 'Only if he put them there.' Larry then said he was tired of protecting his brother."
In 2015, Gary spoke with CNN for their documentary To Catch a Serial Killer, in which he said he believed his twin was guilty of killing Roach, Reitler and several other women.
Of his brother, Gary said: "Larry, just like Jimmy Keene calls him, and he is. He's a baby killer."
Gary also said that he helped police try and get a confession from his brother, telling CNN: "I went with the Indianapolis detectives down to try to get my brother to confess. He made me leave the room. He did, in fact, confess on tape to 15 serial murders."
Gary, who is now 59 years old, has kept a low profile since his brother's conviction and it is not known where he is now.
Black Bird airs Fridays on Apple TV+.
Update 07/22/22 09:52 a.m. ET: This article was updated to include Gary Hall's 2015 interview with CNN for their documentary To Catch a Serial Killer.