'Black Bird': What Happened to Larry Hall and Where Is He Now?
Apple TV+'s new true crime show Black Bird explores the clandestine operation to try catching a suspected serial killer: Larry DeWayne Hall.
The drama, which stars Taron Egerton as convict James "Jimmy" Keene and Paul Walter Hauser as Hall, follows Keene as he attempts to befriend Hall and get a confession from him about his alleged killings.
Here is everything you need to know about the real Hall and where he is now.
'Black Bird': What Happened to Larry Hall and Where Is He Now?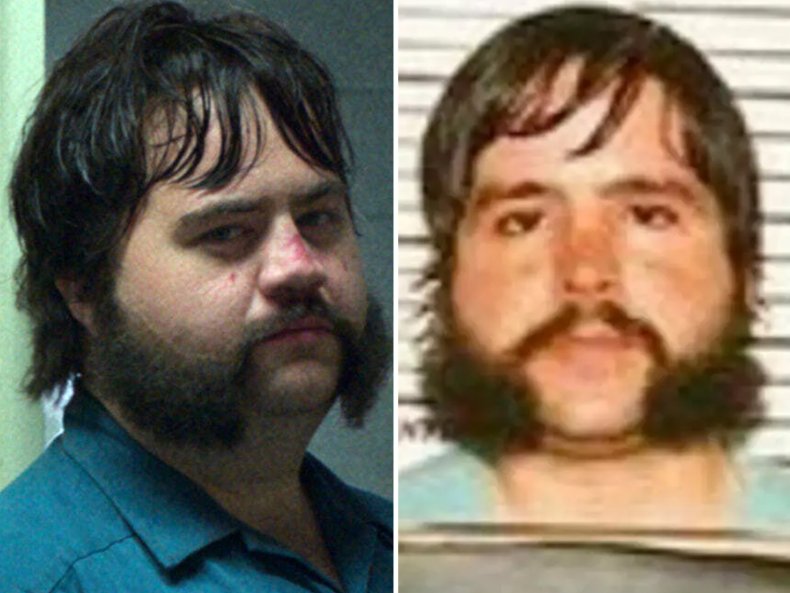 The Apple TV+ show explains that police suspected Hall of killing 14 women, but in reality, authorities believed he may have had up to 40 victims.
Described as a "man with a van," Hall came to police attention after several young women claimed he had been stalking them. Their calls to authorities came shortly after the disappearance of Jessica Roach, a 15-year-old who went missing near her Georgetown home in September 1993 and was found dead six weeks later in a cornfield near Perrysville, Indiana.
When police investigated Hall's vehicle several suspicious objects were found, including a knife and a missing poster for Tricia Reitler. He had been a suspect in that case but by the time the investigation into Roach's death began police involved in the Reitler case believed Hall was a "serial confessor" and they were focused on a different suspect.
In 1995, Hall was convicted of kidnapping Roach and sentenced to life in prison.
Per Hall's case file from his 1996 appeal, during the investigation into Roach's murder Hall had confessed to raping and killing her in a conversation with FBI Agent Mike Randolph.
During his interrogation with investigators Hall had also discussed harming other women, including Reitler, with CNN reporting in 2011 that he said: "All of the girls looked alike. I cannot remember all of them. I picked up several girls in other areas, but I can't remember which ones I hurt."
Hall later retracted his statement and claimed his confession was actually referencing dreams he'd been having, according to Dateline.
At his 1995 trial Hall called for his confession to be suppressed, but the District Court denied this motion and he was sentenced to life in prison by a jury.
When he appealed the conviction in 1996 Hall argued that "due to a personality disorder that makes him susceptible to suggestion and pathologically eager to please, he 'confessed' to a crime that he did not really commit." His appeal was denied.
Former Assistant U.S. Attorney Lawrence Beaumont prosecuted Hall at his 1995 trial, and Beaumont would later do the same with Keene when he was sentenced to 10 years in prison on drug-related charges.
Several months into Keene's sentence Beaumont met with him to convince him to go undercover and target Hall. If he agreed, he would be freed and his record scrubbed clean.
Keene was sent undercover to the Medical Center for Federal Prisoners in Springfield, Missouri, where Hall was first serving his sentence, and while there Keene did manage to befriend the alleged killer and got him to speak about how he'd killed Roach.
Keene attempted to also get a confession from Hall about Reitler's death. In an interview with Dateline, Keene said that Hall had confessed to targeting Reitler and told him of how she'd tried to fight him off, later admitting that he'd killed her.
A few nights later, Keene came across Hall in the prison wood shop, where the alleged killer was working on carved falcons and was looking over a map that had several locations marked on it. Keene told Dateline that Hall said the falcons "watch over the dead" which prompted him to believe the spots marked on the map were the locations of Hall's alleged victims.
Believing he had solved the case, Keene called the FBI and left a message to share how he'd seen this map. Feeling that he'd be taken out of prison shortly thereafter, Keene chose to confront Hall about the alleged killings, thus blowing his cover and resulting in him being sent to solitary confinement.
However, Keene's message was not received and it was only weeks after that he was taken out of solitary confinement. By then the map and falcons were gone.
In the Black Bird finale it was said that Hall's twin brother Gary convinced him to confess to police about his role in 15 murders. However, the suspected serial killer later recanted this confession as well.
In 2011, Hall confessed to his role in the disappearance of Laurie Depies in 1992 and shared details of the case with investigators that had not been shared publicly. Police are now looking to find physical evidence to link Hall to the crime.
In 2016, Hall was also been identified as the suspect in the 1986 killing of Eulalia Mylia Chavez. Hall had previously confessed to killing Chavez only to recant his statement, as he had done with Roach and Reitler, the Associated Press reported.
Hall is currently serving his life sentence at a medium-security federal prison in Butner, North Carolina.
Black Bird airs Fridays on Apple TV+.
Update 05/08/22 8:58 a.m. ET: This article was updated to include the Apple TV+ show Black Bird's report in its finale that said Hall's brother Gary convinced him to confess to 15 murders, a confession he later retracted.