Black Caucus Joins Pelosi, Hoyer in Pressing Biden to Nominate Shalanda Young for OMB Director
Support for longtime congressional aide Shalanda Young to be elevated to director of the Office of Management and Budget is continuing to build among House Democrats.
Young is currently nominated for deputy director of the budget office, but now that President Biden's initial pick, Neera Tanden, has bowed out because of an unlikely confirmation, big names in the Democratic Party are throwing their support behind Young.
On Wednesday, the Congressional Black Caucus formally petitioned to Biden to nominate her for the position.
"With the announcement that Neera Tanden has withdrawn her name from further consideration for the position of Director for the Office of Management and Budget, we write to unequivocally endorse and support Shalanda D. Young for appointment to this very important position," the nine members of Congress wrote.
"As a senior Appropriations Committee staffer for more than fourteen years, Shalanda is an appropriations expert whose vast knowledge of the federal spending process will be critical as we work together to Build Back Better," the letter continues. "The OMB director will play a key role in steering your management agenda and overseeing multiple interagency councils, as well as the management of federal CIO and the heads of federal acquisition policy and regulatory policy."
The endorsement comes shortly after Young earned the backing of the top House Democrats earlier in the day.
In a joint statement, Speaker Nancy Pelosi, Majority Leader Steny Hoyer and Majority Whip Jim Clyburn said the three of them "take great pride in recommending Shalanda Young" to head the agency.
"We have worked closely with her for several years and highly recommend her for her intellect, her deep expertise on the federal budget and her determination to ensure that our budget reflects our values as a nation," Pelosi, Hoyer and Clyburn wrote.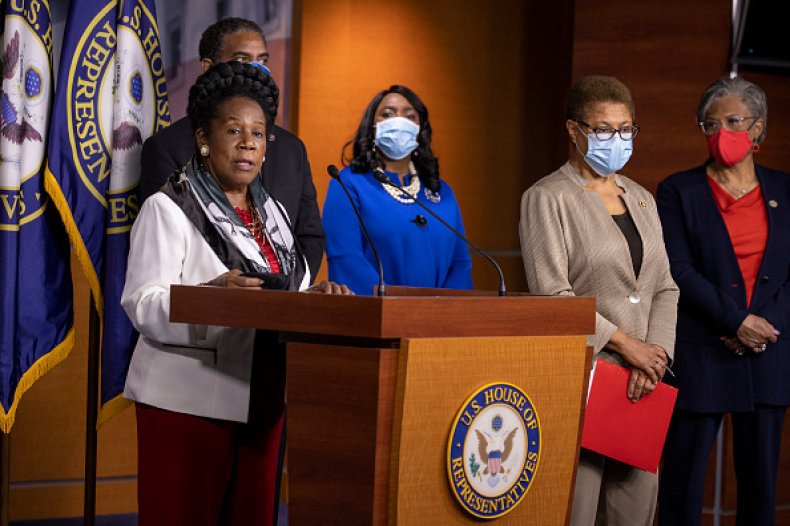 "Her legislative prowess, extensive knowledge of federal agencies, incisive strategic mind and proven track record will be a tremendous asset to the Biden-Harris Administration," they added. "Her leadership at the OMB would be historic and would send a strong message that this Administration is eager to work in close coordination with Members of Congress to craft budgets that meet the challenges of our time and can secure broad, bipartisan support."
Progressives are also hoping Young will be tapped for the position.
On Tuesday, Representative Rashida Tlaib, a member of the so-called Squad of House Democrats, tweeted: "I think our country would be served well by Shalanda Young," in response to news that fellow Democrat Ro Khanna had floated Gene Sperling, a two-time director of the National Economic Council, for OMB director.
In a Senate Budget Committee hearing Tuesday, even Republicans praised Young, suggesting she would get their votes if picked to fill in Tanden's vacancy.
"You'll get my support, maybe for both jobs," Senator Lindsey Graham told her. Senator John Kennedy chimed in, saying, "You may be more than deputy."
The White House has not yet named a new nominee, but Young's confirmation would make her the first woman of color to hold the position.
"You should not expect any announcement on a future nominee this week," said White House press secretary Jen Psaki at a briefing Wednesday.
Newsweek reached out to the White House for further comment but did not hear back before publication.