Neera Tanden's Cabinet Nomination Withdrawal Cheered by Progressives and Conservatives
Progressives and conservatives on Tuesday celebrated the White House pulling the nomination of Neera Tanden to lead the Office of Management and Budget (OMB) under President Joe Biden.
Tanden's nomination was highly controversial, with members from both sides of the political aisle having called her a divisive figure from the beginning.
In a Tuesday statement, Biden confirmed that he accepted Tanden's request to withdraw her name from nomination for Director of the OMB.
"I have the utmost respect for her record of accomplishment, her experience and her counsel, and I look forward to having her serve in a role in my Administration," he said.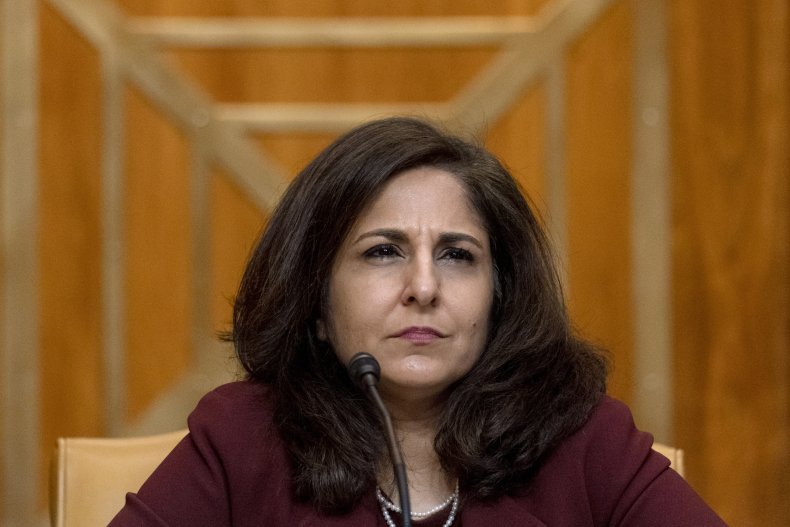 Tanden withdrew her nomination in a letter to Biden, where she said "it now seems clear that there is no path forward to gain confirmation."
"I do not want continued consideration of my nomination to be a distraction from your other priorities," she wrote. "I appreciate how hard you and your team at the White House has worked to win my confirmation."
As a prolific tweeter, Tanden's hostile posts about Bernie Sanders and his supporters, as well as Senate Republicans, drew significant attention at her confirmation hearings as senators grilled the Hillary Clinton loyalist for her previous attacks against them—which she made while serving as head of the Center for American Progress.
Among them, referring to Senate Minority Leader Mitch McConnell as "Voldemort," Tom Cotton as "a fraud" and Ted Cruz as someone that has less heart than a vampire.
Some conservatives celebrated Tanden's withdrawal, despite her having expressed regret during her confirmation hearing for the language that she had previously used to attack people.
Republican Senator Ben Sasse of Nebraska said, "Neera Tanden is a hyper-partisan bomb-thrower who doesn't have the votes. Now that Washington is done talking about Tanden's tweets, the Senate should focus on Xavier Becerra's assault on the First Amendment. We don't need a culture war super-soldier leading HHS."
"Maybe @neeratanden can be the White House Social Media Director now? She's awfully good at tweeting," tweeted Mike Hahn, deputy digital director for the National Republican Senatorial Committee (NRSC).
Far-right political commentator Dinesh D'Souza said, "Neera Tanden bites the dust. Couldn't have happened to a nastier individual. Well, I guess she can go back to viciously slandering all the people who refused to support her."
The bad blood between Tanden and supporters of Sanders started early. Tanden was accused of punching his campaign manager Faiz Shakir in the chest in 2008, when he worked at the left-wing news website ThinkProgress. She also once called staffers at the publication "crazy leftists."
Progressive opposition to her confirmation also reflects the deep ideological divisions in the Democratic party. The left wing believes Tanden to be an establishment figure who would maintain the status quo and act as as a roadblock to real progress in the country.
"I think our country would be served well by Shalanda Young," tweeted Michigan Representative Rashida Tlaib.
The Gravel Institute, a progressive think tank, tweeted, "Neera Tanden just withdrew her nomination for OMB chair. You do love to see it."
"Can the @WhiteHouse take the energy they were using to get Neera Tanden confirmed and move it to passing a federal $15 minimum wage?" wrote the official People for Bernie Twitter account.
Newsweek reached out to the White House for further comment.