Neera Tanden Bows Out of Confirmation Process in Stinging Defeat for White House
Neera Tanden, President Joe Biden's pick for director of the Office of Management and Budget (OMB), withdrew her nomination on Tuesday.
In a letter to Biden released shortly before 7 p.m. on Tuesday, Tanden said she was withdrawing as "it now seems clear that there is no path forward to gain confirmation, and I do not want continued consideration of my nomination to be a distraction from your other priorities."
In response, Biden released a statement saying he had accepted her request.
"I have the utmost respect for her record of accomplishment, her experience and her counsel, and I look forward to having her serve in a role in my Administration. She will bring valuable perspective and insight into our work," Biden said.
Tanden's nomination had been controversial from the beginning. Figures from both sides of the aisle see her as a divisive figure, with Republicans disliking her for her outspoken partisanship and the left wing of the Democratic Party viewing her as an obstacle to progressive change in the country.
A prolific tweeter, Tanden's combative tweets about Senate Republicans and Senator Bernie Sanders became the center of attention during her confirmation hearing as lawmakers confronted the Hillary Clinton loyalist for attacking them.
"Just to mention a few of the thousands of negative public statements, you wrote that Susan Collins is the worst, that Tom Cotton is a fraud, that vampires have more heart than Ted Cruz. You called leader McConnell: Moscow Mitch and Voldemort, and on and on," GOP Senator Rob Portman of Ohio told Tanden during the hearing.
"Your attacks were not just made against Republicans," Sanders added the next day. "There were vicious attacks against progressives, people who I have worked with, me personally."
Three years ago, Tanden tweeted that "Russia did a lot more to help Bernie than the DNC's random internal emails did to help Hillary."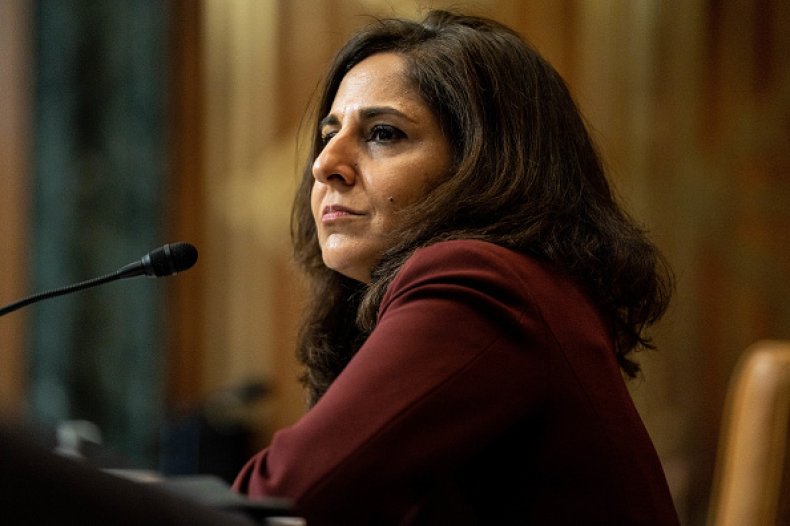 Sanders supporters have long had a problem with Tanden, who was accused of punching his 2000 campaign manager in the chest when he worked the progressive news website ThinkProgress. Leaked emails from WikiLeaks also showed that Tanden had called ThinkProgress staffers "crazy leftists" in a series of emails.
Before the hearing, Tanden deleted thousands of tweets slamming senators—a move criticized by many during the confirmation process.
"Ms. Tanden's decision to delete more than a thousand tweets in the days before her nomination was announced raises concerns about her commitment to transparency," Collins said in a Monday statement announcing her decision to vote against Tanden. "Should Congress need to review documents or actions taken by OMB, we must have confidence that the Director will be forthcoming."
Tanden's withdrawal means Biden will have to go back to the drawing board and pick another nominee to lead the agency, further stalling what has been one of the slowest rates of Cabinet confirmations in the past 60 years.
While Biden's predecessor also struggled to confirm his own Cabinet, Presidents Barack Obama, George W. Bush and Bill Clinton had most of their full slate in place after their first week in office.
Just shy of 30 days in office, only seven of Biden's 23 Cabinet picks have been confirmed by the Senate.