Black and Latino Immigrants Sue Trump For Racism Over Ending of TPS Program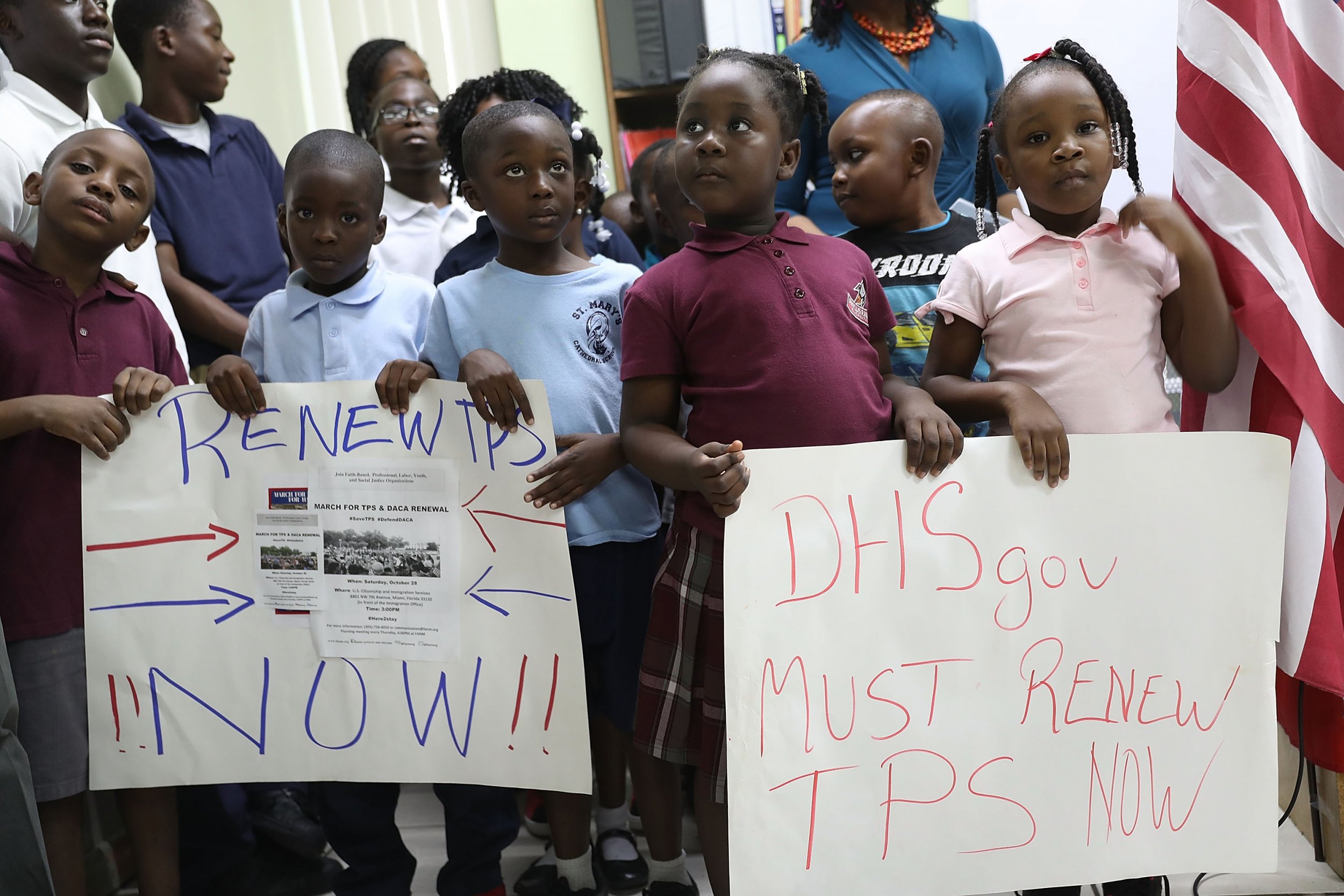 A group of Haitian and Salvadoran immigrants sued the Trump administration on Thursday in a federal court in Boston, arguing that the decision to end special protections that shielded them from deportation was motivated by racism against blacks and Latinos.
The Lawyers' Committee for Civil and Economic Justice, a Boston-based legal non-profit, filed the suit on behalf of eight immigrants enrolled in the Temporary Protected Status program, or TPS. The lawsuit seeks to block President Donald Trump's attempt to strip TPS from hundreds of thousands of immigrants from Haiti and El Salvador next year.
Central to the group's discrimination claims are Trump's string of derogatory comments against immigrants, including equating Mexican immigrants with rapists, saying all Haitian immigrants "have AIDS," and referring to Haiti, El Salvador, and African nations as "shithole" countries.
"President Trump has made no secret of his racist views," Iván Espinoza-Madrigal, executive director of the Lawyers' Committee, said in a statement. "The Administration's decision to terminate TPS for El Salvador and Haiti manifests these discriminatory views, and the Constitution does not allow governmental decision-making that is infected by this type of racial bias."
Alongside President Trump, the lawsuit also names Homeland Security Secretary Kirstjen Nielsen and Homeland Security Deputy Secretary Elaine Costanzo Duke.
The White House did not respond to a request for comment. A spokesperson for Homeland Security told Newsweek via email that the department does not comment on pending litigation.
TPS is intended to provide safe haven in the United States for foreign nationals whose country is experiencing a humanitarian or environmental crisis.
The program has allowed some 200,000 Salvadoran immigrants and around 93,500 Haitian immigrants to live and work legally in the U.S. after earthquakes brought both nations to their knees in 2001 and 2010, respectively.
According to government figures cited in Thursday's lawsuit, Salvadoran and Haitian immigrants enrolled in TPS are parents to some 220,000 U.S. citizens.
Last month, Secretary Nielsen announced that TPS for immigrants from both Haiti and El Salvador would expire in the summer of 2019. The administration contends that conditions in both countries have significantly improved since the protections were granted.
But many civil and human rights groups argue that Haiti or El Salvador are ill-equipped to accommodate an immediate influx of hundreds of thousands of ex-patriots.
As pointed out in Thursday's complaint, the U.S. federal government has continuously decried the state of civil society in Haiti and El Salvador. In its profile of El Salvador, the State Department says the country has "one of the highest homicide levels in the world," and that "a majority of serious crimes in El Salvador are never resolved." The State Department has also issued similar reports on Haiti, particularly in regards to widespread gender violence on the island. The complaint also argues that Secretary Nielsen failed to take into consideration the damage caused by recent earthquakes, mudslides, and hurricanes in both countries.
Instead, the suit contends, Trump and his administration acted on "racial animus" directed at black and Latino immigrants, a violation of the Fifth Amendment's equal protection clause.
"By labeling TPS beneficiaries from El Salvador and Haiti as undesirable...the federal government ratifies and legitimizes the notion that immigrants of color—particularly those deemed by President Trump to come from 'shithole countries'—are worthy of lesser social stature," the suit argues.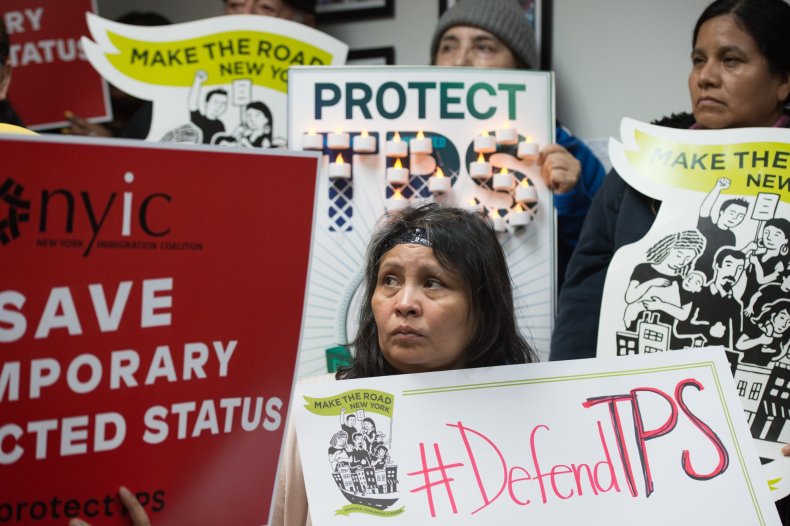 Trump's decision to end TPS for Haiti and El Salvador was met with swift condemnation from immigration advocats who argue that families will be torn apart and the American economy will suffer as a consequence.
According to a May 2017 survey of 2,000 TPS holders by the Center for Migration Research at the University of Kansas, 83 percent of men and 55 percent of women TPS holders work more than 40 hours per week. About one-tenth of survey respondents were self-employed.
Those high levels of employment translate to significant tax revenue: An April 2017 report by the Immigration Legal Resource Center, which advocates on behalf of immigrants, found that ending TPS for Haitian and Salvadoran immigrants would result in billions of dollars in GDP and lost revenue for Social Security and Medicare over a decade.