Who is Randy Cox? Outrage After Black Man Paralyzed in Police Van
Shocking video has been released of the moment a black man was paralyzed when his neck was broken as his head smashed into the metal wall inside a police van that stopped suddenly, according to his lawyer.
What happens next is almost impossible to watch as Richard "Randy" Cox, 36, lies motionless and begs for help, but—although police requested an ambulance for him—he is hauled out of the van by his feet, thrown into a wheelchair by officers, booked into jail, and then dragged along the ground by his arms, with his head slumping down. He is then dragged into a cell, where his ankles are cuffed. Despite begging for help and telling the police he's been seriously hurt, his pleas are dismissed with one officer repeatedly insisting Cox "just drank too much."
The incident happened on June 18 in New Haven, Connecticut, but the footage was only released this week by attorney Ben Crump after he took on Cox's case.
The lawyer, who also represents the family of George Floyd—the Black man murdered by a white police officer in Minnesota in 2020 whose death sparked a wave of Black Lives Matter protests—said the officers involved in the Cox incident have been placed on leave.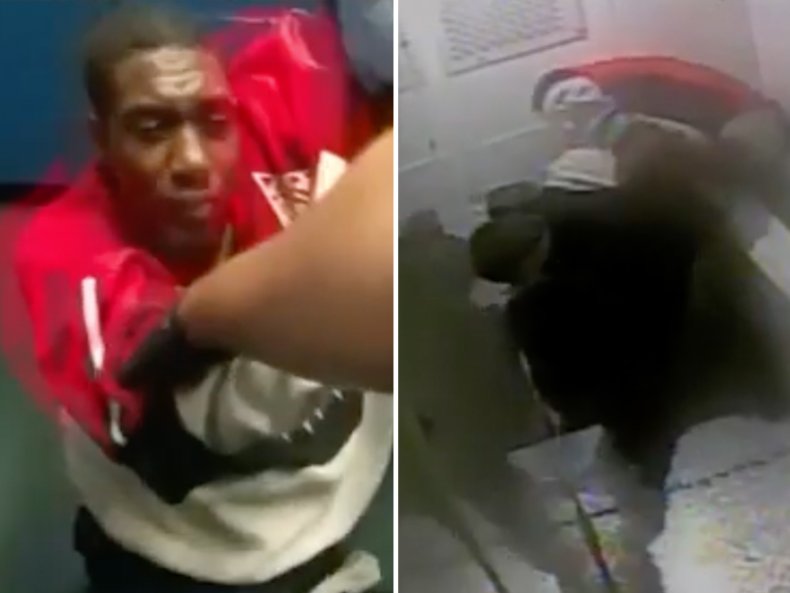 Crump, who mostly works on cases involving civil rights, catastrophic injuries and wrongful deaths, tweeted the video on Monday.
Sharing the footage with his followers, he tweeted: "This video is HORRIFIC! Randy Cox was put in a police van without seat belts and, after an abrupt stop, was thrown into the wall HEAD FIRST. We literally witness his neck break! As he was STILL lying on the van floor, he told the officers that he couldn't move. What did they do?
"They dismissed his pleas as lies. Instead of offering immediate medical aid, officers dragged him off the van & threw him into a wheelchair that may have exacerbated his life-threatening injuries. Randy was brutalized when there was NO reason for the police to do so."
He is now "paralyzed from the chest down and has to use a breathing tube—his quality of life is forever diminished," the lawyer added. "He needs accountability!"
Cox had been arrested at a block party on Saturday, June 18, when another attendee reported he was carrying a gun. Crump says his client was arrested without incident for unlawfully possessing a firearm and then placed into a police van without seat belts. His head hit the back wall of the van when he was thrown down the vehicle following an abrupt stop. A statement issued by Crump's office says: "[Officer] Oscar Diaz, and other officers, did not follow protocol to wait for medical assistance and dismissed his pleas as lies... [Cox was] thrown into a wheelchair that may have exacerbated his life-threatening injuries. The officers involved in the incident have been placed on leave."
Crump is due to hold a press conference today (Tuesday, June 28). In the statement he released ahead of the event, he said: "Randy's quality of life will forever be diminished by the irresponsible actions of Oscar Diaz and the other New Haven police officers while he was under their custody.
"Law enforcement respecting every life they interact with and are responsible for is imperative for building trust with the communities they serve, especially communities of color. As Randy Cox continues to fight for his life and future, we will fight for justice for him, his family, and the New Haven community."
A total of five officers involved in the incident have been placed on paid leave.
Acting Police Chief Regina Rush-Kittle said: "While the Connecticut State Police continues to take the lead on the investigation of the incident involving Mr. Richard Cox, after careful consideration of the video footage I saw, I have made the determination that all of the officers involved in the transport and handling of Mr. Cox when he arrived at our detention facility should be placed on administrative leave for potential breaches of police protocol."
She described the treatment of Cox "unacceptable."
Mayor Justin Elicker said all New Haven prisoner transport vans not equipped with seat belts have been taken out of service, adding: "While the state does not require seat belts in local police conveyance vans, the city will require them moving forward."
Newsweek has reached out to the New Haven Police Department for comment.