Black Men Are 2.5 Times More Likely to Be Killed by Police over Their Lifetime than White Men
Police force is the sixth leading cause of death among young men, according to researchers who found black men are 2.5 times more likely than white men to be victims of this form of violence.
American Indian and Alaskan Native women are 1.5 times more likely to be killed than white women, according to a study published in the journal PNAS. And black women; American Indian and Alaskan Native men; and Latino men are at 1.4 times greater risk of being killed by police force than their white peers. However, Latina women and Asian/Pacific Islanders are less likely to be killed than their white counterparts.
Between 2013 to 2017, 11,456 fatal encounters with police and members of the public were reported. That includes the deaths of Michael Brown and Eric Garner, and boys like Tamir Rice, which were protested against by members of the Black Lives Matter movement.
Deaths linked to police violence were the sixth biggest killer in the the U.S. for men aged between 25 and 29, after accidents including overdoses and traffic fatalities; suicide; homicides; heart disease; and cancer. Over the course of their lives, men were found to have a 1 in 2,000 chance of being killed by a police officer in the U.S., falling to 1 in 33,000 for women.
The researchers looked at data from the National Vital Statistics System's mortality files and Fatal Encounters (FE) database managed by journalists which cites public records and news coverage. The figures include shootings as well as deaths involving Tasers, and the use of force such as restraint.
It is already known that police officers in the U.S. killed more people than other advanced industrial democracies, the authors said citing past research.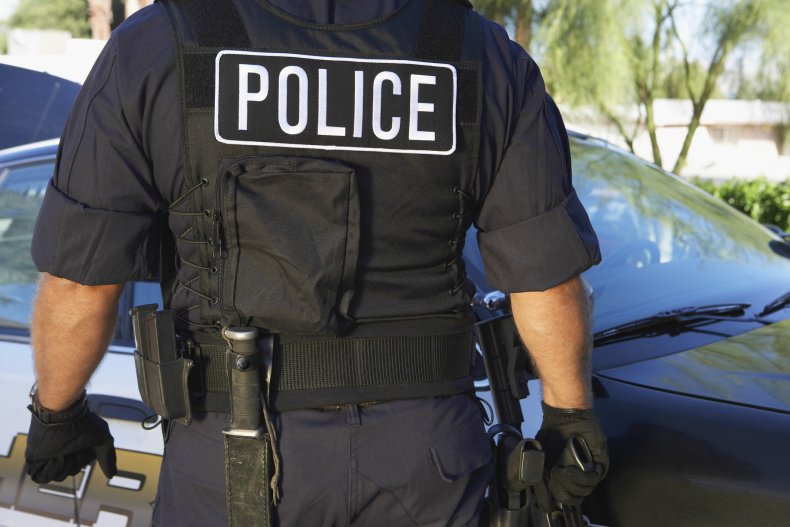 Study co-author Frank Edwards, assistant professor at the School of Criminal Justice, Rutgers University, told Newsweek: "Police violence should be taken seriously as a public health issue. Policing is contributing to early death both through the use of fatal force, and through aggressive tactics that have been found to have severe negative effects on the physical and mental health of people of color who live in over-policed communities.
He argued: "If we recognize that using the police to respond to a problem comes with a significant risk of death, it encourages us to think about solutions to problems like mental health and substance abuse that do not rely on police. Adequately funding community-based services outside of the criminal justice system would be a strong start and is firmly in line with treating the underlying problems police respond to as public health and social issues, rather than criminal issues."
Rory Kramer, associate professor in the Department of Sociology and Criminology at Villanova University who did not work on the research, told Newsweek: "This paper is a very clear demonstration that via our police, the United States is killing people of color, especially young black men, at disturbingly high rates."
The U.S. doesn't collect data on police deaths "or adequate data on police violence more generally," Kramer said.
"Instead, scholars and policymakers have to try to fill in the gaps via great journalistic efforts like Fatal Encounters or surveys that were not designed to focus on this specific issue. Thus, these are only estimates—but reliable ones. We also lack the data to look in depth at the causes of the racial disparities the authors estimate, though research on police violence (like mine) provides statistical evidence that discrimination is a real part of the problem and that is only complemented by historical and qualitative research as well."
Kramer agreed with Edwards that police violence should be treated as a public health issue "but also a political decision we have made as a society, a historical fact in the United States for generations, a sociological structure of society, and an economic inefficiency amongst others."
"There is no need to frame it as only one or another thing," he said. "It is also a public safety problem, a political issue, a racial inequality, a gender inequality, an economic inequality, and a moral crisis."
Such encounters can cause a ripple-effect in communities, continued Kramer. "Research shows a vicious feedback loop through which police brutality lowers community trust in police, especially amongst people of color. Police who believe people view them as illegitimate are more likely to advocate for and use excessive force. Police who use excessive force influence the behavior of other police with whom they work. This leads to further police violence and further lowers community trust in police and the problem only grows."
Professor Lawrence Sherman of the Institute of Criminology at the University of Cambridge, who did not work on the research, told Newsweek: "We have never before had such a large data set of deaths related to a systematic count of people at risk in each category of race and gender.
"This study should remind all Americans of the continuing inequalities of life chances for various groups in our society, and the need to combat the social consequences of such disparities."