'Black Panther' Is Breaking Box Office Records and the Myth That Black Movies Don't Sell: How It's Made History So Far
The hottest ticket of 2018 so far? Black Panther.
Disney and Marvel Studios' superhero epic clawed its way into theaters over the weekend and it is already breaking box office records.
Black Panther grossed between $201-202 million Friday through Sunday, according to Hollywood trade publication Deadline. On Sunday, Disney gave a more conservative three-day estimate of $192 million.
Either way, the Ryan Coogler-directed feature will go down as Marvel's second highest opening weekend at the U.S. box office, behind only The Avengers' $207 million launch in 2012. Black Panther ranks ahead of The Avengers: Age of Ultron, which opened to $191.2 million in 2015 and ahead of all of Marvel's solo superhero capers featuring better-known characters Iron Man, Captain America and Thor.
Factoring in Monday being a public holiday—President's Day—in the U.S., Black Panther's four-day gross is estimated somewhere between $241-243 million, said Deadline. Disney in its own analysis earlier Sunday put the four-day gross at $218 million. If Black Panther does hit the $243 million mark, it would be the second biggest four-day opening of all time domestically, behind just Star Wars: The Force Awakens. The seventh Star Wars flick totaled $288 million in box office receipts in its first four days of release in 2015.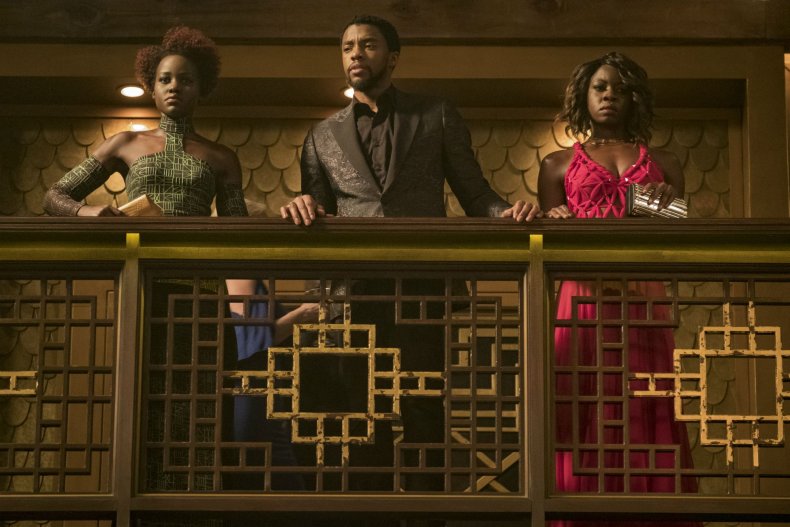 The Chadwick Boseman-starring comic book movie is also tearing up a host of other records.
Black Panther easily overtakes Deadpool for the title of biggest opening weekend for a movie in the month of February. Ryan Reynolds's R-rated picture scored $132.4 million in its first three days of release back in 2016.
What is more culturally significant is that Black Panther sets a new box office benchmark for a movie directed by a black filmmaker and starring a predominantly black cast. The Marvel blockbuster is already the biggest opening for a black director in U.S. history and the biggest opening for a black ensemble cast.
Boseman reprises his role as Wakandan king T'Challa, a.k.a. crime-fighting Black Panther, in his first solo outing after appearing in 2016's Captain America: Civil War. The cast is rounded out by Michael B. Jordan as villain Erik Killmonger, Oscar winner Lupita Nyong'o, Oscar nominee Daniel Kaluuya of Get Out fame, Danai Gurira, Forest Whitaker and Angela Bassett.
Black Panther's box office success is matched by equally strong reviews. Over on aggregator Rotten Tomatoes, it is certified 97 percent fresh and has the best score out of any of Marvel Studios' release. That's an impressive feat considering Marvel has pumped out 18 movies since launching the Marvel Cinematic Universe with Iron Man in 2008.