'Black Panther: Wakanda Forever' Trailer: Cast Honors Chadwick Boseman
Black Panther: Wakanda Forever director Ryan Coogler and the film's cast paid tribute to their late co-star Chadwick Boseman at San Diego Comic-Con 2022 on Saturday.
The director and cast attended Marvel Studios' panel at the event to present the first trailer for the film, which also honored Boseman's legacy.
Boseman, who debuted as T'Challa, aka Black Panther, in 2016, passed away in August 2020 following a battle with colon cancer. He was 43 years old.
Black Panther: Wakanda Forever Cast Pay Tribute to Chadwick Boseman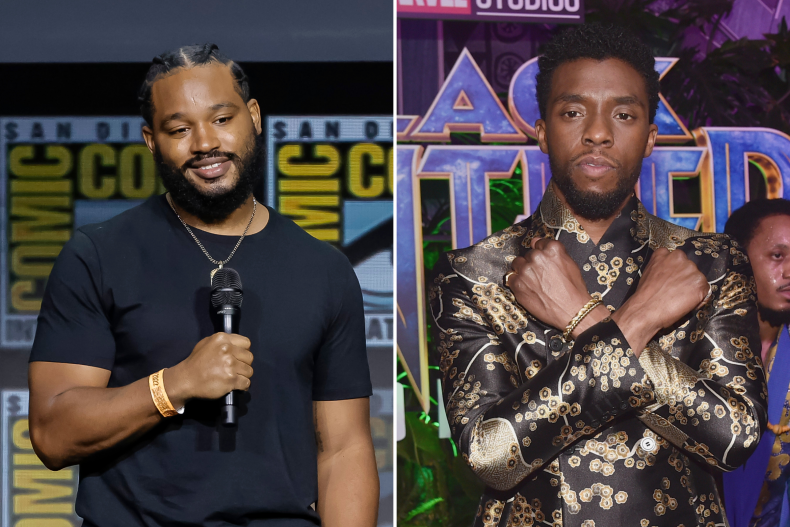 The trailer for Wakanda Forever sees the nation in mourning over the loss of Boseman's T'Challa, who is shown in a mural.
T'Challa's mother Ramonda (Angela Bassett) expresses her grief at losing another family member, while his sister Shuri (Letitia Wright) is also seen mourning.
Wakanda Forever will also introduce one of Marvel Comics' first superheroes: Namor, aka the Sub-Mariner, who will be portrayed by Tenoch Huerta.
It appears that with T'Challa gone another person in Wakanda will have to take on the Black Panther mantle, perhaps to fight Namor—though the trailer does not give this away.
A character is seen wearing the superhero suit at the very end of the trailer, however it was not clear who was chosen as the next Black Panther.
Namor is not the only new character to be introduced in the film as it will also mark the debut of Riri Williams (Dominique Thorne), aka Ironheart, who is Iron Man's successor.
After the trailer was shared with the crowd in Hall H, Coogler spoke about Boseman and reflected on their experience the first time they attended SDCC to introduce the trailer for Black Panther.
"Chadwick had these huge hands and he was just squeezing down on my shoulders. I felt his hand the rest of the day," Coogler said. "I promise you, I can feel his hand on me right now."
The director went on: "Chad's passion and genius and his culture and the impact he made on this industry will be felt forever
"We put our love for Chadwick into this film. We also put our passion. This film has a ton of action and humor. It's also a roller coaster of a movie. It goes to new places in Wakanda that we've never been before but other corners of the MCU."
Wright added on stage: "It's a blessing, we've grown so much. It's an honor to bring this movie to you and honor big brother."
Lupita Nyong'o, who plays Nakia, spoke after the panel with MTV News about how the cast and crew honored Boseman even while filming the superhero flick, saying that the number one call sheet was reserved for the late star.
The Academy Award winner explained: "Our call sheets didn't have a #1. That was reserved for Chadwick. He was with us."
Black Panther: Wakanda Forever will be released in theaters on November 11.