Fundraising Gives Black Republicans Reason to Believe They'll Win Elections
In a year of fiercely fought elections in battleground states across the country, some might have questioned why Republican National Committee chairwoman Ronna McDaniel spent her Wednesday night in a deep-blue pocket of Connecticut that Joe Biden won by nearly 33 points just two years earlier.
Leora Levy, the party's nominee against incumbent U.S. Senator Richard Blumenthal, trailed in the polls by double digits and by millions of dollars in fundraising, and was in need of significant help to stay competitive. Bob Stefanowski, their candidate for governor, trailed incumbent Democrat Ned Lamont in the polls by double digits in a campaign many observers initially felt would be a replica of their contentious head-to-head matchup in 2018.
But in a state where Democrats outnumber Republicans by nearly two-to-one in the Statehouse, one candidate in New Britain Wednesday night—former state Senator George Logan—might have been the main attraction.
Logan, the party's nominee for Connecticut's 5th Congressional District this year, is one of the strongest candidates the party has ever run for the solidly blue congressional seat once held by current U.S. Senator Chris Murphy. He has a history of winning competitive races against a diverse field of liberal candidates. He is a relative moderate on policy and has come out against national Republicans' efforts to curb abortion rights. He is also a Black conservative, an anomalous breed of politician rarely seen on the federal stage. (Logan could not be reached for comment.)
Since the days of Reconstruction, just 30 Black Republicans have ever been elected to the U.S. House of Representatives, and just four to the Senate. Most were elected immediately after the end of the Civil War. Today, there are just three Black Republicans —congressmen Byron Donalds of Florida and Burgess Owens of Utah, as well as South Carolina Senator Tim Scott—out of the 66 total Black members of Congress.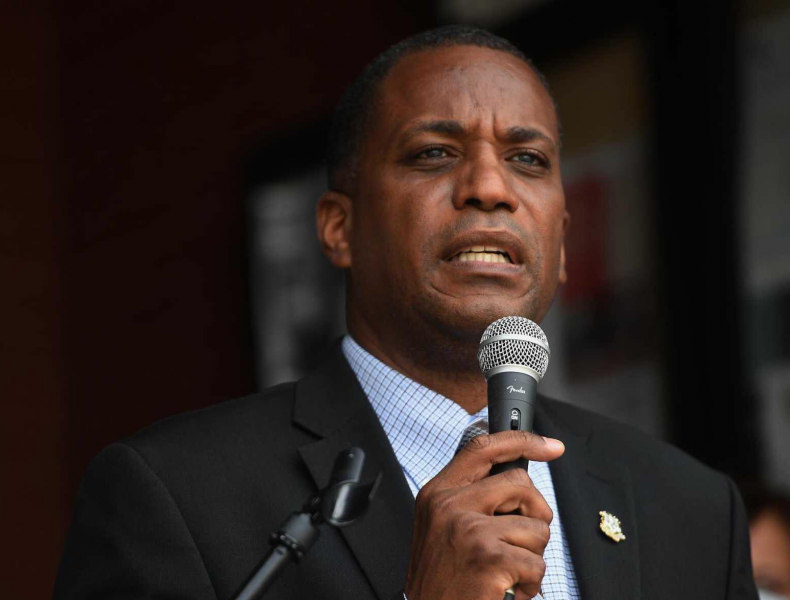 Republicans hope to change that, as more Black candidates are running for state and federal office as part of the GOP. The National Republican Congressional Committee counted 81 Black candidates running as Republicans in 2022 in 72 congressional districts, more than a 50 percent increase over 2020.
Last weekend, the Congressional Leadership Fund—a super PAC with ties to House Minority Leader Kevin McCarthy—dropped significant sums in support of Black Republican candidates it believes could be competitive in several traditionally Democratic districts this year.
The list includes Indiana Republican Jennifer-Ruth Green—whose Gary-based district has been trending toward Republican presidential candidates in recent cycles—as well as the campaign of Michigan Republican John James, a proven candidate who nearly won a seat in the U.S. Senate two years ago and who is now running in a Republican-leaning House district outside of Detroit.
Other candidates, including Logan and Texas Republican Wesley Hunt, who appears to be a clear favorite in the newly redrawn 38th Congressional District, have also attracted substantial financial support from national Republicans, a show of confidence strategists say is not just circumstantial.
"We're running candidates who look like members of the communities they want to serve in Congress," Congressional Leadership Fund spokesperson Calvin Moore told Newsweek.
The change in strategy, Moore said, came after Republican failures in 2018 and the recognized need for a more diverse candidate pool—a lesson they apparently learned from in the following election.
"In 2020, every single seat that Republicans flipped from Democrat to Republican was won by a woman or a minority candidate," said Moore. "The biggest lesson we learned was that if you want to win, you need to recruit and support compelling candidates with unique stories that fit and look like the districts they are trying to represent."
But it also comes during a period of significant demographic change among the Black electorate. In 2020, Republican President Donald Trump won 20 percent of the vote among Black men, compared to 13 percent just four years earlier.
The Democratic Party still has a virtual monopoly on Black voters, particularly in the South, where the Republican Party notably campaigned on white voters' racial anxieties in the 1980s to win seats. However, the GOP is beginning to earn converts among more socially conservative members of the Black community, even as some argue the party continues to adopt policies and rhetoric that are actually antithetical to the rights of Black citizens.
One example is Harriet Holman, a South Carolina county commissioner who, earlier this year, made national headlines after publicly switching her affiliation from Democrat to Republican. In an interview, Holman said she noticed some of her views, namely around the economy and on abortion, were no longer compatible with the Democratic Party platform.
Other issues, including national rhetoric around defunding the police, she said, also prompted her to switch parties.
Though she said she always felt some pressure to be a Democrat throughout her life, she called the Republican Party "the future," with ideals she says no longer represent those of the days of South Carolina resident Lee Atwater leading the national party. Democrats, she said, have lost sight of "kitchen table issues" like public safety and inflation that truly matter to people. Meanwhile, the GOP, she said, has made those policies its centerpiece.
"I'm running an election in 2022, dealing with 2022 issues," she told Newsweek. "The Republican Party has accepted me. I am loved within the Republican Party. I'm not going to keep reaching back for negative stuff. I'm moving forward."