Putin Suffers Black Sea Crisis as Russia Loses $750M Flagship, Jets, Island
British defense officials have said that Russia is struggling to control the Black Sea, as explosions rocked the Crimean peninsula located along its shoreline in the latest blow to Moscow's forces in the region.
On Tuesday, blasts at an ammunition depot in the Dzhankoi district of Crimea, near the village of Mais'ke, damaged power lines, a power plant, and residential buildings in what Russia's defense ministry described as a result of "sabotage."
It came days after explosions at the Saki air base in the west of Crimea sparked an exodus of Russian vacationers from the region Moscow seized in 2014.
Six months into Russian President Vladimir Putin's full-scale invasion of Ukraine, Britain's Ministry of Defence (MOD) outlined in its daily update how Russian losses in the Black Sea that borders the peninsula had shown how tricky Moscow was finding it to maintain supremacy in the region it considers its backyard.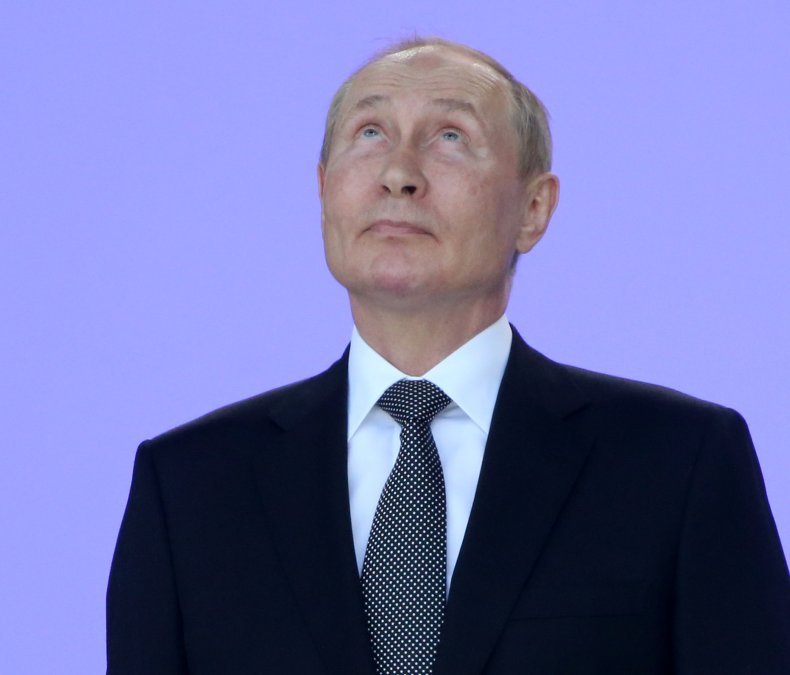 "The Black Sea Fleet continues to use long-range cruise missiles to support ground offensives but is currently struggling to exercise effective sea control," the defense officials said.
As well as "a significant portion of its naval aviation combat jets," the assessment referred to Russia's losses of its flagship Moskva, as well as control of Snake Island, the strategic and symbolic Black Sea location bitterly fought over since the start of the Ukraine war.
In April, Ukraine said that it struck the Moskva—worth an estimated $750 million—with two Neptune missiles that killed as many as 250 sailors. Moscow says the ship perished due to an onboard fire.
In June, Kyiv said its Harpoon missiles struck the Russian tugboat Spasatel Vasily Bekh that was transporting personnel, weapons and ammunition to Snake Island. Later that month, Ukraine said it had driven out Russian forces from the island, although Moscow said it had voluntarily withdrawn its forces.
The Black Sea Fleet's "currently limited effectiveness undermines Russia's overall invasion strategy," said the British defense ministry on Tuesday. This was partly because "the amphibious threat to Odesa has now been largely neutralized," referring to the Ukrainian port city.
"This means Ukraine can divert resources to press Russian ground forces elsewhere," it said, adding that Russia's vessels "continue to pursue an extremely defensive posture, with patrols generally limited to waters within sight of the Crimean coast."
Newsweek reached out to the Russian defense ministry for comment.
Peter Rutland, professor of Russian, East European and Eurasian Studies, at Wesleyan University, Connecticut, said that despite technical sophistication and numerical advantages "one of the biggest puzzles of Russia's poor performance in Ukraine has been the inability of its air force to achieve air superiority."
"Absence control of the skies, the Black Sea fleet vessels will be forced to stay well back from the Ukrainian shore, given the vulnerability of surface ships to land-based missiles," he told Newsweek.
"This all testifies to Russia's inability to launch effective combined arms operations on land, air and sea. They are still fighting in the style of the eastern front of World War II."
The strategic importance for Putin of the Black Sea was evident early on in the conflict when he moved to secure the Sea of Azov which links it with mainland Russia.
The Russian navy moved quickly to enact a blockade of the Ukrainian coast, which stranded food supplies until an agreement was reached last month, brokered by the U.N. and Turkey.
Salvatore Mercogliano, a maritime historian and associate professor of history at Campbell University in North Carolina, told Newsweek that while Putin has suffered losses, he had "still achieved many of his goals when it comes to the situation on the Black Sea."
He said that Russia's seizure of Mariupol and Berdyansk had opened up the Sea of Azov to Russian ships which were openly transiting the sea with their automatic identification systems (AIS) activated.
"This means that goods, grain and cargo from the interior of Russia—via the Don and Volga rivers, along with the Caspian Sea, is flowing," Mercogliano said, adding that the agreement to allow Ukraine to move grain from their ports in exchange for the Russians to flow their goods unimpeded, "is a success."
"While Europe, the U.S. and some countries have sanctioned goods out of Russia, the Russians have found alternative markets in Africa and Asia," he said. "The looming issue is whether ships are able to transit to Ukraine without incident. Any disruption, whether through an attack or a stray mine, could mean a disruption of trade out of the Black Sea, with obvious impacts on the global economy."
Update 08/17/22, 3 a.m. EDT: This article has been updated with comment from Wesleyan University's Peter Rutland.