Ukraine Takes out Russian Boat With Harpoon Missiles, Video Appears to Show
Kyiv has said its missiles struck a Russian vessel which was heading to Snake Island, the strategic Black Sea location that has been bitterly fought over since the start of the Ukraine war.
Ukraine's defense forces tweeted on Friday that the Russian tugboat Spasatel Vasily Bekh had been "successfully demilitarized" by the Ukrainian Navy.
"The ship was transporting personnel, weapons and ammunition to the occupied Snake Island," the tweet said next to an image of the vessel with a red cross apparently drawn on it.
Military analyst Rob Lee shared video from the Telegram channel of media outlet Dvish which shows what he says is drone footage of "two missile strikes" on the rescue ship "carrying a Tor-M2KM air defense system that was headed to Snake Island."
"Given the slow speed of the munitions, these were likely MAM-L launched from TB2 and not anti-ship missiles unless the video was slowed down," Lee said in a follow-up tweet.
A tweet from a Ukrainian official said that Harpoon missiles were used in the strike, although there were no details as to how much damage had been inflicted.
Newsweek could not independently verify these claims and has contacted the Russian defense ministry for comment.
The Harpoon is a U.S.-made anti-ship missile. Just this week, the Pentagon announced a new $1 billion security assistance package for Ukraine, including two Harpoon coastal defense systems. Denmark has also sent Harpoon missiles to Ukraine.
Snake Island is around 20 miles off the Ukrainian coast and was the scene of a highly symbolic gesture of defiance by Kyiv's forces, after Ukrainian border guards refused to surrender on the first day of Russia's invasion.
In April, Ukrainian forces said they had sunk the flagship of Russia's Black Sea fleet, with Neptune missiles, although Moscow said the vessel sank after a fire on board that detonated ammunition.
The Ukrainian navy said on Friday that since the Moskva's sinking, the Russians began to install an anti-aircraft missile system called TOR on their vessels' decks, the Associated Press reported.
Despite the headline-grabbing move of hitting such a prominent ship, Russia has maintained naval dominance in the Black Sea where it has around 20 vessels, including six submarines.
This has allowed Moscow to blockade Ukrainian ports, stranding Ukrainian grain and agricultural supplies and raising fears of global hunger.
Last week, Ukrainian President Volodymyr Zelensky reiterated his country's plea for more anti-ship weapons to take on Russian naval might.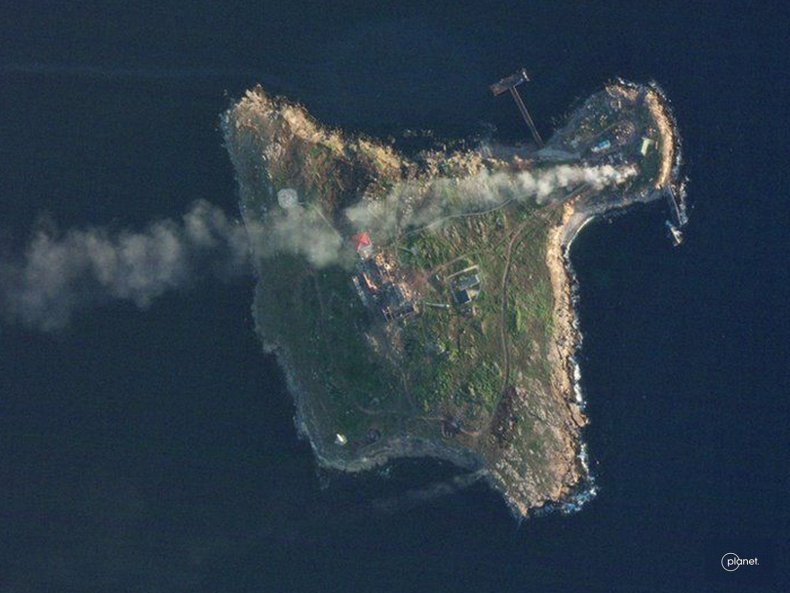 Update 06/17/22, 8:10 a.m. ET: This article has been updated with further information.