'Black Widow' Trailer Explained: Who is Red Guardian and When Does the Movie Take Place?
Black Widow lives! Marvel Studios dropped the first trailer for next year's Black Widow movie early Tuesday morning, featuring Scarlett Johansson back in the titular role of the super-skilled KGB assassin-turned-Avenger.
If you're wondering how Black Widow is even possible, given the character's death in Avengers: Endgame, the simple answer is that it's set in the past, before Black Widow, a.k.a. Natasha Romanoff, sacrificed herself to help defeat Thanos in what is now the highest-grossing movie of all time.
As seen in the trailer, Black Widow takes Romanoff "back to where it all started," per Johansson's voiceover, presumably meaning the KGB facility where she trained to become a super spy.
The trailer also hints at a family reunion of sorts: Florence Pugh as Romanoff's supposed sister Yelena Belova and David Harbour and Rachel Weisz in quasi-parental roles.
If you're wondering what Harbour's costume is all about, and exactly when the events of the film take place, read on.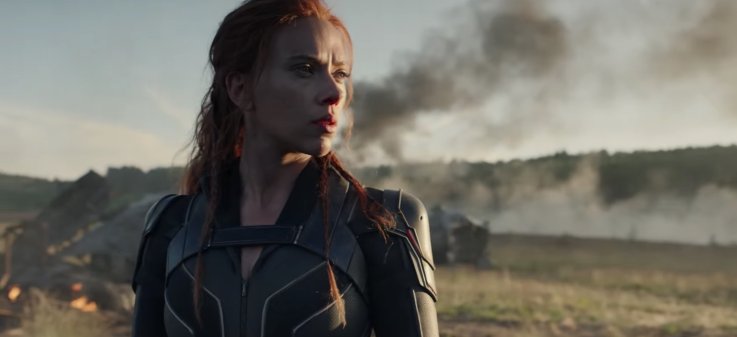 When does Black Widow take place in the Marvel Cinematic Universe?
The events of Black Widow take place between 2016's Captain America: Civil War and 2018's Avengers: Infinity War, according to The Hollywood Reporter.
To refresh your memory, in Civil War, Iron Man and Captain America took opposing sides over the Sakovia Accords, a legal agreement that would regulate the actions of the Avengers. Romanoff initially sided with Iron Man, who was for signing the Accords, but later switched allegiances and helped her long-time friend Cap escape with Bucky Barnes during an Avengers-on-Avengers brawl at Leipzig/Halle Airport.
After the airport smackdown, Romanoff wasn't seen again until Thanos unleashed his plan to eliminate half the world's population in Avengers: Infinity War. The events of Infinity War take place several years after Civil War, which means there's plenty of time unaccounted for in Romanoff's life—hence Black Widow.
Who is the Red Guardian?
Stranger Things favorite David Harbour is seen suiting up in an ill-fitting red superhero costume in the Black Widow trailer. In fact, Rachel Weisz's character comments that, "You got fat." From this we can deduce that it's been a long time since he's worn the Red Guardian suit.
For those unfamiliar with the Red Guardian, in Marvel comic book lore, the Red Guardian is a Soviet equivalent to America's Captain America, though without the super-soldier serum-enhanced powers of the latter.
According to IMDb, Harbour will play Alexei Shostakov, the second incarnation of the Red Guardian, a highly skilled military pilot who fought in World War II in the comic books.
Curiously, in the comic books, Shostakov was at one point married to Romanoff, but it seems that this will be omitted from the film.
Black Widow, directed by Cate Shortland, is released on May 1, 2020 as the first film in Phase 4 of the Marvel Cinematic Universe.
Marvel will also release The Eternals in November 2020, introducing a new superhero team to the mix.
'Black Widow' Trailer Explained: Who is Red Guardian and When Does the Movie Take Place? | Culture